---
One pot or skillet meals, make cooking easy and cleanup a breeze.
The variety of recipes, in this small compilation, is amazing.
Almost all of them use a single pan or skillet, from start to finish.
Some of these recipes were shared by friends, some are tried and true in our home,
and some simply looked so yummy that I couldn't pass them up.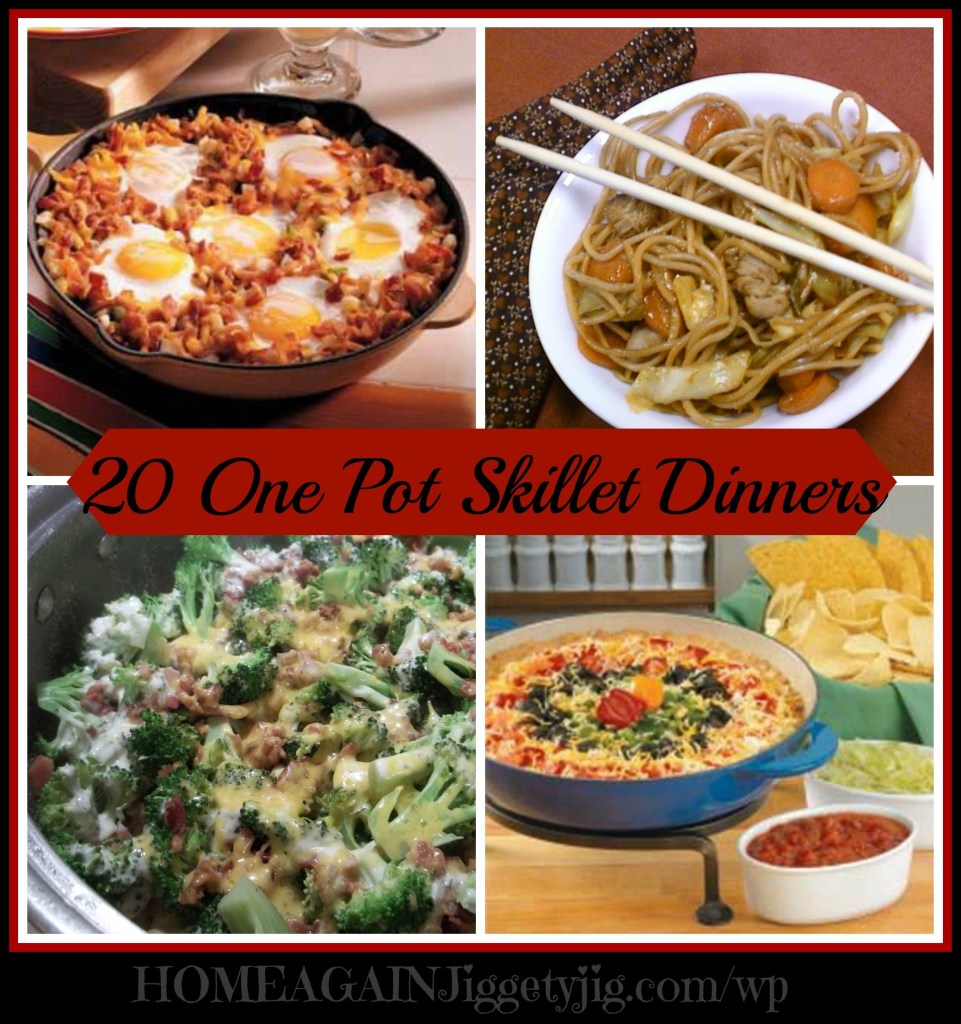 This post contains affiliate links.  See our full disclosure.
If you purchase anything using these links, I will earn a little money, to help my family and support my blog, and it will cost you nothing extra!
Each recipe takes an hour or less with most being ready in thirty minutes.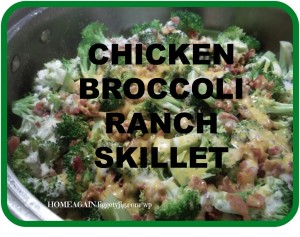 Quick Chicken Broccoli Ranch Skillet – Home Again Jiggety Jig
This is one of my favorite skillets to fix that not only is so very good for you, but also quick and easy to make.
It is low carb as well as paleo – if using your own paleo recipe for ranch dressing.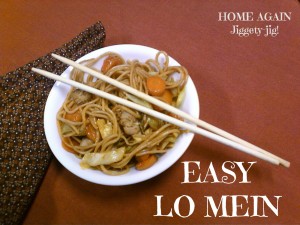 Lo Mein Skillet Meal – Home Again Jiggety Jig
This is also a favorite of family and friends.  I make this each year for our family camp.
The noodles for this pasta meal are done separately from the main skillet.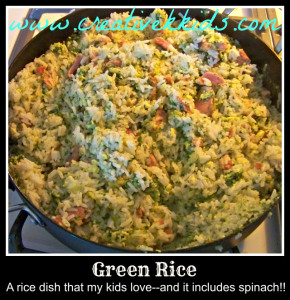 My Family's "Green Rice" – from Creative K Kids
Unique take on fried rice.  This looks delicious, and kid friendly.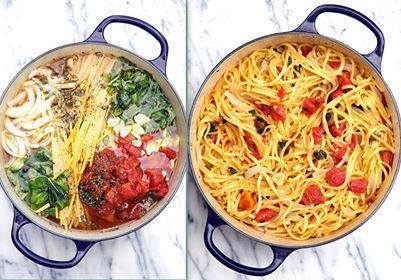 One Pot Tomato, Basil Pasta – from Running with the Copier
NOTE: My daughter in love made this and said it was delicious.
If it is going to sit for any length of time, I'd wait to add pasta until the other ingredients come to a good simmer.

Asian Beef and Cabbage Skillet – from Kitchen Dreaming
I'm always looking for great ways to use cabbage.  This looks awesome.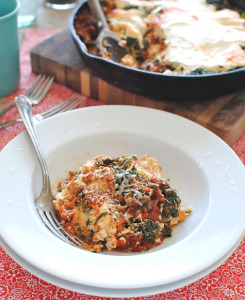 Ravioli Skillet Lasagne – from Tablespoon – Bev Cooks
This recipe is one of the simplest lasagne recipes I've ever seen and looks OH SO delicious!!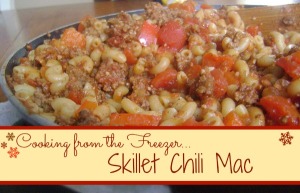 Skillet Chili Mac – from The Sunny Patch
Using precooked ground beef from the freezer, this is a true one pot recipe, with the macaroni cooked right in the sauce.

Sweet Potato and Sage Sausage Casserole – The Chew – Michael Symon
This one dish meal has sweet potato, brussel sprouts, sausage, with parmesan and goat cheese. It is finished off in the oven.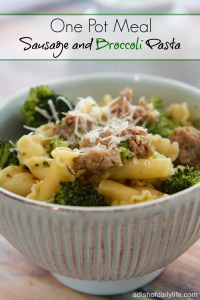 One Pot Meal: Sausage and Broccoli Pasta – A Dish of Daily Life
Quick one dish meal with the Pasta cooked right in the cooking sauce.

Favorite Skillet Dinner – Taste of Home –
Chicken breasts with Potatoes, Carrots, Celery and Green Beans takes about an hour from start to finish.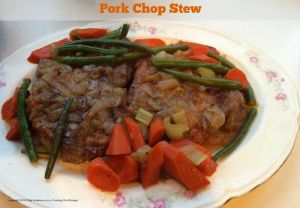 Pork Chop Stew –  Cooking on a Budget
Unique dish made with whole Pork Chops, Carrots, Celery, Green Beans in a rich gravy.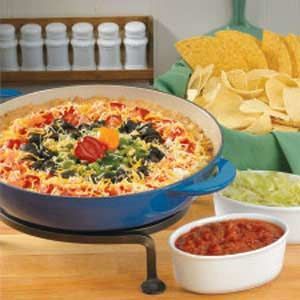 Taco Skillet Recipe – Taste of Home
This award winning recipe is like making a taco right in your skillet.  Serve with Tortilla Chips.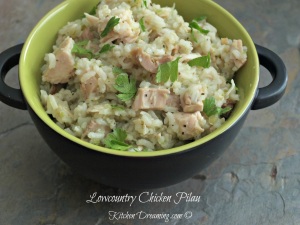 Low Country Chicken Pilau – from Kitchen Dreaming
I must admit that I became interested in this delicious one dish meal because of the title.
From the Lowcountry of South Carolina, where we spent seven years, comes this recipe with chicken and rice, and fire roasted tomatoes.
The joke my husband loved to tell was this: How are Charleston natives like the Chinese?
Answer: They eat rice and worship their ancestors.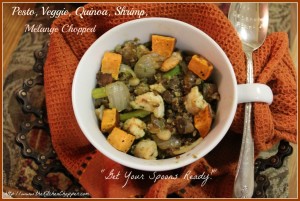 Pesto, Veggie, Shrimp, Quinoa, Me'lange Chopped  – from KC the Kitchen Chopper
This unique recipe uses a variety of ingredients including, white beans, roasted yams and asparagus.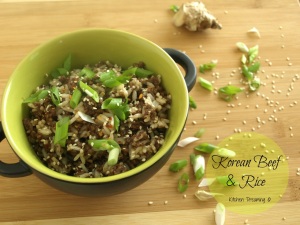 Korean Bulgogi Beef and Rice Bowl – from Kitchen Dreaming
Beef and rice with all the delicious flavors that make Korean food so very yummy! (Rice is cooked separately.)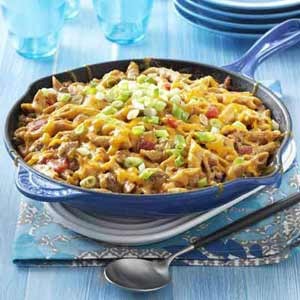 Family Favorite Cheeseburger Pasta Recipe – Taste of Home – Raquel Haggard
This fun recipe has all the flavors of your favorite Cheeseburger, AND pasta too!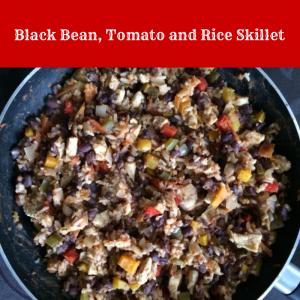 Black Bean, Tomato and Rice Skillet – Goals Coach – Sandra Butler
Here's a colorful skillet that can be prepared with or without added chicken.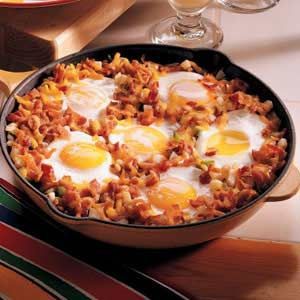 Country Brunch Skillet – Taste of Home – Elvira Brunnquell
A yummy skillet with hash brown potatoes, onions and peppers, cooked in bacon drippings.
The eggs cook right in the skillet and are topped with cheese and bacon.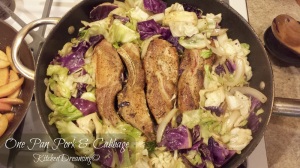 One Pan Pork and Cabbage  – Kitchen Dreaming
This one pan dinner is not only quick, but uses inexpensive ingredients making it cost less than two dollars a serving.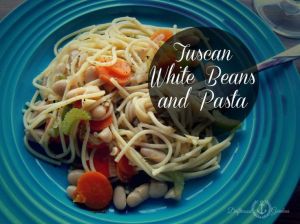 Grandma's Tuscan White Beans and Pasta – Driftwood Gardens
This is a simple, rustic Italian dish with few ingredients and tons of flavor.
.
Here's a bonus recipe!  One Pot Chicken Alfredo Pesto Pasta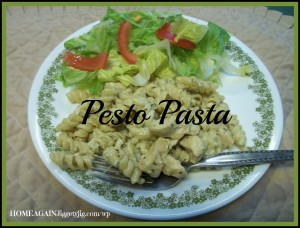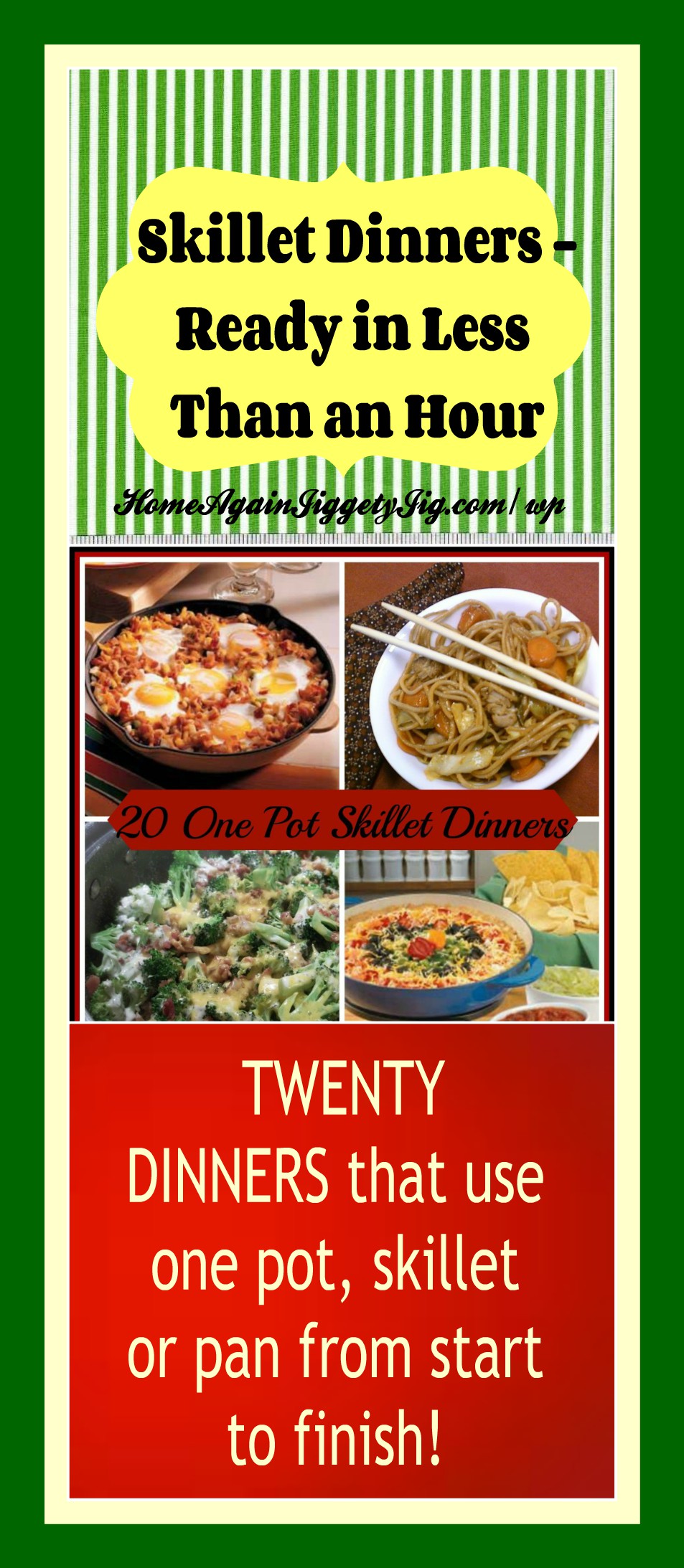 20 ONE-POT SKILLET DINNERS