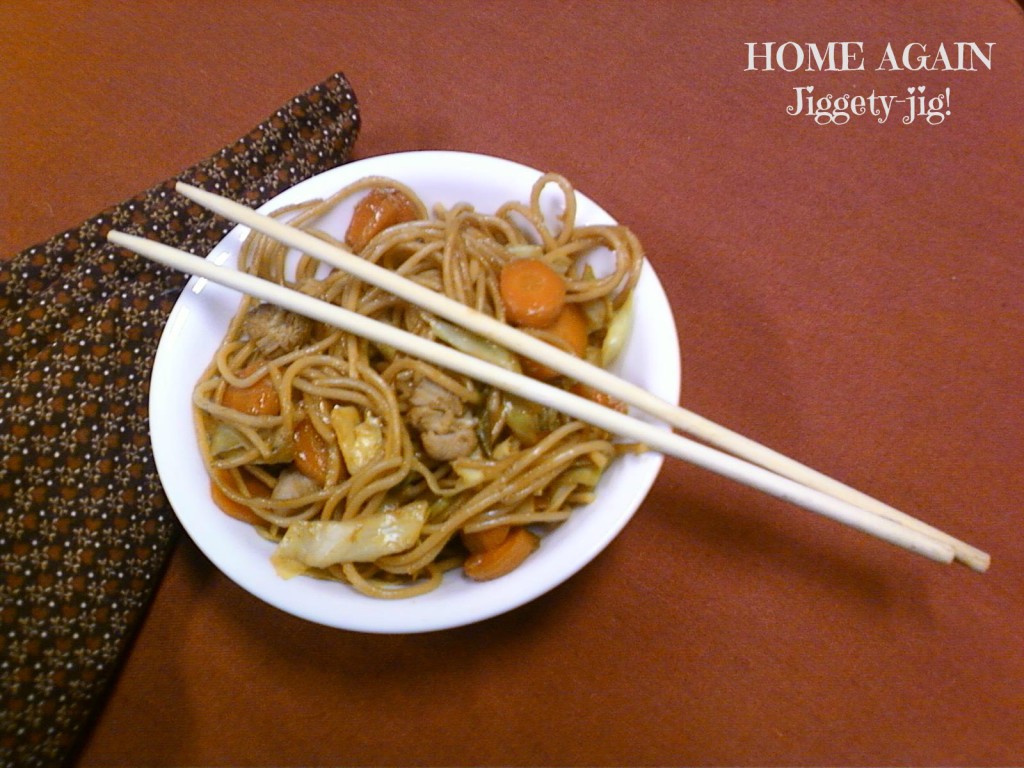 For a quick, easy and super delicious Asian recipe, try this simple Chicken Lo Mein!
LO MEIN: 

INGREDIENTS:
1 pound boneless chicken thighs, breast meat, or lean pork cut into bite sized pieces
1 box spaghetti noodles (of your choice.) Our family likes "Barilla Plus" multigrain thin spaghetti noodles in the gold colored box. They hold up well in this dish, and are high in protein and have a lower glycemic index than regular pasta.
1/2 – 1 pound carrots peeled and sliced on the bias or baby carrots
1 small head cabbage (choose one as dark green as possible), roughly chopped
3/4 cup lite soy sauce (divided)
1/2 tsp garlic powder or a couple cloves of chopped garlic
2 Tbsp (approximately) dark or light sesame seed oil
2 Tbsp Cornstarch
2 cups chicken broth – I like "Better than Bullion" paste, reconstituted with water
This post contains affiliate links.  See our full disclosure.
If you purchase anything using these links, I will earn a little money, and it will cost you nothing extra!


DIRECTIONS:
Pour 1/2 cup of the lite soy sauce over chicken or pork add 1/2 tsp garlic powder, set aside.
Cook spaghetti al dente' (just enough to retain a somewhat firm texture) , drain and toss with 1 tablespoon of sesame oil and set aside.
Heat large skillet over medium high heat, coat the skillet with 1 – 2 teaspoons of sesame oil
Add the marinated meat and the carrots.
Stir until meat is brown and carrots are just tender.
Turn the temperature down to medium
Mix the cold chicken broth with cornstarch. Stir it into chicken and carrots. Add the chopped cabbage and cover for about five minutes, until cabbage wilts.
About five minutes before you are ready to eat, stir in the spaghetti noodles, sprinkle with remaining soy sauce or to taste.
Stir well until sauce coats the noodles, and it is heated through.
Enjoy an easy and healthy Lo Mein dinner soon!