Our family has been using essential oils for a number of years.  Peppermint oil has many uses.
"Promotes healthy respiratory function and clear breathing
Alleviates stomach upset
Frequently used in toothpaste and chewing gum for oral health"
Simply breathing it can be a help, so I decided to try making Peppermint candles by melting wax and using Peppermint oil to not only add beauty, but to infuse the scent into our home.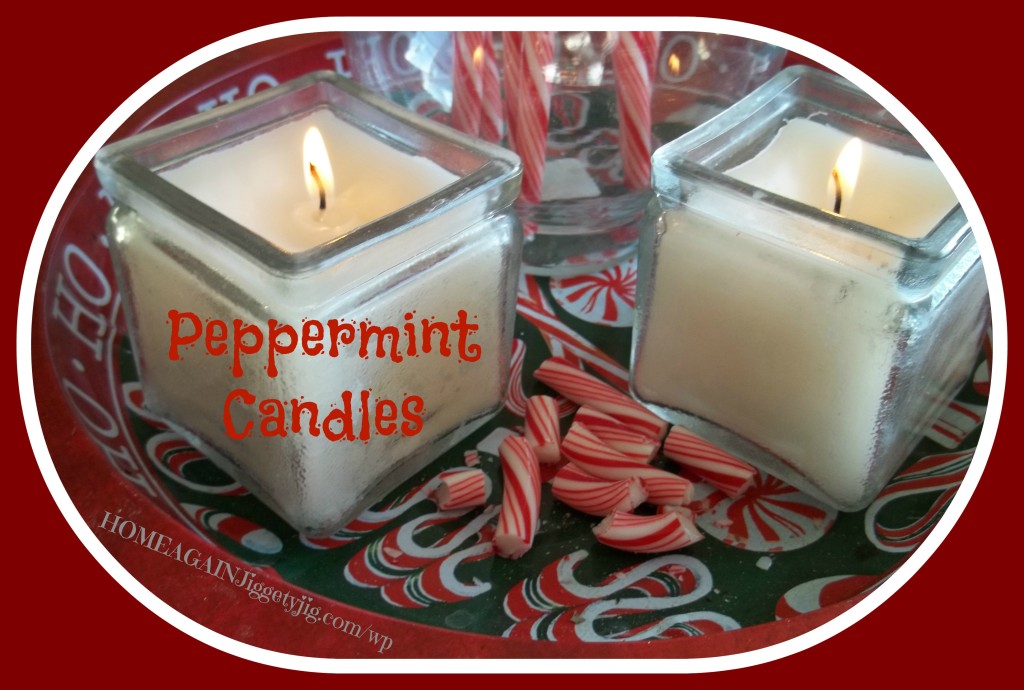 We have an entire cabinet with odds and ends of candles. In the midst of those candles were a couple of unscented white candles which had been burnt deep, and useless in the center, but had a lot of usable wax remaining. I had some slabs of  paraffin (also unscented) which I kept aside, just in case melting down the old candles didn't work right. They worked great, and I was able to save the paraffin for later.
*This post contains affiliate links.  See our full disclosure.
If you purchase anything using these links, I will earn a little money, to help my family and support my blog, and it will cost you nothing extra!
HERE'S HOW TO MAKE PEPPERMINT CANDLES
YOU'LL NEED:
An old metal coffee can (or other larger tin can) washed, dried, and bent slightly at the top to make a bit of a pouring spout.
Wax – either old unscented candle pieces, or paraffin. 
If you want a healthier candle choose beeswax pellets
Empty small glass jars
Good quality (doTERRA) * peppermint essential oil   – about 100 drops per ounce of wax.
Wax wicks with wax tabs
(NOTE: Avoid wicks with metal centers as they contain lead and can pollute the air.)
DIRECTIONS:
Place the coffee can on low heat, directly on the electric burner of your range (if you have a gas range, use a water bath under the coffee can). Add paraffin slabs or used unscented white wax, into the coffee can, being sure to cut away any old wick or smoky parts. It will take about an hour to melt down safely, on low heat. A little higher heat works if placed in a water bath, but one of the challenges with that is that the steam may condense and add water droplets into the wax, which could be a potential challenge.
Choose glass jars to make your candles in. If you have some almost empty candle jars with little bits of wax in the bottom, clean them by placing them in hot water for a minute to loosen the wax, then lift it out with a table knife. Using boiling water and a little dawn for dishes, rinse out the jar and wipe dry with a paper towel.
Once the wax is melted, add the doTERRA Peppermint Essential Oil Directly into the melted wax, using about 100 drops for each ounce of candle or bees wax.
I love  doTERRA oils so very much that I decided to join and become a representative.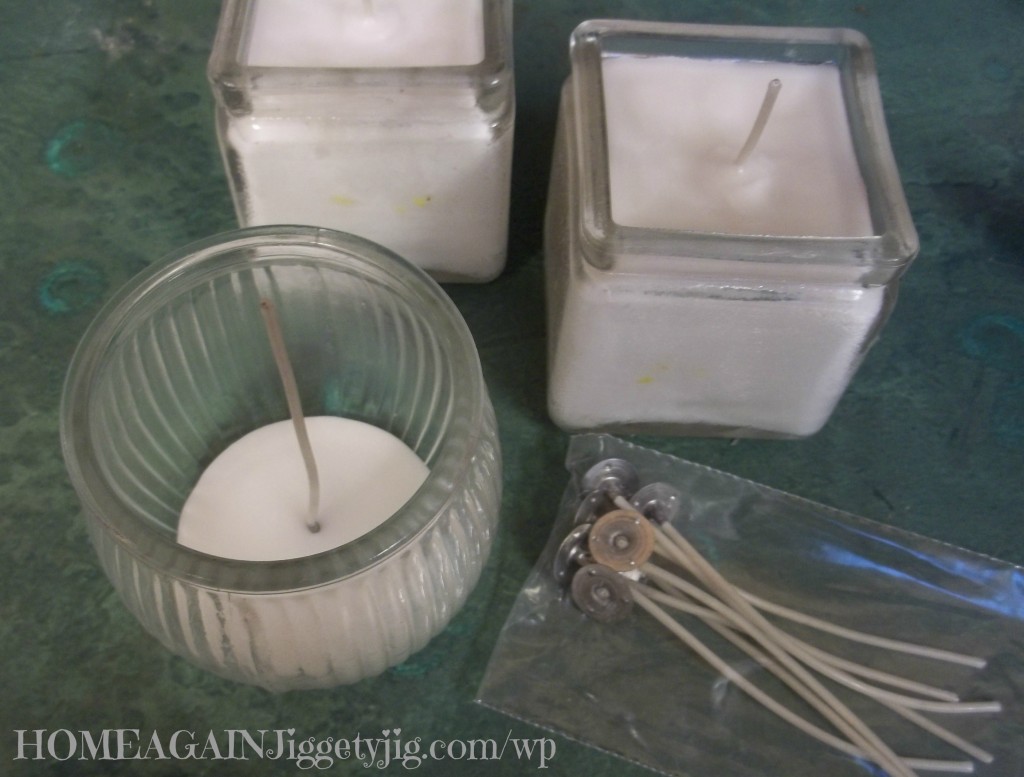 Take your purchased wax wicks, with wick tabs.
Place them in the center of the bottom of the jar, and add a little wax to the bottom of the jar,
letting it harden to hold the tab in place.
Gradually add the rest of the melted wax, holding the wick straight in the center of jar.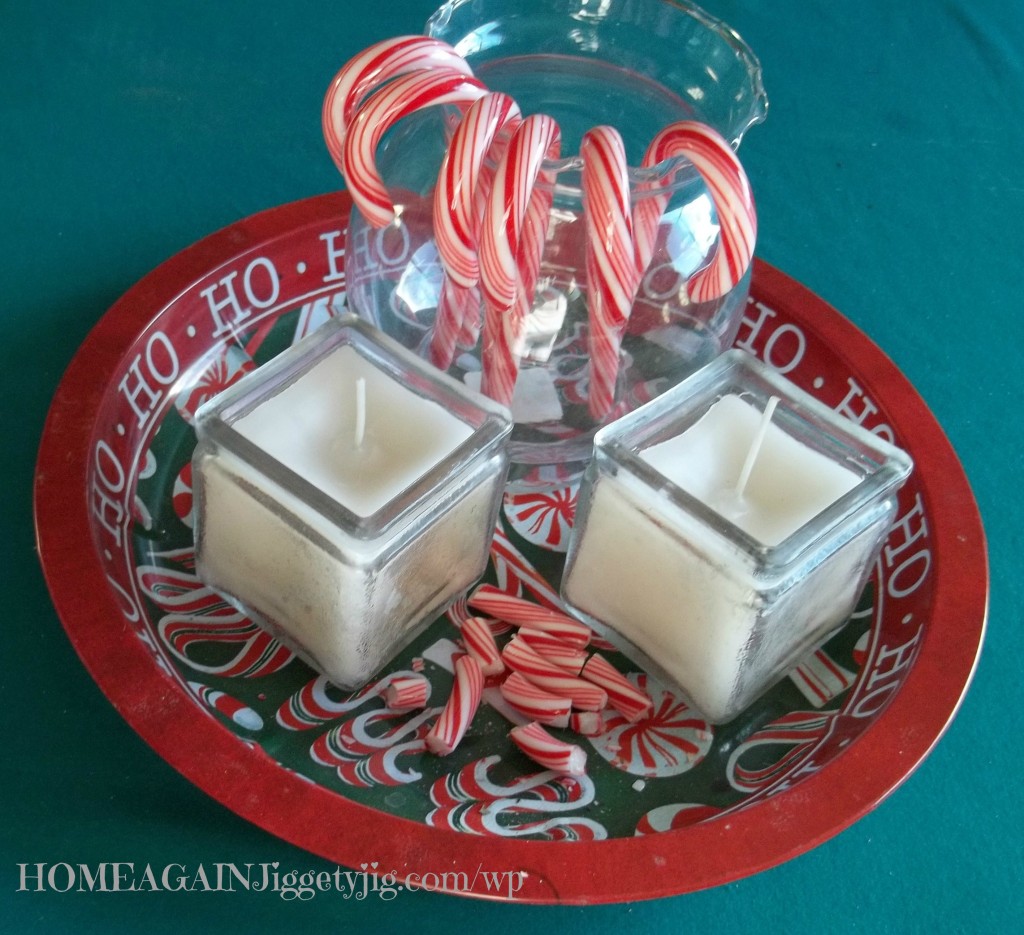 They will harden enough to use in a couple of hours.
Soon your home will be filled with the delightful scent of Peppermint.
Disclaimer: I am not a trained dietitian, nutritionist, chef, or doctor. The information on this blog is based on facts, my research, and my personal experiences. This information is not intended to diagnose, prevent, treat or cure any disease. Please follow the advice of your doctor.  Marjie Briggs
.
PEPPERMINT CANDLES USING ESSENTIAL OILS