My love affair with Pesto sauce started at Cost-co.  It actually began with the purchase of a Hot Turkey Provolone sandwich from the food court. That sandwich was yummy, but what put it over the top was that it had been spread with Pesto Sauce. Up until the time I first sampled that fragrant, fresh, bright green basil, mixed so delightfully with pine nuts, Parmesan cheese, Pecorino Romano and olive oil, I had no real idea how pesto sauce tasted, how absolutely delicious it was, or how it would become an integral part of many wonderful dishes in our family's future. We bought a jar and brought it home.  Since that day, we've never allowed ourselves to run out of it. I could eat a spoonful of it right now!
One evening while preparing the recipe for easy Blender Alfredo Sauce that our family loves so much, my daughter Boo suggested that we add some pesto to it. I was all for it, and the resulting dish was so absolutely fabulous that, I'm now embarrassed to admit, we couldn't stop eating it.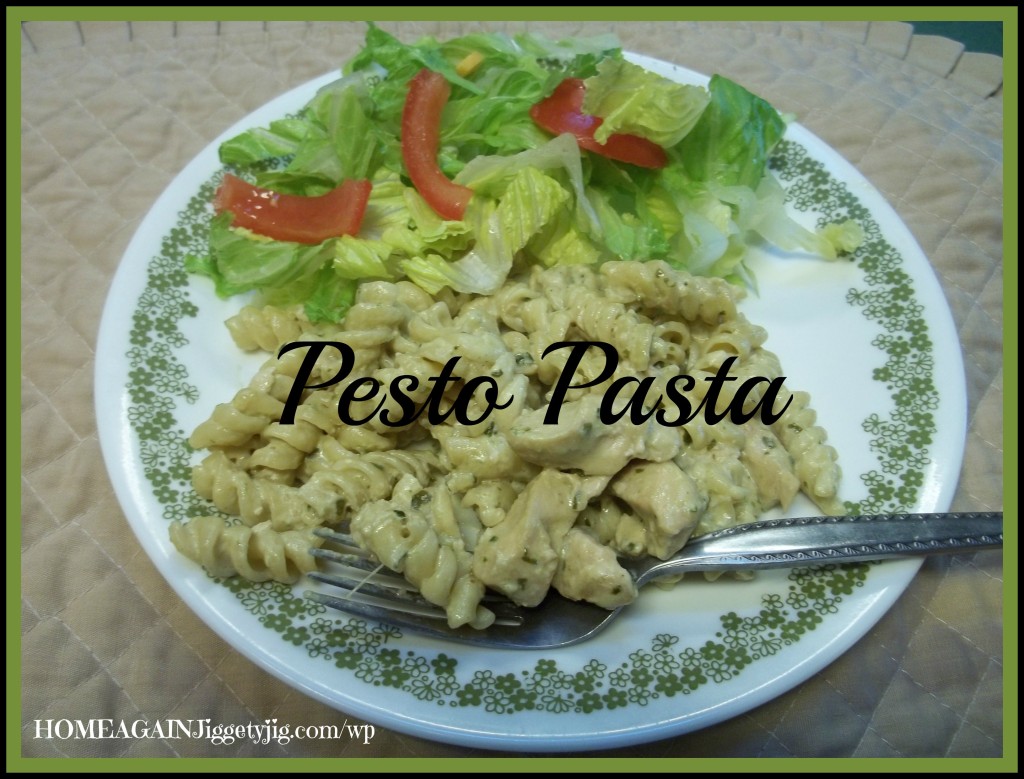 THIS CREAMY DELICIOUS PASTA WITH CHICKEN AND PESTO IS READY IN HALF AN HOUR!!
Everything can be prepared using a single large skillet or pot, which also saves on clean-up.
ONE POT CHICKEN ALFREDO PESTO PASTA
1 -16 oz. package penne, rotini or bow tie pasta (I use either Barilla Plus or Dreamfields)
One good pinch of salt
2 teaspoons avocado or olive oil
1 pound  chicken breast – cubed
2 teaspoons garlic powder
1- 8 oz. package cream cheese – (NOT fat free)
1/2 cup Parmesan cheese (the kind in the green can works fine)
3/4 cup chicken broth ( or 1 tsp "Better than Bullion" Organic Chicken Paste and 3/4 c. water)
1/2 cup pesto (I use Kirkland Basil Pesto )
Cook the pasta in a large pan of salted boiling water, until slightly under done (al dente.) Drain and set aside.
Over medium high heat, in same pot or skillet, heat the oil. Add the cubed chicken, season with garlic powder, cooking, and stirring until all pink has disappeared (about 10 min).
Meanwhile: In a blender or food processor ( I use a Magic Bullet) blend the cream cheese and chicken broth until smooth.
Return cooked pasta to skillet and pour blended cheese mixture over all. Add the pesto, and stir over medium heat for a couple of minutes until mixture is heated through.
Serve right out of the pot, with additional Parmesan or Romano cheese. (It's OK to use the kind in the green can!)
NOTE: If you use Dreamfield's pasta, the resulting dish will be low in net carbohydrates.
Here's my take on the Cost-co sandwich that gave me my first taste of pesto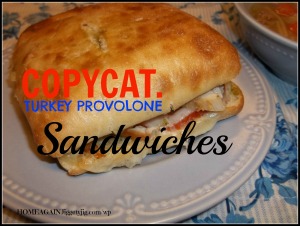 ONE POT CHICKEN ALFREDO PESTO PASTA