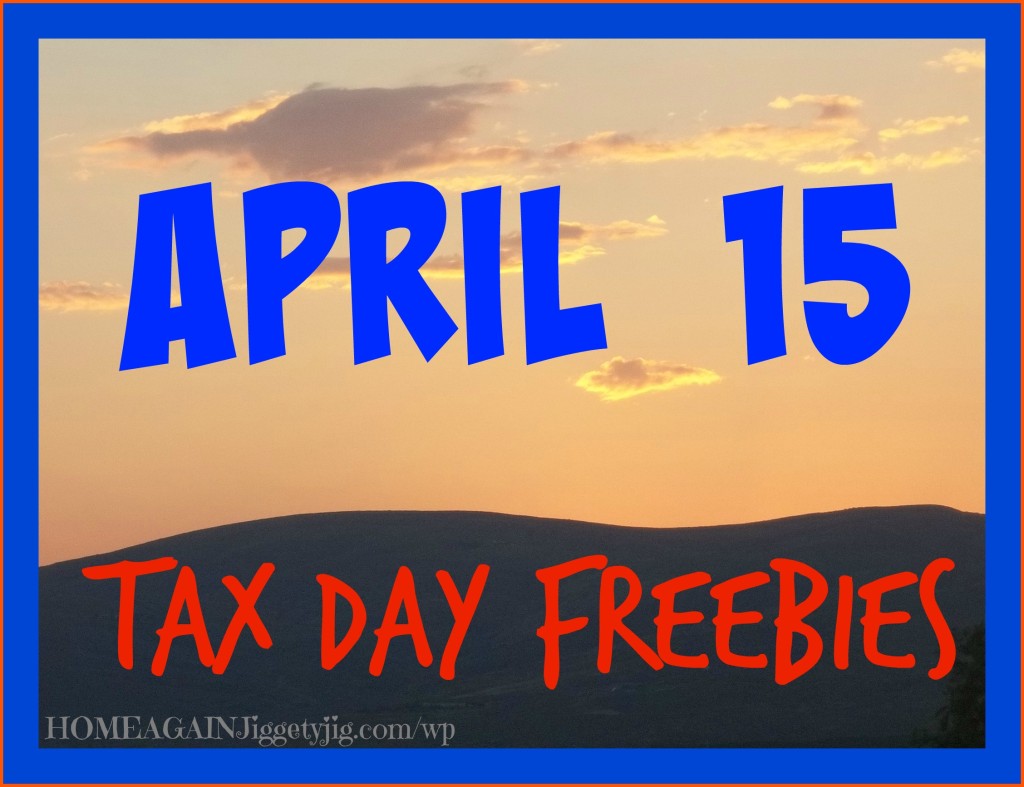 Here is HOME AGAIN Jiggety-jig's  2015 list of freebies and special deals for TAX DAY 2015. A number of these deals start immediately and some even last for a couple of weeks. A few end on April 14.  Check each listing for the dates and times that they are available.
You'll find some absolutely free items as well as other super deals – such as "buy one get one free." Included with the list are links to almost every deal. Check back often as freebies will be added or removed 🙁 and updated right up to April 15th! ENJOY!!!
Updated: 4/15/15 12:40 am PDT 
NOTICE: HOMEAGAINJiggetyjig.com/wp  is not responsible for any of these deals nor for the availability or accuracy of them.   I'm simply the happy researcher and list maker for these wonderful freebies. We are doing our best to make certain that all offers are accurate. You'll notice that some have, sadly, been removed or changed as information becomes available or they have expired.
ALSO: Arbys has announced that they will NOT be giving away curly fries as they have done in years past.
Ben and Jerrys –

Free cone day.  Good ONLY April 14 from noon to 8pm. 
California Tortilla –

  Get a free queso and chips when you say the password "Taxes Shmaxes" at checkout. Offer is good only on April 15.
Cinnabon – Corporate has announced that they will NOT be doing any special deals / so cancel this:
Get free bite sized cinnabon between 6 pm and 8 pm at all participating locations on April 15. 
 
McDonald's

– Buy one Quarter Pounder or Big Mac and get a second for only $0.01 at participating locations. Good April 15th only.
Olive Garden –

Current specials include $6.99 soup, salad and bread sticks lunch, and buy one take one dinners, starting at $12.99. Also here's a coupon for $6 off of two meals. Good through April 19 
Orange Leaf Yogurt –

 Buy a 16 ounce frozen yogurt (or smaller) with toppings for $4.15 – when you "like" Orange Leaf Yogurt on Facebook – and claim this offer. Available on 4/15
Panda Express –
Get a free entree with online purchase.
This is a current offer good online or for mobile apps – expiration date is unknown. 
Sonic – 

Get 50% off the price of a cheeseburger – all day . There is no limit.  Don't like cheeseburgers? Ask for yours without cheese!  This offer is good only on 4/15

Also – Here's a deal  you can get every day through the end of Summer. Sonic drive in has 1/2 priced milkshakes every day after 8 pm – At participating locations.
Staples –

FREE Document Shredding – up to five pounds –  with Coupon  now through 5/2
Taco Del Mar – Get a free taco on Tax Day.  Sign up to receive a coupon for a free taco – coupon good April 15 only.
  Whole Foods – Though several sources have indicated that Whole foods will not be charging sales tax on tax day,  
I am unable to confirm this.
Check out "What to Buy in April" for other special deals this month.