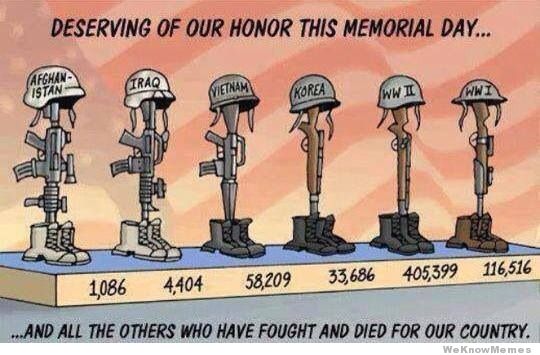 Over Memorial Day Weekend we here in America blithely go about our way, taking our first camping trip of the year, having a big cookout or making plans for the Summer, which is right around the corner. We get a Monday off from work, and might fit in a shopping trip to pick up some great bargains on outdoor furniture, grills and beautiful flowering plants or even purchase a new mattress because, amazingly this is the weekend for the biggest mattress sales. There is often little thought as to why we are honored to celebrate this day.
The start of Memorial day occurred after the civil war in which more Americans died than any other war in our history. It was called "Decoration Day," and began in the South. On that day Americans put flowers in quart jars on the graves of fallen soldiers, and made paper wreathes so that once the flowers faded, the wreaths would still be there.
It has since grown to honor anyone who has passed on before us. To get to our home here in the country we drive by a large beautiful cemetery where, over the weekend, the vast expanse of green becomes a sea of flowers, American flags and silk wreathes.   On the Memorial day itself, there is a traffic jam at the entrance where volunteers give out location information on individual grave sites.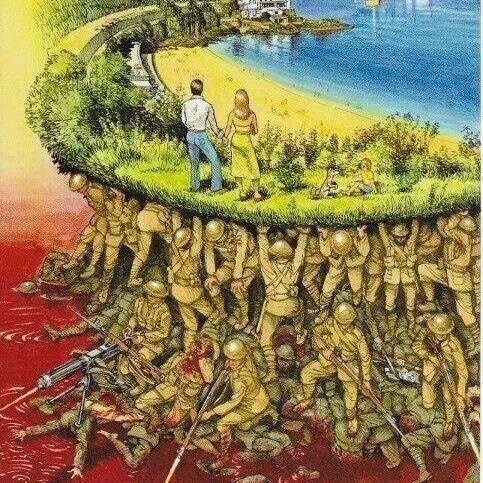 I was overwhelmed recently to see this picture which so visually depicts the blessings we have because of those who have given their lives for our freedoms. I could not find the artist, but believe it is someone from Turkey, who understood that our freedoms, the rights to life, liberty and the pursuit of happiness, which we so casually expect, clearly are given us through the shed blood of service men and women. These who have defended our country and the thousands who continue to do so.
So, when you camp out in the woods or fire up the barbecue for that first cookout, don't forget that it has always been the soldier to whom we owe our freedoms. Take a few minutes to watch this video from Heartland Baptist Bible College , a fine college which is the Alma Mater of my husband and all five of our children,  "It has Always Been the Soldier."
Though we should honor all our loved ones who have gone on before, we don't want to lose sight of the actual reason for this holiday: fly the flag, talk about the history of memorial day with your children, and honor those who have given to insure our freedoms.