GOOD NEWS! FOR THE CAREFUL SHOPPER
There is a lot of GOOD NEWS as well as some SURPRISES in May for the careful shopper. With Mother's day on the thirteenth, sales start early and continue through much of the rest of a month for graduations and finally Memorial Day sales.
A few items that often are great deals in the Springtime will be overpriced this month. Read carefully because this list not only points out some big bargains, it also has a few hints on how to save on those items that are unusually high priced right now.
Each month we compile the best buys for the month and season. Take a minute to read through our helpful hints and you'll likely save some money!   HAPPY SAVING!
This post contains affiliate links.  See our full disclosure.
If you purchase ANYTHING from Amazon, after clicking on these links, I'll earn a little money to help my family and keep my blog going, and it will cost you nothing extra!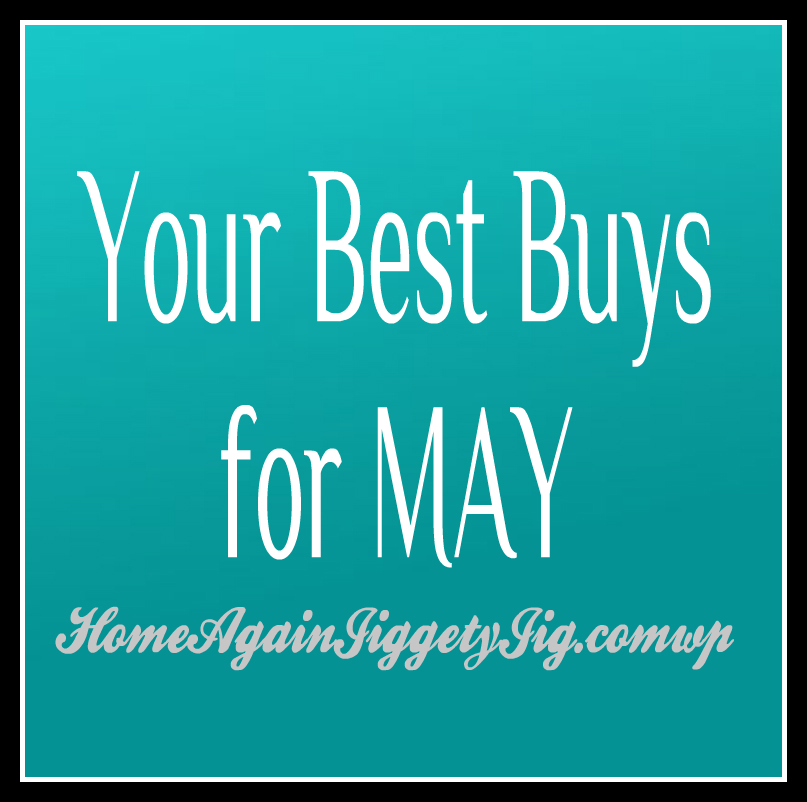 MOTHER'S DAY:

Want to have flowers sent to Mom for Mother's day?  Get your orders in early in May for some great offers from online sources. The online sales go right up through Mother's day.
Are you a talk radio listener? From ESPN to Rush Limbaugh you'll find advertisements for flowers, teddy bears, pajamas and edible arrangements. These advertisements often offer special radio listener codes which give a discount or special online price. It is wise to keep an eye out for excessive shipping charges.  The earlier you place your order and set the delivery date, the less expensive the shipping will be.
Some sites have layers of savings. FTD has a 20% coupon savings code  from Ebates as well as a 20% rebate, AND if you check out their site and start to leave, they will offer you another $10 off your purchase AND if this is your first time to shop through Ebates, you can sign up and save.  After your first $25 purchase, you will-  get an additional $10 back by signing up through the link provided below.
 I'll also get compensated for referring you. Affiliate link

When shopping online, check out coupon codes for as much as 50% off your purchase and even free shipping. Using the Ebates site above. It also gives you money back from every purchase.   
Jewelry is popular for Moms. Try shopping the first week in May, or right after Mother's day for the very best prices. Sadly, some Jewelry retailers actually raise prices on jewelry right before Mother's day, so purchase carefully.


GRADUATIONS AND WEDDINGS:
With weddings and graduations on the horizon, there will be lots of good deals on cookware, small household appliances, bedding and small electronics. Some stores with loyalty programs offer incentives for purchasing gift cards.
If you need Mother's day, wedding, or graduation greeting cards, gift bags or wrapping paper, your best buys can usually be found at the dollar store. AND It's also a great time to stock up on PARTY SUPPLIES!
MEMORIAL DAY SALES:
Time to buy a BBQ? The entire month of May is a great time for barbecue equipment of all kinds!
Not surprisingly, you can pick up great deals on picnic items, charcoal, soft drinks and grill supplies.  Camping equipment, pools, and patio furniture will have sales, but if you want the very best prices you might choose to wait for the July and August clearance sales.
SURPRISE! Even though they traditionally have little to do with the start of the summer, Memorial day sales for mattresses and vacuum cleaners offer some of the very best prices of the year.

SPRING CLOTHING CLEARANCE:
GOOD NEWS! At just about the time it is finally warm enough to wear them, major retailers are starting to offer markdowns on Spring clothing! You'll find good prices for swim wear and sandals, springy dresses and kid's summer wear. Store ads often feature additional percent off coupons and other online coupons are available, so you may find some great coupon stacking  deals at both clothing retailers and others.  Don't forget Ebates!
TRAVEL BARGAINS:
MORE GOOD NEWS! If you haven't already booked your vacation travels, there are still some good airline prices. Frontier still has some bargain flights. Try to book about six weeks ahead for the best deals. To get the very best prices, a more recent study shows that Thursday, rather than Tuesday is the best day to book airline travel.  Avoid the weekend if at all possible.  Keep a watchful eye, on the price of gasoline, as it is rising a little at the start of summer, but road trips can still be a bargain.  Amtrack still has some great travel deals.  You can save  a lot  on different routes each week by booking a week ahead. Amtrack has double points this summer, and  Children travel for half fare with a paying adult.
SEASONAL FOODS:
Fresh asparagus, radishes, rhubarb and spinach are readily available in most states.  It is mango and pineapple season, so this is one of the best times of the year to buy them. It's also strawberry time. Some of the best prices of the year are right now! 
It will not be a good SURPRISE to find the price of Romaine high because of the recent e-coli warning, and the price of limes very high due to Mexican Cartels controlling the lime crops, along with other some weather related conditions.
MEAT AND DAIRY PRICES:



Dairy  prices are still good for milk, eggs, cheese and yogurt.  Be sure and check out grocery prices using online apps like Flipp.   
GOOD NEWS! The price of beef continues to lower, after more than three years of recovery from the drought in the mid and Southwest. Pork production is currently high, so the price of pork should be good in the month of May, which will make for some mighty fine ribs this summer on the barbecue  Chicken prices are staying even too, so the meat eaters in your family should be happy! 
HOPING YOUR SUMMER STARTS OUT GREAT, WITH THESE SUPER WITH THESE HELPFUL HINTS!
Marjie Briggs is a family and consumer scientist who loves to help you save money, and blogs at: Home Again Jiggety-jig! 

WHAT TO BUY IN MAY – Great Ways to Save on What You Buy