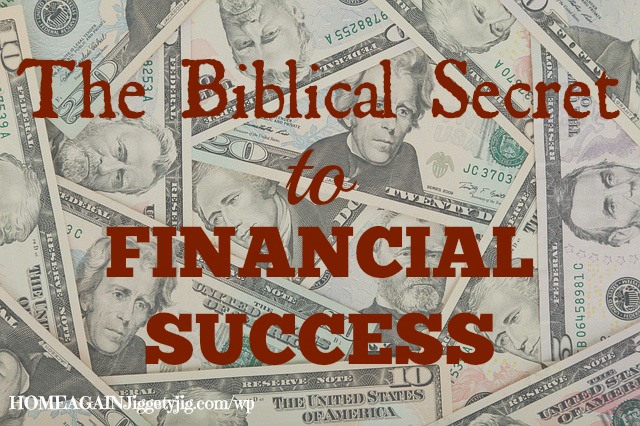 I'm always intrigued when I see a post that touts itself to be the secret to something amazing such as: great weight loss, making money on the internet, learning how to get the most out of the social security system or how to prepare your family to survive a disaster. After the first click, invariably, there is a long boring video which will ultimate try to sell you information you supposedly can't find anywhere else.
Unlike those "secrets," the information about the Biblical secret to financial success is FREE.  It is in your Bible, all you have to do is read and follow it.
This post contains affiliate links.  See our full disclosure.

WHAT IS THE SECRET TO FINANCIAL SUCCESS?  
Good friends of ours enjoyed listening to a preacher whose sermons were streamed over the internet. They were particularly intrigued by one message entitled:  "THE SECRET TO FINANCIAL SUCCESS." As they sat back and listened intently, believing that they were going to learn something new from a man of God, they heard the preacher say something like this: "The secret to financial success is found in one word. . ."
What could this word be?
The preacher paused and continued.
That word is "Tithe."
Since these friends were tithers and had no financial struggles, they were delighted to realize that they had already discovered one of the Biblical secrets to financial success. These friends also had learned to be givers.
Over the years we have know a number of people who have struggled with life and struggled financially – only for us to discover that through all those difficulties, they had not been tithing. Could this be the reason many face financial struggles?  It helps to understand what the tithe is in order to understand the Biblical basis for tithing.
TITHE DEFINED BY THE WEBSTERS 1828 DICTIONARY
TITHE, n. The tenth part of any thing; but appropriately, the tenth part of the increase annually arising from the profits of land and stock, allotted to the clergy for their support. Tithes are personal, predial, or mixed; personal, when accruing from labor, art, trade and navigation; predial, when issuing from the earth, as hay, wood and fruit; and mixed, when accruing from beasts, which are fed from the ground.
The tithe is a tenth of all our increase. The Bible makes it clear that it is required. For us today, it still means God requires a tenth of all our income, before deductions for taxes, social security, medicare or anything else.
I remember being taught by my parents, that one dime from each dollar belonged to God. It was pretty cool that I understood fractions before I was taught arithmetic. Because of their careful teaching of this one Biblical truth, I learned to put a dime into the offering for each dollar that came into my possession.
THE BIBLICAL BASIS FOR TITHING
The Biblical basis for tithing began with Abraham in Genesis 14: 18 -20 ". . . And he gave him tithes of all." Abraham was not the only one who was given the instructions about the tithe.  In Deuteronomy Chapter 14: 22-23, the Children of Israel were given very specific instructions detailing what the tithe involved.
"Thou shalt truly tithe all the increase of thy seed, that the field bringeth forth year by year. And thou shalt eat before the LORD thy God, in the place which he shall choose to place his name there, the tithe of thy corn, of thy wine, and of thine oil, and the firstlings of thy herds and of thy flocks; that thou mayest learn to fear the LORD thy God always."
God required a tenth of ALL their increase, so that they might learn to fear Him.


MANY PEOPLE HOPE THAT THEY WON'T HAVE TO GIVE UP ANYTHING TO TITHE: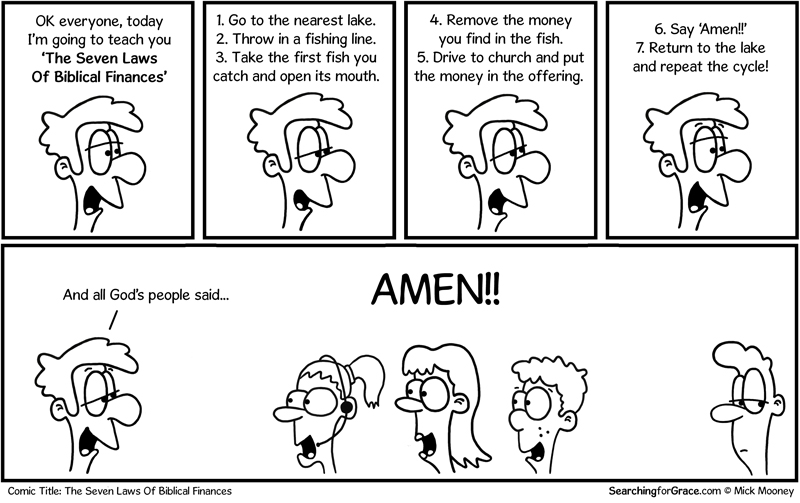 THE PROMISE – THE SECRET
One of the most amazing promises that the LORD gave tithers is in Malachi 3:10. This tells that faithfulness to the tithe contains a challenge from the LORD to "prove me"  and is a wonderful promise for those who take that challenge.
"Bring ye all the tithes into the storehouse, that there may be meat in mine house, and prove me now herewith, saith the LORD of hosts, if I will not open you the windows of heaven, and pour you out a blessing, that there shall not be room enough to receive it."
It is  interesting that God actually issued this challenge to prove him. This "proving" comes by the giving of our tithes to the LORD, and seeing how He takes care of those who follow the admonition.
God has shown this to our family over and over again through the years.  Our budget often has more outgo than income, but God has miraculously never left us wanting.
"I have been young, and now am old; yet have I not seen the righteous forsaken, nor his seed begging bread." Psalm 37:25
Does this mean you will be rich, rich, rich, if you tithe? God doesn't promise that, but He may keep your old car running lots longer, help you find the best bargains for food and clothing, keep food on your table and your family healthy enough to avoid the doctor, as well as numerous other blessings. He will use others to bless you and your household.
He promises that HE will bless you so that you won't even have room enough to hold all the blessings. Our family has experienced this many times over.
BUT THAT IS NOT ALL:  IT IS ONLY THE BEGINNING STEP TO BIBLICAL FINANCIAL "SUCCESS!"
BE FINANCIALLY RELIABLE; DON'T BE A ROBBER

What the Bible has to say next may be hard to hear. Since the tithe is a tenth, if we are not returning to the LORD's house his tenth, we are not givers, we are "robbers."  We are keeping for ourselves what rightly belongs to the LORD.
"Will a man rob God? Yet ye have robbed me. But ye say, Wherein have we robbed thee? In tithes and offerings." Malachai 3:8
Withholding the tithe from God is the same as stealing from Him.
As Christians it is most important that we be financially reliable. This can be defined as: to financially care for your family, to owe no man, to not be late in what you pay, and to not have unnecessary debt.  
"Withhold not good from them to who it is due, when it is in the power of thine hand to do it.  Say not unto thy neighbor, Go, and come again, and to morrow I will give; when thou hast it by thee." Proverbs 3:27-28
Do not put off paying someone what is rightfully theirs.  Pay on time what you owe, to the best of your ability. If you aren't paying your bills on time, you are stealing from those who have "lent" you money or services like housing, insurance, utilities or automobiles.
TITHING IS NOT THE SAME AS GIVING
Many people believe that they are GIVING to the LORD when they tithe. Tithing is obedience to the LORD.  He tells us to tithe.  "Bring ye all the tithes into the storehouse"  Malachi 3:10a.
This tithe or tenth belongs to the "storehouse." The storehouse is your local church; not a radio or TV ministry, not a local charity, and not even to poor children or missionaries around the world.
A person who does not tithe cannot be considered a giver, because he is withholding what is due the LORD.  Any gift to missions, church building programs, local charities, children around the world, a TV ministry, the Salvation Army or other worthy cause is given above and beyond the tithe.
Our family has been very blessed when we give more than the tithe to God.  We have found that you cannot out give GOD.

If you haven't been a tither, make the choice to begin now. It IS the start of Biblical Financial success.
Many will argue that the tithe is an Old Testament Law that is no longer applicable. Knowing that we have Grace through the salvation offered us through the shed blood of Jesus should make us desire to go way beyond the tithe and be a giver. The Pharasees counted out their coins to be sure and give an exact tithe out of their abundance.  The Lord honors the gift that is given like the widow, who gave her very all. God says to not let our right hand know what our left hand is giving.  He also he wants us to be  "Cheerful givers."   
Note:  All scriptures are from the King James Bible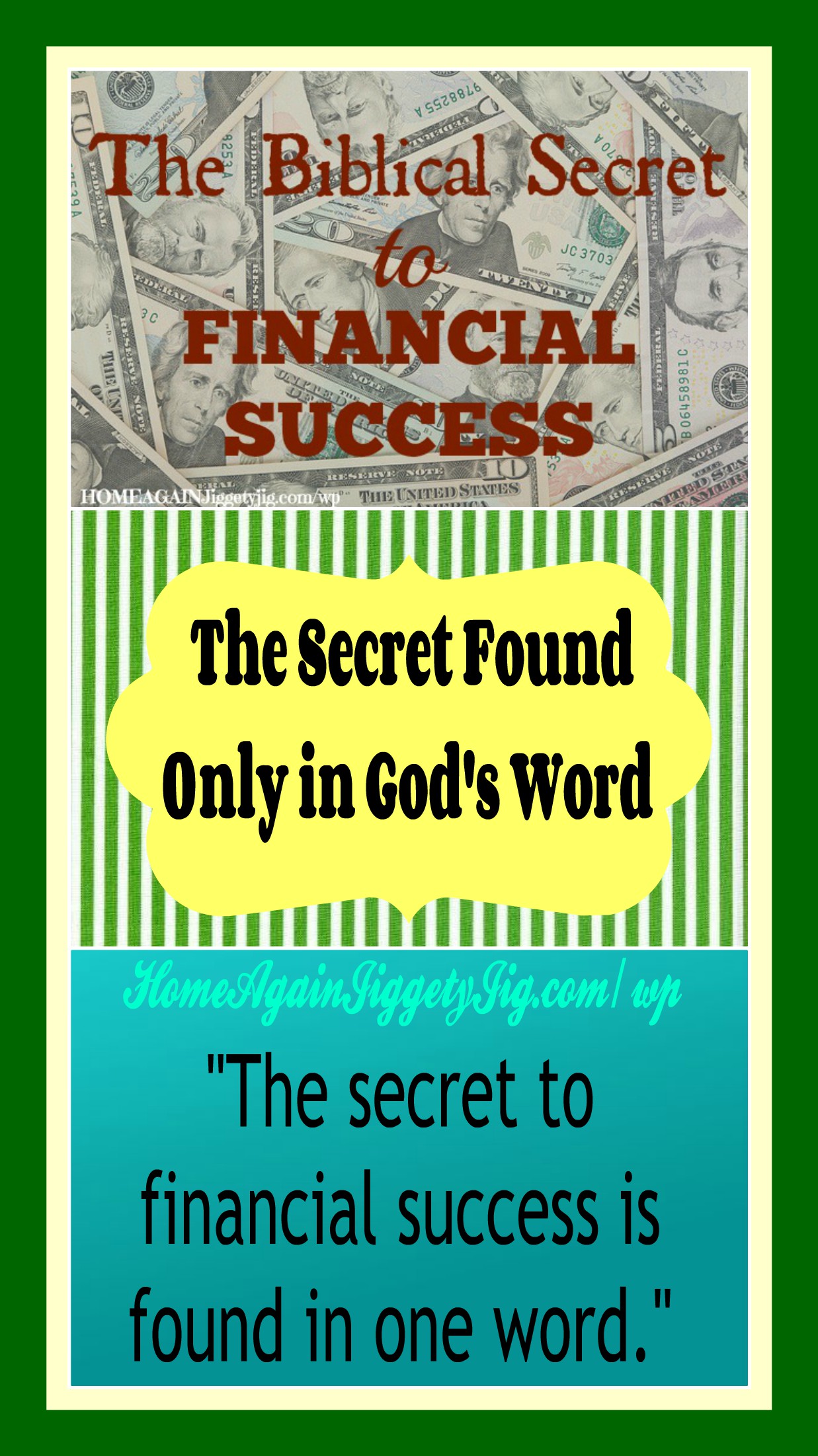 Another part of Christian Growth is God's pruning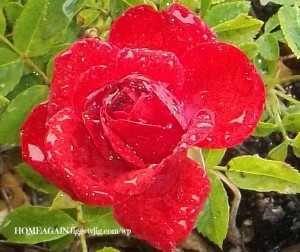 THE BIBLICAL SECRET TO FINANCIAL SUCCESS