This post contains affiliate links.  See our full disclosure.

My lawn is very weedy, there is no fruit on my blueberry bushes, I have no vegetable garden. In general, I'm a pretty poor gardener.  The only thing I do a pretty good job of is growing flowers. Especially roses.
My roses do well because I visit them regularly carefully pinching off or cutting off each dead head, down to the next five leaf section. When I do that, it allows the plant to send out fresh growth with at least one new bud.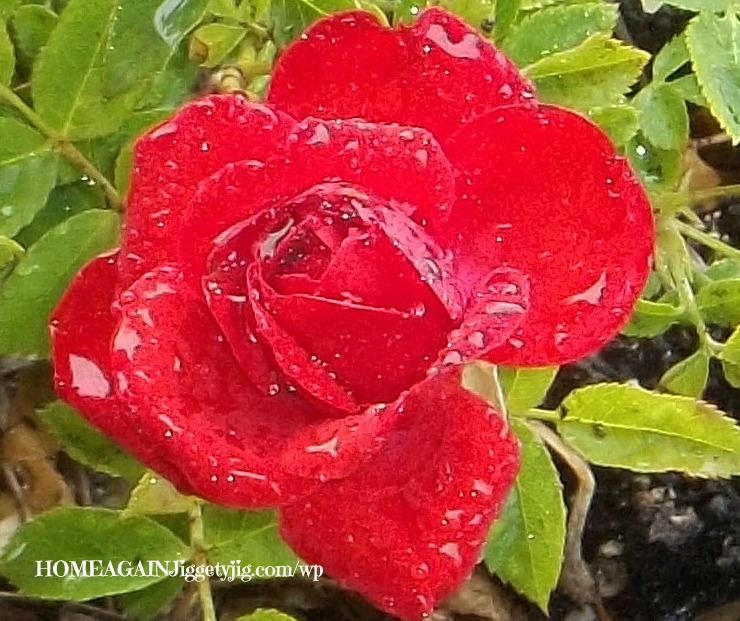 One bush of beautiful red roses was partly frozen last winter. Part of it is still beautiful, the other part of it is dead. The roots of that dead part regularly shoot up rogue sprouts – or suckers. These suckers, if left unattended, will drain all the life from the living part of the bush, and produce wild roses. Weekly, I have to take clippers to chop those suckers off at their base.
During a church work day last spring, my friend Cynthia took shears and pruned back a small rose bush, which was covered with dead headed baby roses.  This bush is located next to the front door of our church. I must admit that I was shocked when she chopped the top leaves off of the entire rose bush. Much to my amazement, it did not destroyed the bush at all. Several weeks later that baby rose bush was beautifully rounded and covered with healthy mauve colored roses. It survived the rigorous shaping and came out more lovely than ever.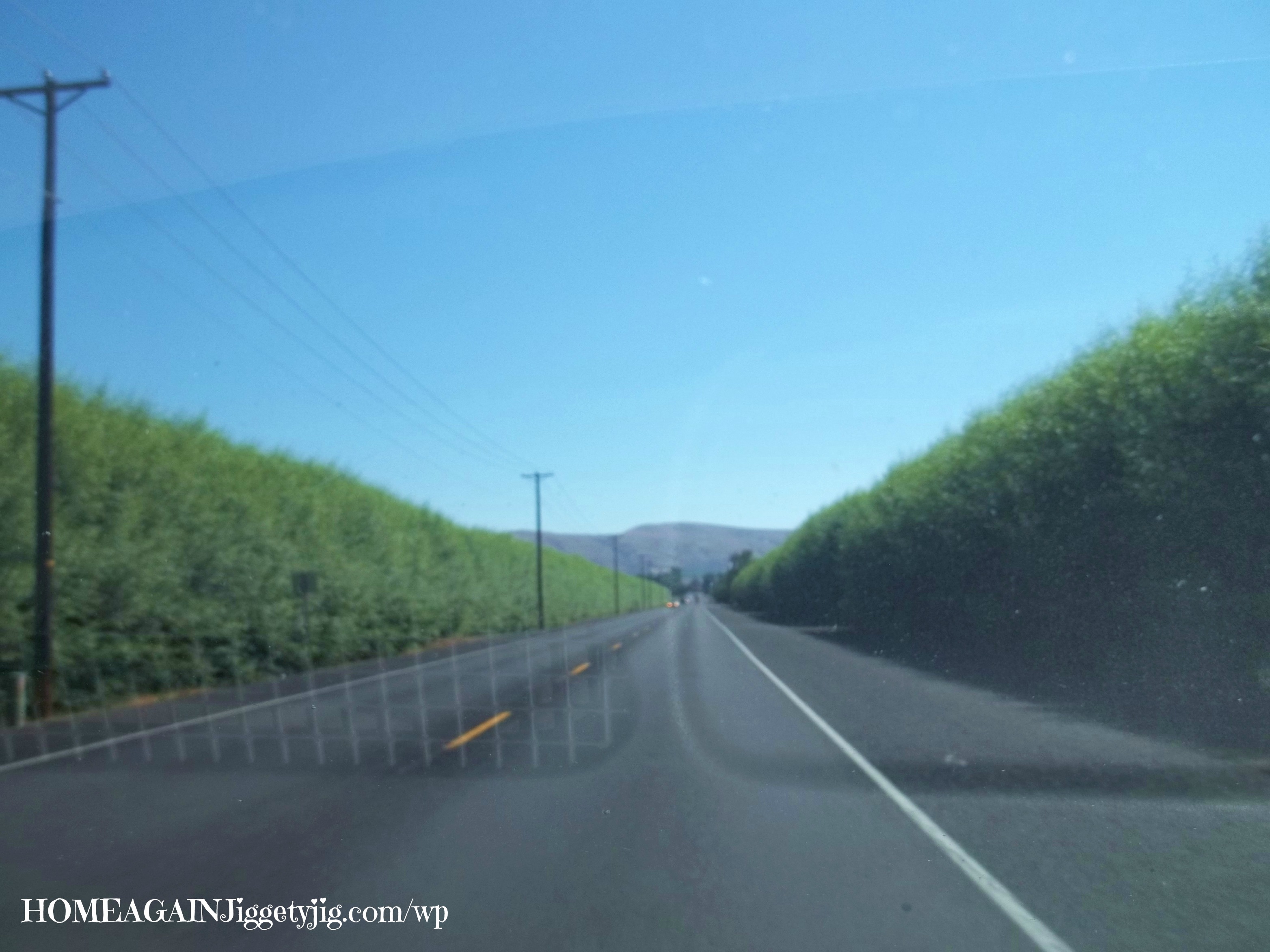 In our city, there is one road which is thickly lined, on both sides, with beautiful trees. They may have been planted in order to shelter farm land and orchards from the fumes of traffic or to help cover or buffer what could appear to be an eyesore to some. Late last winter, someone sawed the tops off all 5,000 or so of them. I was absolutely shocked at the thought of the damage to those beautiful trees.  This summer those trees filled in and are lush and healthy and more beautiful than ever before.
Most of the time I enjoy a spiritual life that passes happily from one day to the next with no big challenges or problems. When there are only a few challenges in life,  I find myself reading my Bible less and less, or my Bible Study becoming  less important. On top of that, my prayer life often fades. Not surprisingly this generally happens when life is going well.
When troubles arise, such as financial challenges, car problems, relationship difficulties, illnesses, death or disasters, I am impelled to the Lord, calling out to Him and seeking to resume the relationship, by immersing myself in His Word and spending extra time with Him.  Because I haven't been bearing fruit, God has chosen to prune me, as He teaches in His word: "Every branch in me that beareth not fruit he taketh away: and every branch that beareth fruit, he purgeth it, that it may bring forth more fruit." John 15:2.  God doesn't particularly want to zap us, or cause us harm, but He knows that we need pruning to be what He wants us to be.
THE GARDNER USES FOUR DIFFERENT PRUNING TOOLS:
FINGERS: to pinch off dead blooms, like the dead flowers on my bushes.  Those rose bushes and I have a regular relationship, and I don't have to do a lot each time I visit them.
CLIPPERS: for selective pruning and removing a spike or rogue shoot as we have had to do with our severely frost damaged bush. If I leave them too long, the shoots get tough and harder to cut.
SHEARS: to shape plants for a well-rounded appearance, like my friend Cynthia did with the baby roses by the front door of the church. This is done a couple times a year to keep the roses in shape.
SAWS: to cut heavy wood to restructure the plant, the way that the roadside trees were lopped off. I would expect that years will go by before this becomes necessary again.
Because of a close relationship with God, He may choose to simply pinch away selective parts.
Other times, He may decide to remove some things which appear as "rogues" in our lives. This requires a bit of clipping.
He may choose Cynthia's way of rounding us out with shears, to reshape us so that we might be more beautiful and more like Him.
Or perhaps He may need to painfully saw off the heavy wood and restructure our lives completely. All these things He allows in order for us to grow to be more like Him, and to prepare us to do greater things for Him.
Many years ago, my husband struggled with his salvation. He had a clear salvation testimony, and was faithful to the Lord's house, but he had often read and heard this verse preached:  "For whom the Lord loveth he chasteneth, and scourgeth every son whom he receiveth." Hebrews 12:6.  At that time he knew that there were some things in his life that shouldn't be there. Because the Lord had not chastened him (or pruned him) he wondered if he was truly one of God's children. The day came when he was in a serious collision which put him in the hospital, and ultimately took him out of police work.  Did he lament this? No. He was almost ecstatic  to have experienced the chastening of the Lord, because it affirmed for him the fact that he was truly God's child. It also turned his life around, and ultimately put him into the ministry.
Please don't think that if God is pruning you, you must have done something to displease Him. Consider God's servant Job. "And the LORD said unto Satan, Hast thou considered my servant Job, that there is none like him in the earth, a perfect and an upright man, one that feareth God, and escheweth evil? and still he holdeth fast his integrity, although thou movedst me against him, to destroy him without cause." Job2:3.  God allowed Satan to destroy his possessions and take his children and his health.  What was the ultimate result of all this?  "In all this Job sinned not, nor charged God foolishly." Job 1:22
"During the Great Depression a good man lost his job, exhausted his savings, and forfeited his home. His grief was multiplied by the sudden death of his young wife. The only thing he had left was his faith. One day as he combed the neighborhood looking for work he stopped to watch as men did stonework on a church building. One was skillfully chiseling a triangular piece of rock. Not seeing a spot it would fit, he asked. "Where are you going to put that?" The man pointed toward the top of the building and said. "See that little opening up there near the spire? That's where it goes. I'm shaping it down here so it will fit up there." Tears filled the hurting man's eyes as he walked away thinking of the words: "shaping it down here so it will fit up there." He found new meaning in his difficult situation. "Behind a frowning providence God hides a smiling face."  J. Sidlow Baxter, Explore the Book
SOMETHING TO THINK ABOUT:
How did God prune these Bible ladies: Eve, Sarah, Rachel,  Jochebed, Miriam, Naomi, Ruth, Hannah, Abigail, Esther, the Widow at Zarephath, Mary, and Elizabeth?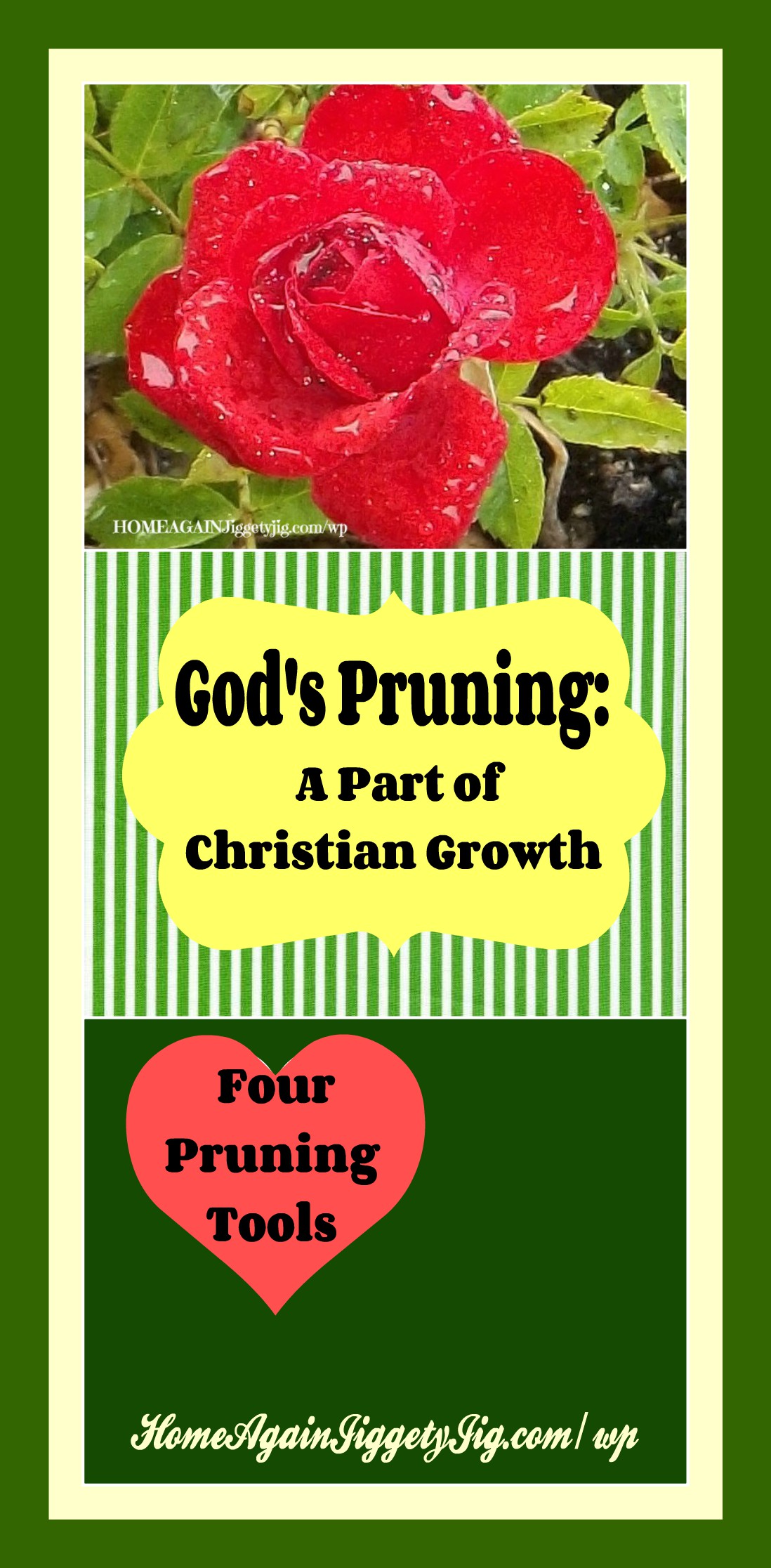 GOD'S PRUNING – A Part of Christian Growth