Groundhog day,  February 2nd -The Big NFL Football Game, Lincoln's Birthday, Valentine's Day, President's Day, Washington's birthday! These are all "$pecial" days in February, and provide lots of reasons for retailers to have sales, and for you to save money. February is a $uperior month for $ales! Here are your best things to buy in February.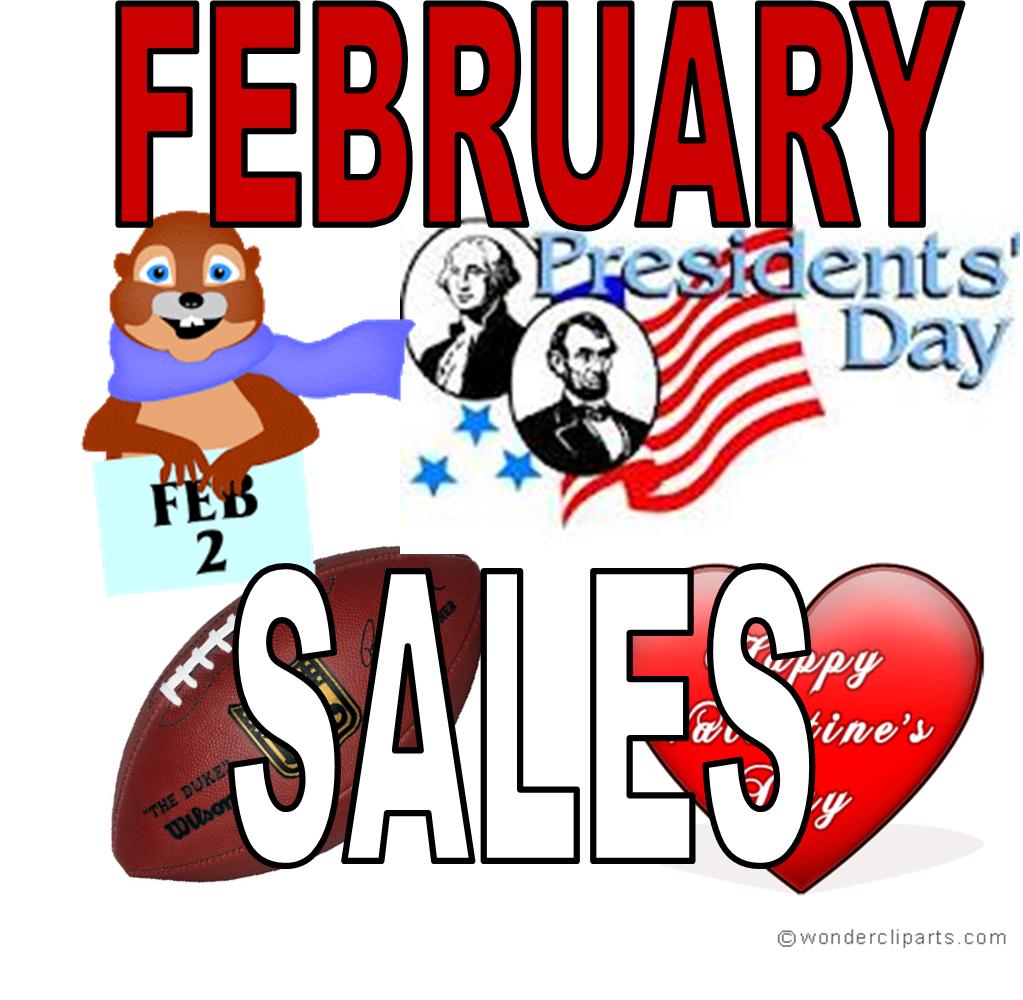 This post contains affiliate links.  See our full disclosure.
If you purchase ANYTHING by clicking on these links, I will earn a little money to help my family and keep my blog going, and it will cost you nothing extra!
GROUNDHOG DAY
February second, Groundhog Day, is a fun occasion providing retailers a good reason to have a sale. Because there is no real holiday or merchandise associated with Groundhog Day (unless you live in Punxsutawney PA ) merchants are looking for ways to get customers into their stores or to shop online in the bleak days of early February. Some of the best buys to look for are special service deals like free plumbing or furnace inspections, discounted event tickets, hotel discounts, airline tickets and all manner of "two for one" or "buy one get one 1/2 price" deals – including restaurants.  You'll never know what type of unique sales merchants will offer in honor of Groundhog Day.
"THE" BIG NFL FOOTBALL GAME
Even though our family stays away from junk food most of the year, during the week before "The" Big February 2nd game, we almost always buy a bag of Doritos and some Pepsi to enjoy while watching the game, along with our healthy Low Carb Snacks.  😉
Yes! Their advertising works. After seeing a few of the unique Super Bowl ads, which is the chief reason many watch the game, after many years, we know we are going to be wanting a Pepsi and some Doritos.  The good thing is that they will be on sale during the week prior, so we can be prepared, AND the slight lapse in healthy eating will be less expensive.
Sales for this game include all manner of snack type foods which include, frozen and delivered pizza, chips, dips, candy, crackers, soft drinks, cheeses and wings, as well as fruit and vegetable trays. Most of these specials will be available the week before and a couple days after the big game.
This is a super great time to buy a TV – especially really big ones, like 55+ inches. (Hint: November is the very best time.) The larger TVs will have the greatest discounts, but you can find good deals on all sizes. So if you've been planning on buying a TV you might want to shop before the Big Game.
In the days RIGHT AFTER the game, be on the lookout for sales on NFL team clothing and other team items.
VALENTINE'S DAY
Valentine's Day offers start well before the beginning of February and go right up to the 14th. Some of the very best sales are near the first of the month. Buying flowers online is definitely one of the great ways to find your top bargains on flowers. If you can get your flower order in early, you will find special offers that can include free candy and/or vases with your floral purchase.  You will also find that online flowers are some of the freshest flowers available, and you can usually set the delivery date. Check out Rakuten Coupon Codes and up to 32% cash back for deals from Pro Flowers, 1 800 Flowers, FTD Flowers and others.
Valentine's gifts, like stuffed animals, candles, perfume and candy are also better priced at the start of the month.   Sales prices for candy, jewelry and other valentine related merchandise occur during the first two weeks of the month, and there will be lots of other items on sale in honor of that special day.
Right AFTER Valentine's day, you'll find clearance prices on chocolates and other specific Valentine's merchandise, including Steaks and Seafood.  BUT if you are able to wait, you will find that the best prices for Fine Jewelry occur during the summer months.
PRESIDENT'S DAY
President's Day weekend, as well as special days to honor Lincoln's official Birthday on the 12th and Washington's official Birthday on the 22nd,  always have great sales which include Furniture, Appliances and Winter Clearance Sales.  Because furniture stores are still working to get rid of specific older models, they may throw in free delivery and set up. You'll find the best deals on appliance closeouts. And you can often get big $$$ off savings if buying two or more appliances.  ASK for these benefits as well as free delivery and set up and removal of your old appliance, if those offers aren't already advertised.  Try and wait for the best clearance deals for refrigerators until May. If  you need to buy an expensive refrigerator now, you might ask for discounts on matching appliances.
President's weekend  is also a big weekend for sales on mattresses. Retail stores like Sears and Macy's are good sources. Mattress stores that only carry beds and mattresses might just have the best deals.

NOTE:  In most cases you'll find furniture and mattress on sale all month, with the best sales over the President's Day weekend. 


FOOD
Canned goods are regularly on sale in February.  You may be able to get even better bargains by working with your grocer to purchase them by the case. Also don't forget that all manner of snack foods are on sale for "The" Big Game!
You'll also find a lot of produce available. My favorite fruit/vegetable, the Avocado, is in season.  Cruciferous vegetables like broccoli, cauliflower, cabbage, and Brussel sprouts are available over much of the country, as are root vegetables like carrots, potatoes, turnips, parsnips and rutabagas. Many greens are also good deals and it still is citrus season with grapefruit, oranges, mandarins, lemons and limes at pretty good prices. Apples, pears and bananas are generally priced well too. For specific produce seasonal to your area, check out the Epicurious Seasonal Ingredient Map.
TRAVEL
Winter travel to warmer climates is still a great deal in February and you'll get good airfare rates and hotel rooms before Spring Break erupts in March, and all the good deals are out the window.
NON SEASONAL ITEMS
There are some unexpected items on sale in February – like last year's Air Conditioners, Lawn Tractors, Boats and Motorcycles – as well as clearance prices on any of last year's patio and outdoor furniture that might still be in stock. There isn't much interest in them in the snowy North during this time of year, so retailers may be ready to give good deals, which you can store in your garage until you need them.
FEBRUARY might be the very best month of the year to get multiple discounts on winter clearance items.  Look for additional percent off coupons in your newspaper or, with your cell phone, from the retailers where you shop. Look for huge discounts on Winter clearance.
Throughout the month I'll be posting where to find special deals and offers at HOME AGAIN Jiggety Jig! on Facebook.
Pin this to easily find again!
Marjie Briggs is a Family and Consumer Scientist /Home Economist, who researches year round to help you find the very best priced deals for your family. She would be happy to assist you in any way possible to get the best prices available!
WHAT TO BUY IN FEBRUARY! Your best frugal deals.