CLEARANCE STUFF!

CHRISTMAS CLEARANCE –
I walked into a department store just a couple of days ago and was hard pressed to find anything that was not on clearance or on sale. January is one of the very best times of the year to shop.
You'll find deep discounts on trees and lights, ornaments, Christmas gift wrap, ribbons, and all manner of Christmas decor, holiday dinnerware and table linens AND CHOCOLATE! – did I say CHOCOLATE?
While you WILL find discounts in the early part of January of as much as 60-70%, keep your eyes open for extra percentage off coupon discounts in newspaper ads as well as on the individual retail websites. When you go shopping you can then use the coupons to take additional percentages off on top of the clearance prices.
This post contains affiliate links.  See our full disclosure.
If you purchase anything using these links, I will earn a little money to help my family and keep my blog going, and it will cost you nothing extra!
CLEARANCE ON COLD WEATHER CLOTHING AND BEDDING –
This is THE time to find great discounts on jackets, sweaters, hats, scarves, gloves, fleece, blankets, flannel and fleece bedding and throws.
This is also a great time to guess what sized winter coats your kiddos will be needing next year and pick up new ones for as much as 70% off.  Again be aware of extra percentage off discount coupons in newspaper ads and on individual retail websites.  The longer you wait into January, the deeper the discounts, but you'll have less inventory to choose from.
CLOTHING CLEARANCE-
Winter clothing is discounted BIG TIME in January to make way for the spring lines. It is a great time to stock up, at bargain prices, on the clothing your family will be needing warm clothing for the rest of the Winter, as well as next Fall and Winter.
BOOTS CLEARANCE-
I told you last month to wait, and – FINALLY – January is here with the best time to get great deals on boots. Since we have had snow on the ground since early December, I'm looking for another pair of boots.
You'll find clearance prices on boots both in retail stores and online.  Be on the lookout for coupons and coupon codes to get additional discounts. Last year two of my daughters and I each got a pair of boots for about 70% off. Check online retailers for some pretty great combo deals.
"WHITE SALES" –
January is white sale time. White sales traditionally include all kinds of linens, bedding, table linens, place mats, blankets, towels, sheets, kitchen towels and pot holders. Of course there will be on clearance items like flannel sheets, fleece throws, and holiday themed items, but these white sales will include items that are not already on clearance. Now is the time to stock up on these household linens for your own home as well as for wedding or bridal shower gifts later in the year.
ELECTRONICS CLEARANCE –
New high end electronics come out in January, so retailers will be discounting the big TVs still on the shelves.  But you'll also find some good deals on those NEW TVs.  For the best prices on both, wait until the last two weeks before the super bowl, which will be played on February 4, 2018.
The first full weekend in January is the International Consumer Electronics Show in Las Vegas NV.  They'll be showing all kinds of new electronic gadgets, which retailers will want on their shelves, and in order to make room for them. Imagine a new vacuum cleaner that works by voice commands and a hovering wireless speaker that "lets your music fly." Retailers will be cutting prices on other electronics. If you're looking for a new laptop, you're in luck.  Laptop sales have been slow lately, so they are likely to be discounted in January.
January is a super duper time to check out clearance deals at Amazon!  There are new items added regularly with timed endings on the super prices. Some are as much as 95% off. This is a great bargain site to keep on your shopper radar.
APPLIANCES –
Though you'll likely find the best deals or selections on "last years" appliances in September or October – when the new lines of appliances come out, January is a good time to buy, since dealers are trying to cut their inventory.  For the best time to buy in January look to the MLK weekend for good deals or wait until President's day in February. For good deals just about any time, check online. You may find some coupon code deals as well as free shipping and /or installation.
FURNITURE AND MATTRESSES –
Because most furniture companies put out their new products in February and August, retailers will be making room in their showrooms for the new lines of furniture, so if you are in the market for some new furnishings, this is a good time to look. Your very best prices of the year will be in July, but you'll still find great discounts in January. Keep in mind that there will likely be big sales over the MLK holiday weekend, January 13 -15, and President's day weekend in February.
CARPETING AND FLOORING –
Lots of people put in new carpeting for the holidays, but rolls of carpets and boxes of wood flooring remain in the home improvement  flooring stores.  Those carpets will be deeply discounted, so if you are in the market for new carpeting, now is a great time to look.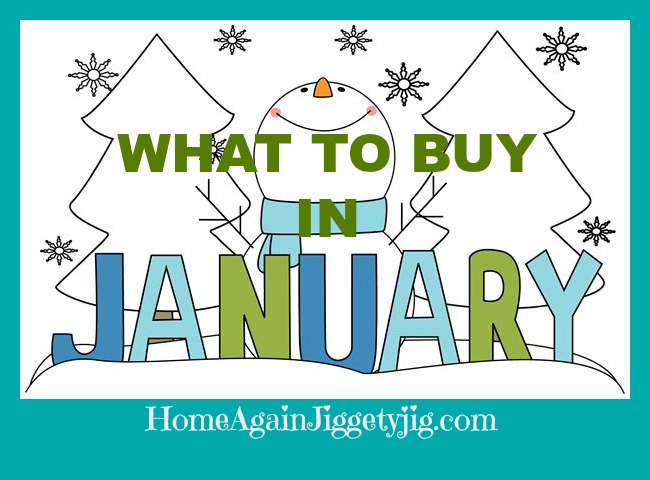 FOOD –
January is also a good time to buy Kiwi fruit, and all citrus fruits.  We keep Satsumas or Clementines in our fruit bowl throughout the winter.  Bananas, pears, apples and avocado prices are good, (as they are all year long.) The best available vegetables in January, include carrots, cauliflower, celery, chard, collards, kale, cabbage and spinach. Potato prices are generally good all winter long. To find the freshest produce for your area, check out this interactive map from Epicurious.
January is also case sales time. Look for special sales prices when you purchase canned food and pasta by the case. You'll be able to stock up and save a lot.
Because people are so health conscious at the first of the year, you're likely to see some really good prices on organics or "health foods."
Prices on eggs, beef  and chicken will remain good, and milk and milk products appear that they will not change much.
ORGANIZATION AND STORAGE –
Because this is a great time to reorganize our homes and businesses during the first part of the year, as we put away the holiday decorations and clean and organize,  you'll find all kinds of bins, baskets, totes, shelving and other organizational containers for home or office on sale this month. Some of them are mighty awesome!
ACTIVE WEAR –
Because people focus on their health in January, fitness wear and training shoes as well as active wear for the entire family are on sale in January.  There will also be sales on workout equipment in January – of up to 25% off, but if you are wanting to get the best prices of the year, hang on until this summer for the best prices on work out clothing and equipment. You won't find the absolutely best prices of the year by waiting until June.
EVEN MOTORCYCLES –
I recently read that January is the best time to buy a motorcycle, because throughout much of the US, it is too icy to ride one, so they don't get sold until Spring.  If you are in the market to buy one, you can get your best deal NOW and park it until Spring. Boy would my husband enjoy that!
KEEP YOUR EYES OPEN, AS YOU SHOP, FOR SUPER CLEARANCE DEALS IN JUST ABOUT EVERY STORE AND DEPARTMENT!

Updated January 1, 2018.
Marjie Briggs is a consumer scientist who is constantly on the lookout to find the best buys for each month of the year.