Before I began my blog, I followed a number of others and read some that really touched my heart.  This is one of them.  I too have struggled as she struggled. With her permission I am sharing this today, exactly one year after my friend Amy posted it on Lissiegirl Blogs!
Interestingly, I taught the very same lesson last week that she did last year.  As an illustration of God's provision for the widow in 1 Kings 17, we made tortillas from flour, water and oil, using all the flour and oil I brought to Sunday School.  They were a little sticky, so I brought in a small canister of flour from the church kitchen to allow them to dust their hands with flour as they patted out the tortillas. One little boy looked over and saw the extra flour and got so excited. "Look! More flour from God!"  So grateful that the Lord provides "Just Enough" of what we need every day.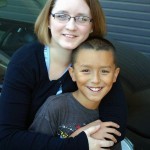 FRIDAY, MAY 3, 2013
Two Small Words With One Big Impact
You know that Bible story you could teach from memory, because you've taught it a zillion times? Well, having taught Sunday School & Children's Church for nearly 10 years, I have a lot of those. Currently, our Sunday School lessons have us in 1 Kings & this past Sunday, my lesson was on Elijah & the Widow Woman. I'm sure you're familiar with that one, too. If not, tho, here's 
the story
 in a nutshell:
Elijah has been by the brook Cherith, being sustained by God via the water from the brook & some food from the ravens for quite a while, and now the brook has finally dried. So, God tells Elijah to go to Zarephath, to the house of a widow, and there He would continue to provide for him, until the end of the drought. Elijah gets there & tells the woman to fetch him some water & make him some bread. She, in return, explains to him that she was just about to prepare the last meal for herself & her son. Elijah promises her that God has sent him & would provide. Amazingly, she does as he asks, and prepares what little she has left for this man she's only just met. Even more amazingly, when she goes back to her seemingly empty vessel, there is enough for her & her son! Not only that time, but every time she needs to feed them, there is enough! For 3 years, until the end of the drought, the Lord provides for the 3 of them. Just as He had promised. 
It's a great passage, with a fantastic lesson! I already knew that. But, it's one thing to know something, and a completely different thing to live it. Now, I know without a doubt that God will provide. He has fulfilled every need we've ever had, and sometimes in miraculous ways! That's not really my problem. The struggle is living it. 

Dan & I seem to be in a perpetual state of drought, and I feel as if we've been living at the brook since we got married! We have chosen to follow the path the Lord has for us, regardless of it's earthly consequences, and I'm gonna be honest, it's not easy. Yes, God is still sending the Ravens & no, the stream has not yet dried. But, when will it end? When will God finally say "well done!" and let us leave the brook? I just want to be over this! I want to be on the other side, saying: "look where we were & where we are now!" We give, we serve, we do whatever we can, whenever we can & we do it all for the Lord, without hesitation. He DIED for us! It is our reasonable service! Still, I feel like there must be something we're doing wrong, otherwise, God would be blessing us. Right?! So, I pray harder, read my Bible longer, serve more, give more, etc…and yet, we're still here by the brook.  I get so frustrated! How am I supposed to keep living in the drought, while I watch others around me enjoy the rain?! Hasn't God promised to open the windows of Heaven & pour out blessings?! When's that gonna happen to us?! It's happening to everyone else! *sigh* It's so hard, and even tho I struggle, I keep on giving, serving, praying, etc. Mostly, because it's just the right thing to do. 

As I stood there, teaching my class on the provisions of God, I couldn't help but be convicted. The funny thing is, that it didn't even come from the scripture! It came from the actual lesson. As I was reading it to the girls, this last sentence from the lesson completely jumped off the page, and slapped me right in the face.

"God kept putting just enough meal in the barrel and oil in the cruse for three cakes of bread at each meal. For three years, they had just enough to eat, until the famine ended."

Now, I'm not a Bible scholar. I have no idea how the writers of the Sunday School curricula know how much was provided, when, and for how long. But there, in that simple sentence, two little words were all it took to shake me.  They were: "just enough". Elijah and the widow woman had obeyed, and because of it, God was true to His promise and supplied their need. But, what if it really was "just enough?" Where in the passage does God promise them mountains of food & a new car?! It's not there! God promised to provide what they needed, when they needed it, for as long as they needed it, and, that's exactly what He did. 
Right there, God reminded me, that we have never gone without a meal. Amazingly, the bills get paid. We've all got clothes & shoes that fit. We've got a roof over our heads & a car that works-ish. Guess what, Amy?! It's just enough! Do we really need more? The simple truth is, no. The World drills into us that, in order to be happy, we have to have it all. But the Bible clearly teaches, that if we have Jesus, we DO have it all!! How foolish and selfish I have been. I've been so focused on what I don't have, that I've lost all enjoyment in what I do have! I have an amazing marriage, with an equally amazing husband. I have 3 healthy, happy boys. I have a DAUGHTER! I have godly parents & a loving family. I get to attend & serve at the best church in the world. But, most importantly, I have a home secured for me in Heaven & the promise of eternal life with my Saviour. When you add it all up, it really isn't "just enough" any more. The windows of Heaven have been opened up for me!! I was just too blinded by my sin to see all the blessings that already surround me. 

I'm so glad that the God of Elijah, is my God. I'm thankful that He has not changed, that His Word is truth, and that all of His promises are for me too!!! The drought may continue for years to come. Oh, that I would learn to enjoy His provision – even if it is "just enough."
TWO SMALL WORDS WITH ONE BIG IMPACT