I love, love, love, love, love CHRISTMAS!  Almost everyone around me knows it, and at opportune moments throughout the year, they are joyfully reminded, by me, of the number of days remaining until that blessed date.  Listening to Christmas music usually starts in July or August. One of my fun favorite Facebook pages is Countdown to Christmas which does exactly what it says!  We start to make plans for the next years Christmas decorations at church before the current Christmas arrives. This means that right now we're already planning the decor for our Church entry, Sanctuary and Fellowship hall for December 2019!
I've discovered that not everyone is as fond of Christmas as I am and a meme like the following one can send some folks into terror.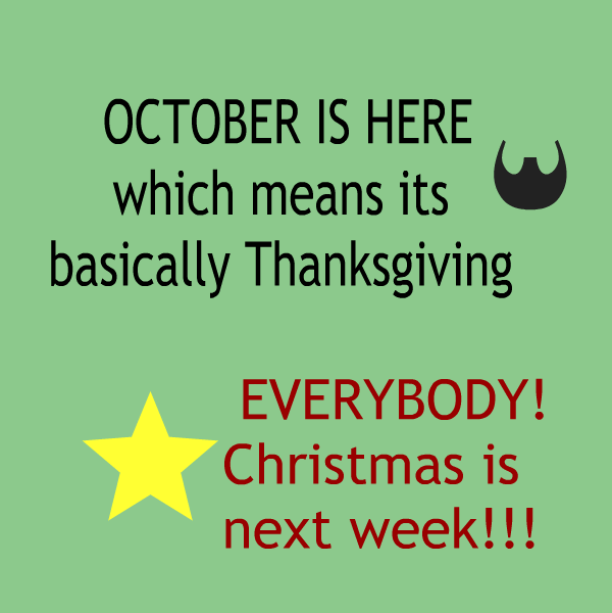 I would really like to help you feel a little more early excitement for Christmas, and less terror!  Christmas is the time of year that we celebrate the birth of the Lord Jesus Christ who came to earth as the sacrifice for the sins of the world, that all who believe might have eternal life.  "And we have seen and do testify that the Father sent the Son to be the Saviour of the world." 1 John 4:14
So often we arrive at the Christmas season worn out from doing too much. We are tired, often sick and not even ready for this wonderful time of year.  October is a really good time to begin gently traveling into the Christmas season, and since Christmas shopping can really get us down, I'll show you how you can begin to prepare, bit by bit, starting this month.
This post contains affiliate links.  See our full disclosure.
WHY IS OCTOBER SUCH A GOOD SHOPPING MONTH?
1. October is situated at the start of the fourth quarter of the year and retailers are not only trying to get rid of excess inventories, but are already looking toward the end of the year, anxious to end it "in the black."
2. Retailers generally have good inventories and want to move them out.
3. There are a couple of "holidays" – Columbus Day and Halloween – and there are sales over both those time periods, plus sales and special marked down deals all throughout the month!
4. You'll have plenty of time to order online – even from overseas – and get your super bargains shipped in time for the holidays.
5. Retailers will do whatever it takes to get you shopping early for the Holidays. Pay attention to mail, email, newspapers, and online coupon codes for special sales and coupons for $$ or percentages off your purchases. My number one recommendation is Rakuten, formerly known as Ebates. Sign up at the link provided below, and you can get notified whenever the websites you are shopping from have coupon codes and or percentages back. Every quarter I get some money back  through RAKUTEN
6.AND MOST IMPORTANTLY: October includes one "secret" weekend that comes close to rivaling Black Friday with super sales events.  Read on for the secret!
JUST ABOUT EVERYTHING IS ON SALE IN OCTOBER AND SOME OF THE BEST DEALS OF THE WHOLE YEAR HAPPEN THIS MONTH! (while stores still have good inventory) Here are a few of the great deals you will find in October.
JEANS:
Did you know that the absolute BEST time of the year to buy jeans is October? Here's the reason. Traditionally retailers tend to overbuy for back to school sales.  Now you'll find them trying to get rid of their excesses, so that they can find room in the store for Holiday items.  Their loss is your gain.
BICYCLES:
Yes, you heard right! The new models on bicycles come out in the fall, so retailers will be closing out their previous models, and as you know bicycles don't change that much, year to year. So now might be the optimum time to pick out that Christmas Bike.  Some stores have lay away so you won't have to figure out where to hide it until Christmas morning!!
HALLOWEEN COSTUMES:
Though you will find some good deals on costumes throughout the month, if you can wait, the very best deals are right after Halloween, when you'll find them on clearance for as much as 90% off. These costumes make great additions to your dress-up chest for fun times throughout the year! What little boy or girl wouldn't want a pirate, superhero or princess costume as a Christmas gift?
CANDY:
Along with other Halloween items, there will be many good deals for candy and you can use store coupons, which are generally available in Sunday newspapers or online, to get even better deals. Those coupons will all likely expire on October 31, but on the first of  November you'll find cartloads of candy on clearance for as much as 50% off. Remember to buy extra for your Christmas stockings and baking. I always load up on these sales!
PRODUCE DEALS:
The fall produce bounty has arrived!  Fall is my favorite time of year. I love the change in the weather, and the amazing fall produce. In our valley the apples and pears are almost all off the trees, pumpkins are bright orange and ready to harvest from the pumpkin patch. But there is so much more to the bounty of the fall harvest. Eggplant, mangoes, most melons, winter squashes, grapes, avocados, corn, berries, potatoes, sweet potatoes, beets, carrots, cabbages, pomegranates and cranberries are frequently good buys for October.  You might want to check out the Epicurious interactive map to find the best seasonal produce buys for your area.
"

NEW" CARS:
If you are looking to purchase a new car, and are willing to go with a 2018 model, then Fall is the time to buy.  You'll also find good deals on used cars in October, as trade in inventories increase. We got a great deal when we bought our last used car in October, three years ago, which GLORIOUSLY is completely paid off! As usual, the prices shrink as inventory shrinks. You'll have fewer choices as the end of the year approaches. For the very best deals, if you are brave, wait until December.
APPLIANCES:
October is also a good time to get good deals on last years' models of large appliances, since the new models come out in the fall. All appliances except refrigerators will show up in the Columbus Day sales – usually the second weekend in October, and if don't have the cash right now, there will be some good large appliance deals in the Veteran's day sales in November.
LARGE HDTVs:
If you are planning to wait until black Friday to get a really big HDTV, you can likely find the same deals this month, without all the hassles of Black Friday shopping. Expect to find super deals in October.
SEASONAL DEALS:
Patio furniture, lawn and garden equipment, camping, fishing and hiking gear are still available at sizable discounts, and if you are looking for a grill, the deals are still available, especially in the warmer states. You'll still find some clearance racks of summer clothing at huge discounts, AND the new hot tub models are out, so the 2019's are on sale.
HERE'S THE SECRET YOU'VE BEEN WAITING FOR:
EXPECT TO FIND SOME OF THE BEST – NON BLACK FRIDAY-  DEALS OF THE YEAR, ON ALL TYPES OF MERCHANDISE, OCTOBER 25, 26 AND 27, THE WEEKEND BEFORE HALLOWEEN!
Check out the ads, of your favorite retailers online, or in the newspaper, and then head down to find some mighty fine bargains!
YOU MIGHT BE ABLE TO GET YOUR GIFT SHOPPING DONE AS MUCH AS TWO MONTHS EARLY!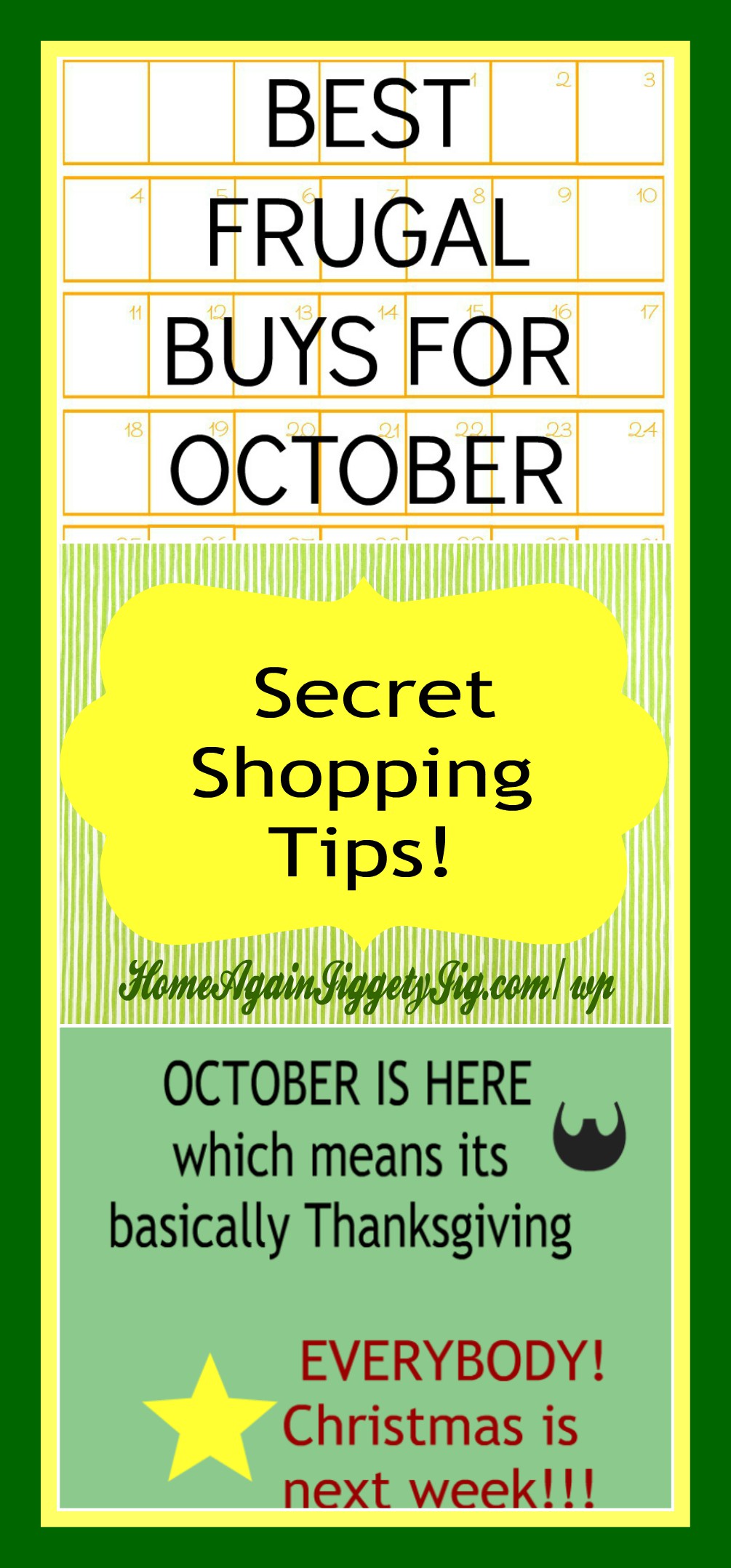 Marjie Briggs is a Consumer Scientist / Home Economist who regularly shares the best things to buy each month or season.
Updated: October 2019
SECRET SHOPPING TIPS FOR OCTOBER