WHAT A COLLEGE FRESHMAN NEEDS
I remember like it was yesterday getting our eldest off to college, even though it was a number of years ago. Every bit of her dorm room stuff had to travel a thousand miles on the plane with her to her college in Southern California. When we arrived at our little airport, about an hour early, she realized that she had forgotten her pillow.  We only lived about 15 minutes away, so I got in the car and zipped home to grab it.  When I arrived at the airport, she had already boarded and this teary mama was left holding the pillow, as her plane taxied away.  We shipped it to her that very day, probably for more than it would have cost her to buy several pillows, but we were such newbies that it somehow seemed like it was the only thing to do.
Since then, we have sent four more of our kids out of state to college, flying all but one of them there for their first semester,  and we've learned a lot about how to transport all their needed stuff, and do our best to equip them to be ready to live and study in a dorm room.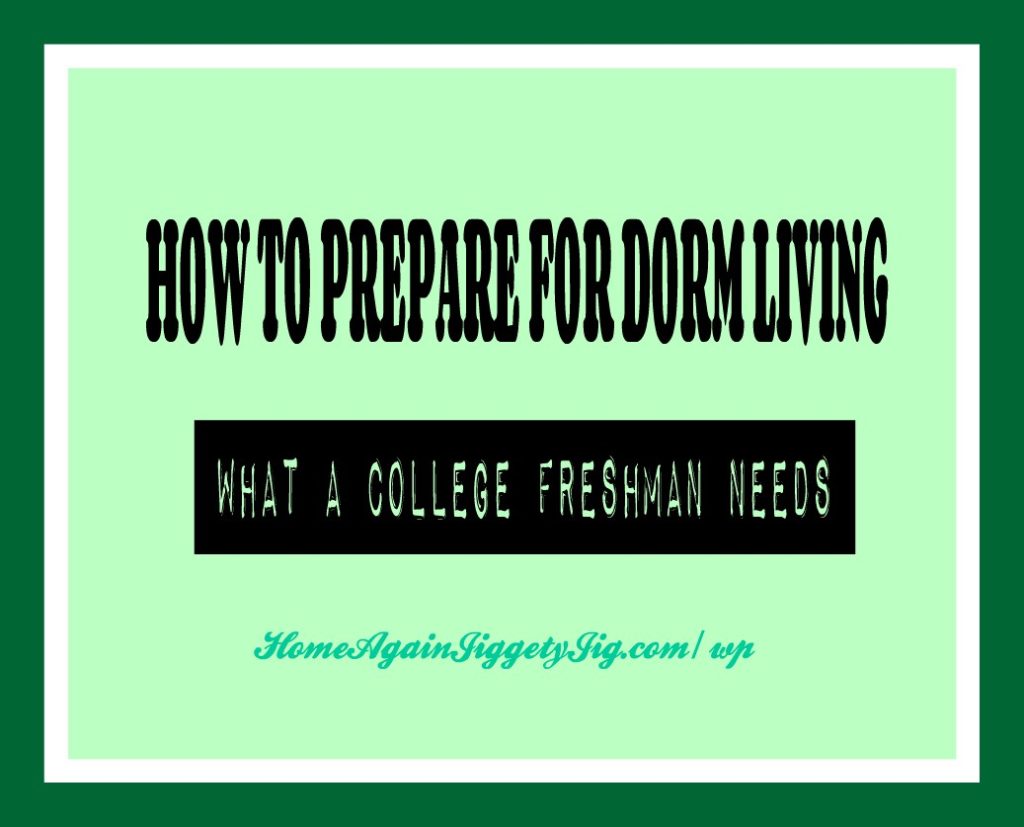 This post contains affiliate links.  See our full disclosure.


PREPARE  TO LIVE APART FROM YOUR PARENTS:
One of the goals of raising or rearing kids is to prepare them to live without complete parental  involvement. If they haven't figured out how to manage a bank account, pay bills, study, do laundry, fix a simple meal with only basic equipment, attend classes even when they don't feel like it, and obey rules, they are going to have a tough time. Our kids found out that there are a lot of students who don't have those skills when they head off to school.  This immediately puts them behind. A fair number of students head off to college with the intent of drinking and partying. Before your student heads off to college he or she should also have a basic idea of what they want to do for a living, and have a plan to pursue that. I've seen many a student unable to decide on a major and drop out.
As our kids were growing up we reminded them that they were required to spend a year at Bible College, and since we required it we also funded it  We let them know that after that year,  their lives and goals for their lives would be their own. This was a super great start to independent living for them.  It allowed them to get their wings, make good friends, have a lot of fun, and study meaningful things, while protecting them with wise rules.  Each one of our five completed that requirement, with a good attitude. As a Christian parent we were very relieved that they made this choice willingly and were not faced with a wasted education.
In his book A Case for Bible College,  Ryan Rench says: "Wasted time," to me, looks more like dorm life filled with parties and booze, drugs, sex, no sleep, and pointless homework. It seems as if the Bible college way of single-gender dorms, no parties, a curfew, and meaningful homework sound more like time well spent instead of "wasted time."
FINANCES:
The best advice I'm able to give is this: DO NOT take out student loans.  If you don't have the money to start college, figure out a way to pay for it. If necessary stay out of school for a year or two and work to build up the needed funds for that first year. Life is too much of a challenge to enter post college years with loans or credit cards that require repayment.  We have many friends who, after more than ten years are still heavily burdened with these loans.
There are many grants available, so be sure and look into those, AND look into scholarships.  There are tens of thousands of scholarships available every year from many different sources.  Some are even available to those who are already in college. Search on the internet and ASK – many fraternal organizations, granges, and employers give out scholarships. If you still are a year or two away from college, you might speak with your school guidance counselor or check at your local library. Don't be deceived that you have to have a 4.0 in order to get scholarships. Many other factors are considered in the application process. For example: if you worked for McDonalds, you might just be able to get a scholarship, or if your Dad is a veteran, or your Mom is a single mother, or you are a Daughter of the American Revolution you might be eligible for a scholarship.  This is just the tip of the iceberg. They're out there, just waiting! Remember, you do not have to pay back either grants or scholarships, they are essentially a gift to be used toward your education.
Do plan to have some spending money available for personal purchases, toiletries and an occasional meal out.  Now is NOT the time to get your first credit card. You should have your own bank account, and debit card, but don't start creating credit card debt. All of our children were able to leave school without incurring student debt, and without a credit card!
WHAT TO BRING:
Before calling the school with your many questions, read through the student handbook (Hint: some schools have it available online) This will answer a lot of questions for you.
Get their lists for what's provided and what's restricted. Each college has its own rules for any items not allowed in dorms, in most cases this includes anything that might be a fire hazard. Usually, dorm rooms are furnished with the basics, including twin beds or bunk beds, desks, chairs and perhaps a bookcase.
The first thing to get is free six month student Amazon prime membership.  You'll be able to buy at Amazon's great prices and have fast free shipping on over a million items!  Student prime is FREE for the first six months, and the benefit of having it shipped right to you.
Try to be as minimalistic as you can.  Remember, whatever you bring you'll have to find a place for and also keep neat and tidy.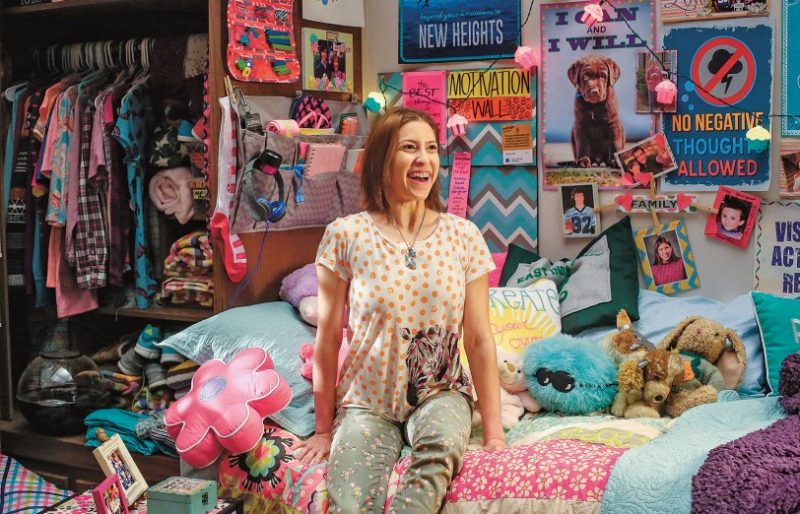 BOOKS AND SCHOOL SUPPLIES:
As soon as you get your book list, start checking online.  Student bookstores rarely have the best prices. Be certain to get the correct edition when purchasing online.  Prime Student has great prices for textbooks, and you can have them delivered directly to you at your school.  You can also find the overall best prices for textbooks by checking out this site.
As for as general school supplies, be sure and have blue and black pens, mechanical pencils, note cards and notebooks, but hold off as long as you can on report covers.  You'll find that professors are often very specific about how they want their papers presented to them, and it generally costs less to pick up the required items as needed.  After you have attended a couple of classes, you'll likely have a better grasp of the specific supplies you'll need. If you have your own printer, you'll want to be sure and have a ream of high brightness copy paper and extra ink cartridges.  Most student centers or libraries offer printing services for a fairly low price, and if you have your own printer, you might just find others wanting to take advantage of your kindness.
Also consider RAKUTEN (formerly Ebates.) You can get money back from most every purchase online, including school supplies, bedding and books, AND also save a percentage off on most online shopping. If this is your first time to shop through Rakuten, you can sign up and save.  Spend $30 in 90 days and earn $30. Sign up through this link. I'll also get compensated for referring you, and then you can get compensated for referring others. It is pretty awesome! I'm currently awaiting a check of  $53.40 right now from regular online purchases. (Affiliate link.)
BEDDING:
Always pre-check what size the bed will be. Many dorms have XL twins, which are longer than regular twin beds. In this case, you'll probably not be able to bring the bedding you already have, because it will be too short. Consider cotton jersey sheets.  They are comfortable and stretch for easy bed making (especially for top bunks.) You'll want two sets of sheets so you can use one while you wash the other. A good quality comforter set is nice to have,  You might just want it to last four years. And don't forget a pillow.  If you will be having room mates, (and you most likely will) consider getting neutral colors and bring in color with your accessories.  I've seen dorm rooms with four beds and four equally wild comforter sets. Oh, and buy a mattress cover 'cause you'll want protection from dust mites and more – since you'll likely have a previously used mattress. Some colleges even require a sealed mattress cover. Do check out the one in "My Amazon Picks" below, it really is a good comfortable one.
If you are unable to drive your belongings to college, consider ordering your bedding online and having it shipped directly to the school in time for your arrival.  You might want to notify the school that you'll be getting some items ahead of time.  Most schools are used to this and will store them for a few days until your arrival. You also can have items shipped for store pickup – such as Walmart, but check to find out how long they will hold them for you.
PERSONAL SUPPLIES:
Get a mesh shower caddy that holds your body wash, shampoo, conditioner, razor, shave cream, toothpaste and a washcloth or luffa. A case for your toothbrush is vital.  Also pick up a couple of giant sized towels so if you have to exit the shower quickly for someone else to use it, you can cover up, and don't discount a good terrycloth bathrobe and shower shoes. These may be required, but even if they aren't, they're a good idea to help prevent the spread of athletes foot. Get a laundry basket or better yet, a mesh bag that takes up very little space while keeping your wash corralled.
ELECTRONICS:
You'll want to consider taking a laptop or other device that has word processing abilities, a cell phone, power strip, flash drive, and perhaps a small printer. Some dorms do not allow televisions, and even if they do, you may find that it is best not to have that kind of distraction in your dorm room. I might suggest the same for the distractions of a cell phone, but they are a blessing to help you communicate with your family and friends at home.
Even if you've been using your cell phone alarms to wake you, you might consider getting an alarm clock that shakes rather than one that rings. You can  place it under your pillow, and it'll get you up without disturbing others. If you have a 7:30 class and your roommate doesn't have a class 'til 9, your favorite alarm singing "What can I say,
🎶except you're welcome?" at 6 AM, might make them very unhappy.  And while we're talking about sleeping in, you'll do well to get a pair of eye shades for those mornings you can sleep in, as well as for the "occasional" afternoon nap!
APPLIANCES AND COOKING SUPPLIES:
When it comes to dorm cooking, get the most simple supplies you can.  Two of each – non breakable plates, glasses, coffee cups, spoons, forks and a sharp knife.
Check the rules to see if you might be able to have a coffee maker in your room.  This is a good way to get your "morning Joe" as well as to heat water for tea, cocoa, instant oatmeal and soups.  A temperature controlled electric multi cooker is a pot that can be used to boil water for any use, but also works as a pasta cooker, to heat a can of stew, soup or chili or many other options.  It is one of the most versatile appliances for dorm living. Again, check your student handbook to see what appliances are allowed. You'll also want a plastic bin with a tight fitting lid to store these items as well as food for those times you can't get to the cafeteria.
A travel sized iron and ironing board is nice to have. Consider getting a Britia "Fill and Go" water bottle, so you can have filtered water direct from a water fountain.
Hoping these hints will give you a great start to college life.
AND . . . Don't forget:
Quarters for laundry, a good cell phone plan, (because YOU might not need to talk to Mom and Dad, but THEY will surely want a text or two from you!)  a permanent marker to write your name on your own personal items. . . AND YOUR PILLOW!
What dorm life veterans want you to know:
"Wasted time," to me, looks more like dorm life filled with parties and booze, drugs, sex, no sleep, and pointless homework. It seems as if the Bible college way of single-gender dorms, no parties, a curfew, and meaningful homework sound more like time well spent instead of "wasted time." Ryan Rench – "A Case for Bible College"
"You probably don't need everything you want to bring."
"Get a dorm room refrigerator – It'll keep others from stealing your food."
"What a college freshman needs? Love, support and prayers for sanity."
"I wish I would've had a driver's license and a car to help foster more independence, less dependence on others."
"My advice is this: Be patient with your roommates. Not everyone grew up the same way you did so they may do things a little different. It takes time to adjust to sharing space with another person. If there's something that bothers you, talk to them privately and see if there's any way you can help."
". . . make memories outside of the dorm with your roommates. Try going out to dinner or shopping together. When you make fond memories outside the room, you enjoy each other much more when you are together in the room."
". . . Learn to extend grace and tolerance (in the good sense of the word, lol!) towards others who may have come from different backgrounds or have different personalities. . ."
"Call your mother often or she may call the cops to go find you!!!! Embarrassing!!!!"  I expect there is a story there!
AND THIS NOTE TO FAMILIES, CHURCHES AND FRIENDS:
"It is always nice to receive a box each month from family /friends/others." 
---

CHECK OUT THESE GREAT SCHOOL RELATED POSTS:
 Little Sprouts Learning


HOW TO PREPARE FOR DORM LIVING