Swimsuits are already on clearance.  The aisles of Costco are filled with coolers, tents, grills and lawn chairs – all ready for happy outdoor living.  The ads are featuring 40-60% off on many Summer items. Summer sales are upon us!  One of the big pluses of Summertime is that, right in the middle (JULY),  almost EVERYTHING will go on sale.
One of my daughters, who hates to spend unnecessary money, admitted to me that she actually avoids reading my shopping tip posts because she is afraid it will make her want to buy stuff she doesn't need. I was a bit shocked because that is SO FAR from my intent. Instead, my goal is to help you find ways to save money on those items you were going to buy anyway. So, without further ado, here are ten hints to help you get the best bang for your buck this Summer!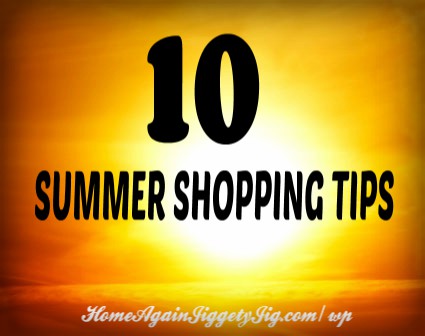 This post contains affiliate links.  See our full disclosure.

1. FOOD:  A grand time to buy ice cream and other dairy products
June is Dairy month, and even though we think June is the only good month for ice cream and other milk products, July is Ice Cream month, so you'll find that Summertime is still a good time to find great deals your Ice Cream and other milk products.
Beef, pork and chicken are more expensive than they have been in a number of years, but stores often use bargain priced meat as "Loss Leaders" to try and get customers in the store, believing that they will purchase other items not on sale. Be sure and check sale ads and try out some lower priced cuts of meat.  You'll find that you can tenderize them for grilling by putting your prepared meat into an acid based marinade, adding various vinegars,  lemon juice or lime juice in the refrigerator overnight. Egg futures indicate that they are also likely to remain at some of the lowest prices in several years.
Eggs are a little more expensive this year, but I've recently found displays of eggs at .99 a dozen, so if you keep a look out, you might find them for less.
Don't forget all the fun picnic foods you can find on sale around the Summer holidays.  Look for great deals on "Soda" or "Pop" or "Coke" – or whatever you call it in your neck of the woods, hot dogs, hamburger meat, buns, condiments, chips and BBQ sauce.
In late Summer you'll find all the "back to school" snack sized foods like granola bars, puddings and fruit as well as BIG cereal sales just in time for school.
2. PRODUCE: Oh my! Do I ever love the fruit of summer! You will too if you buy in season.
We are so blessed to get produce from around the world, but fruit produced in America – in season – will always give you the best quality for the price.
Cherries  are plentiful (translate this "less expensive") early in the summer. 2021 is forecast to have a huge cherry crop. Already I'm seeing them for 2.99 per pound. Strawberries, Walla Walla sweet onions, melons, apricots, peaches, nectarines, plums, boysenberries, blueberries, raspberries and blackberries, spread delightfully throughout the summertime. Pears, grapes, grapefruit, persimmons, figs, dates, peanuts, and almonds and finally apples come in near the end.
Lemons, bananas, limes, key limes, and avocados are some of the fruit that are harvested year round, and a good value most any time, though limes have been a bit higher the last year or so.
Vegetables that are harvested in Summer include beets, butter lettuce, corn, cucumbers, crookneck squash, eggplant, endive, green beans, garlic, okra, sugar snap peas, yellow summer squash, tomatoes, tomatillo, Yukon gold potatoes and zucchini.
Fresh fruits and vegetables make for the lightest and most delicious meals of year.
3. CLOTHING:  Just about the time you are actually starting to need summer clothes and swim suits, they already are clearing them out – so hurry!
It is a great time to buy swim suits, lightweight clothing of all types and of course sandals and flip flops.  Surprisingly, women's underwear often goes on sale in the early part of summer. And in August, you'll find socks, and underwear for the whole family on sale.
July is a great time for a multitude of clothing sales – some have even said that "Everything goes on sale in July." That may be because people tend to spend a great deal of time in the great outdoors this month, and retailers are trying their best to get customers back inside their stores! Amazon had their Prime Days already this year, but  expect to find some Christmas in July type of specials at many different online retailers. 
August will bring on the "back to school" clothing sales.  Look for money saving coupons and coupon codes online, and in your newspaper, to get even better deals.  Don't forget RAKUTAN!  You can earn money while you save money. Presently they are offering a Fourth of July double cash back on many online retailers. (As I write this Walmart is offering 10% cash back.) If this is your first time to shop through RAKUTAN, you can sign up and save.  After your first $30 purchase, you can get an additional $30 back. Sign up through the link provided. I'll also get compensated for referring you, and then you can get compensated for referring others.  (Affiliate link.)
One of my favorite plus sized online retailers, Fullbeauty, has had a BOGO sale each year in August on anything denim. By checking RAKUTAN for their coupon codes, I've been able to save 50% on the highest priced item and get a half priced deal on the second – which has helped me to purchase some very low priced denim skirts.  And, as a note, they go from size 12 to 44. This isn't an affiliate link, but I'm telling you because this is one of the best deals I've found, and if you check  RAKUTAN for deals from your favorite retailers you can come out singing!
4. GIFTS:  Yup! You CAN start your Christmas shopping in the middle of summer.
In the Summertime we think of wedding, birthdays and graduations, BUT summer is a great time to buy Christmas gifts and gifts for other occasions that you know are coming up. Make your lists and start looking. You'll be surprised what you can find – especially in July.  Fine jewelry is one item where you'll likely find the best prices of the year.
If you just don't have the money now, start saving up for later in the year. The weekend before Halloween is another great time to buy gifts, as well as Black Friday and Cyber Monday in November. But this post is about Summer shopping.
When shopping online don't forget to look for coupon codes.  Be sure to register and get on the e-mail list for your favorite online retailers, so you can know when they have sales. It also might be a good time to sign up for the newspaper so you have lots of paper ads and coupons to check out.
5. OUTDOOR LIVING:  Start watching for the outdoor items you've always wanted – (Like a multi room tent) – it WILL be on sale!
Everything for outdoor living WILL be on sale this Summer including sunscreen, insect repellent, tents, sleeping bags, fishing rods, coolers,  squirt guns, inflatable water toys and slides. swimming pools and pool supplies.  The best prices will be at the end of summer, but by then stock will also be limited. If you are looking for a specific item – like that tent – consider making friends with the salesman and asking him to let you know when it goes on sale.
6. YARD AND GARDEN: Hurry! The plant sales will soon be over, but you'll find great yard and garden clearance deals starting in early Summer!
All types of yard and garden supplies are reaching their best prices fairly early in the summer. You'll also find clearance prices on flowers, shrubs and trees,  planters, garden gnomes, stepping stones, sprinklers, hoses, potting soil and other garden supplies.
Summer time is the time to replace that rusty Barbecue Grill and patio furniture too. The very best prices will come near the end of Summer.
7. HOUSEHOLD PROJECTS: Painting or remodeling this summer?  You can find the best deals starting in early Summer and going past Labor day.
But that doesn't mean that there aren't great deals throughout the Summer time. You'll likely find some super deals on paint and decking.  If you know what you need, check out the major home repair stores, but don't forget your local hardware store. I have found that my local hardware store carries products for about the same price as the big box retailers and provides great customer service and tips from their employees, as well as loyalty rewards.
8. SCHOOL SUPPLIES: Don't get upset that "back to school" sales start so early. 
As a kid I hated seeing "back to school" sales in the middle of July or in early August. As an adult, I understand that not every school district starts classes in September, and it is useful to spread out school shopping over a few weeks.  You'll find some super great deals on school supplies by regularly checking the ads.  Though my kids are grown, our church gives school supplies out each year, so I'll still be out there shopping for great deals – like glue sticks for a dime each!
You'll find some deep discounts around Labor Day, but may not be able to get everything you want, since they'll be picked over, so even though it just doesn't seem right, shop early.
9. APPLIANCES and FURNITURE:  ANY holiday weekend is a great time to buy appliances, beds and other furniture.

 
The dates surrounding Independence Day and Labor day will have great appliance sales and sales on mattresses. If you need a refrigerator, you might just be able to find last years model on clearance, without waiting for a holiday weekend, since the new models are rolled out during the summer. 
If you can't wait to get your new appliance, check online.  After I had my favorite appliance repair man officially declare that my old washer would cost more to fix than buying new, I ordered a new LG front loading washing machine online and saved a lot of money.  To top it off, it was delivered and set up for free.  Since I wanted my old machine taken away, I paid an extra $10 for that.  You also might also be able to find new appliances at scratch and dent stores.
If you are okay with a used appliance, you can find some pretty snazzy ones at a Habitat for Humanity "ReStore," or find the what you need at a used appliance stores that repairs and refurbishes them before selling. Also check the want ads of your local newspaper, or even Craig's list.
10. TRAVEL: If you're thinking of traveling this summer, consider road trips.
Fuel prices are up from last year but driving may still out perform other modes of transportation and you can get great Summer deals on pre-trip oil changes (check online for special deals and coupons.) Also check with your mechanic for his oil change specials, because while you're there, a good mechanic will check for possible problems with your car and your tires, so you aren't stuck in the middle of the Mojave desert waiting for a tow truck. Don't ask me how I know!
These days – for cars manufactured after 2006 – you may be able to go as far as 5,000 miles, 7,500 miles or even 10,000 miles between oil changes depending on the type of driving you do, and the recommendations of your owner's manual.
And if you need to buy a newer car, consider an SUV.  Wait 'til the end of Summer though because there is currently They don't sell well in the Summer, and most dealerships would love to give you discounts.  The best days to car shop are Monday and Tuesday, the best time of the day is "early," and the best time of the month is either the first few days of the month when dealerships are idle and salesmen are bored – or the end of the month when they are trying to make their quota.
For super savings on lodging consider Summer travel to traditional Winter tourist locations. You might also consider staying at a "Business Hotel." You can find big savings – especially over the weekends when there are fewer business travelers. Many are near an airport, but you generally won't have to travel far, to get to your tourist location. When reserving your hotel, don't forget that Ebates also gives money back at sites like Experia.  Another great option is to consider vacation rentals.  If you can stay in one area for several days, a vacation rental (usually a house or condo) will cost less than a hotel and you get the benefit of private bedrooms. HURRY!  These go fast. Finally, here are some unique ways to save on hotels and other forms of lodging.
The absolute final and sometimes best option is, of course, CAMPING!  As a kid growing up, that was about the only way we traveled.
Hopefully these 10 tips will help you spend your money wisely this summer.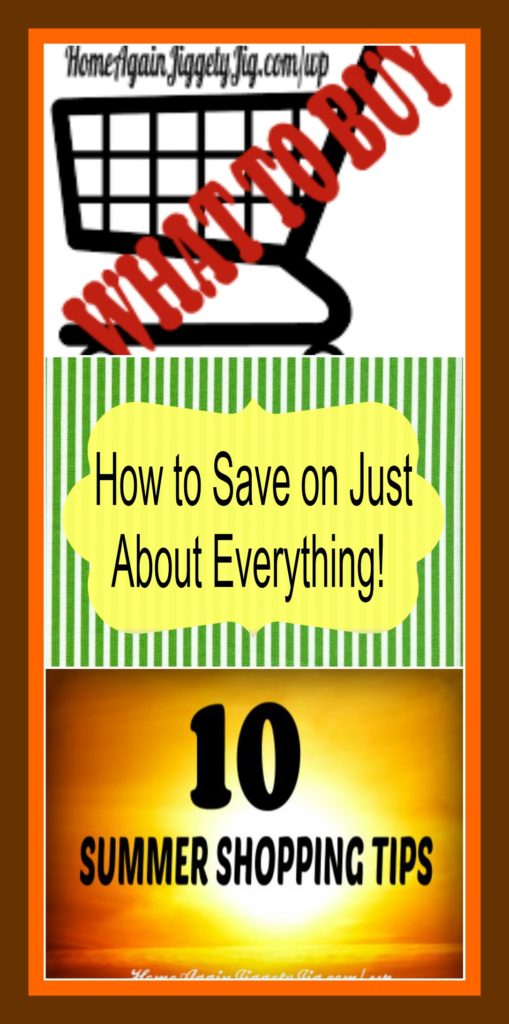 Marjie Briggs is a Consumer Scientist who blogs at Home Again Jiggety-Jig!. She researches and tracks the best buys for each month or season, so that you don't have to.
10 SUMMER SHOPPING TIPS – how to save on just about everything