It has been a real challenge over the years to find gifts for the husband and Dad in our home. Honestly, in the back of his closet are gifts that have never even been taken out of the package. Coming up with a list that fits about any budget and won't get relegated to the back of this closet has been a challenge. BUT much of this list has his approval so hopefully our kids will always be able to find him a great gift from among these suggestions and you'll be able to find a gift that will please the man in your life, in just about every price range!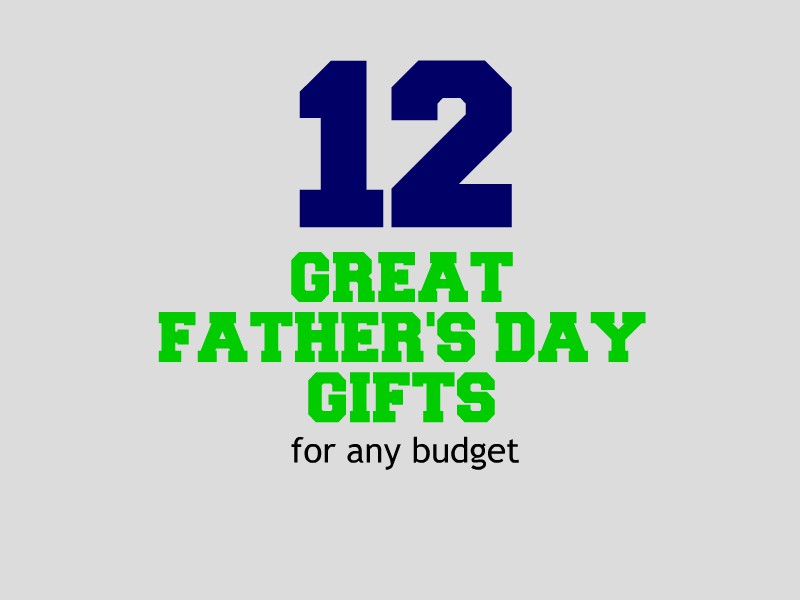 This post contains affiliate links.  See our full disclosure.
If you purchase ANYTHING from Amazon, after clicking on these links, I'll earn a little money to help my family and keep my blog going, and it will cost you nothing extra!
The traditional gift for Dad on Father's day is a neck tie.  Interestingly, because my husband is a pastor, he actually WEARS the ones he has been given.  His very favorite was given him by a wonderful friend, and it happens to be zippered.  Amazon has a wonderful selection  of zippered ties in lots of colors and patterns. When wearing them, they look just like a regular four in hand tie, but when putting them on, they go on slick as a whistle, without any of the work.
Take a look at this amazing RAVPower Portable 24W solar powered generator which can help keep you and your guy connected even when he's off the grid.  This unit provides enough power to charge three separate devices at once, is very portable, and even can help recharge RV batteries.
The Waterproof JOTO Dry Bag Pouch protects his cellphone, keys, wallet, cash, credit cards, hunting and fishing licenses and more when boating, swimming, hiking, kayaking, fishing, and even from simply being out in the rain or snow. It will protect his valuables from moisture while keeping them away from the eyes of others.  He'll be able to carry out most about any activity with his important stuff safely secured and dry – in this wearable Dry Bag.
This multi functional Solar Camping Lantern will give him light for 10 hours at a time and can also charge his electronics. It is easily recharged via 110 or solar power.
AS AN ADDED BONUS: whenever there is a power outage at home, he'll have lots of light and a way to keep his cellphone charged.  He'll doubly appreciate it when the storms come and the power goes out.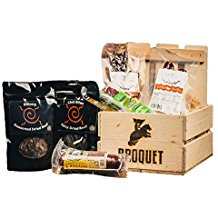 Two years ago at Christmas, our eldest daughter bought her father a MAN CRATE.  He had a lot of fun opening the well sealed wooden crate and enjoyed the contents for several weeks.  He loved the empty crate so much that he has kept it!  This "Man Crate" offering contains a large variety of jerky choices for him to enjoy. Exotic Meat Crate (Exotic Jerky Gift) – Jerky & Meat Sticks Sampler – Comes in a Wooden Gift Crate
This AMMO CRATE gift set will please any outdoor man! It includes Kevlar cord, UZI pen, Black Rite in the Rain Notebook, Eat N' Tool, Multi tool and MORE all in a 50mm can. Acme Crate Little EDC 50mm Ammo Can
As a police officer for many years, my husband found his RECHARGABLE STREAMLIGHT FLASHLIGHT to be one of the best crime fighting tools.  Now anyone can use this LED technology that turns night into day! My husband has been admiring this compact flashlight which is impervious to shock, provides a blast of 500 lumens, has a 50,000 hour lifetime and much more.  The Streamlight Strion LED HL Rechargable Professional may well be the last flashlight he ever needs!
Now he can listen to his favorite music or converse on his cellphone, hands free, while keeping his head warm – through the technology in this washable BEANIE BLUETOOTH SPEAKER HAT. "Perfect for gym, fitness, workout, exercise, outdoor sports such as running, skiing, skating, hiking, camping, dog walking" or simply driving. Recharging is easy through a USB charging port.  Many, many choices of colors and styles are available.
FIDGIT TOYS are all the rage right now, and for good reason.  They help relieve stress and even depression.  Best of all, they are very inexpensive and make a great stress relieving gift for the man who could use a little relaxation. This flipping key chain sized figit toy is small and quiet – just right for someone who needs to keep their hands busy all the time, and is quite inexpensive.
This cool "tool"  will give him an extra hand as he works on his favorite projects. This "SUPER STRONG Magnetic Wristband, Holds Small Metal Tools, Screws, Nails, Bolts Tightly While Working. Embedded with Super Powerful Magnets, Perfect Solution to Making Endless Trips to the Toolbox!"
AND LAST BUT NOT LEAST: Here's a great board game that won't tire him out, and the price is now reduced. "Since its debut around a decade ago, Ticket to Ride has been collecting awards for its addictive game play. The idea is simple – get your train pieces down and get around to different cities – but the strategy of blocking other players' routes makes it a bit more cutthroat than you'd imagine. Easy to learn with tons of replay value." for 2-5 players.
Hopefully one of these fine gifts will please the Dad in your life!

Amazon has so many great gift choices for men!  Using Amazon Prime makes free two day shipping a breeze.  If you haven't tried it yet, Amazon has a free 30 day trial for Prime that you can use to quickly ship his gift to him, tons of shows to watch for free and so many other options! Check it out here for FREE!!
Try Amazon Prime 30-Day Free Trial
12 GREAT FATHER'S DAY GIFTS – for any budget