Warmer weather is upon us, and it is possible to have a lovely freshly "roasted" chicken at home without running to the store and buying one from under the heat lamp, or even heating up the kitchen.  Use your slow cooker, or crock pot.
The very first crock pot "roasted" chicken I ever made, many years ago, came out looking pretty much the same as it did when I put it into the crock pot, except it had a sickly grey tinge. It had smelled wonderful while cooking, but unlike oven roasted chicken it did not pick up any golden goodness, and made me feel like tossing it right out. Though it tasted fine, it was most definitely NOT appealing.
Since we "eat" with our eyes first, I knew that something had to be done to make crock-pot or slow cooker "roasted" chicken look good enough to eat. If you follow these instructions, you will have some of the most juicy and delicious golden roasted chicken you have ever eaten!
RECIPE FOR SUCCULENT CROCK-POT "ROASTED" CHICKEN IS BELOW PICTURE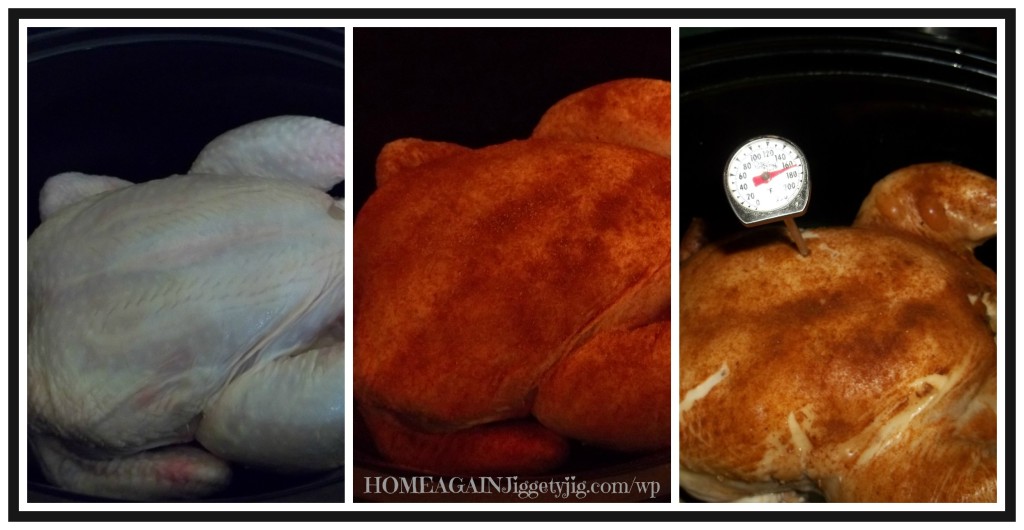 1 large chicken thawed – 4lbs (or two 2 1/2-3 lb chickens if you have a 7 qt. roaster)
double ingredients for 2 chickens
2 Tablespoons soft butter
1 teaspoon onion powder
1 teaspoon garlic powder
1 tablespoon paprika (+extra)
2 tablespoons seasoning salt of your choice (no msg)
Instant read meat thermometer – to check temperature of roasted chicken
Small rack or about 6 balls of tin foil – to raise chicken off the of bottom of the crockpot
DIRECTIONS:
Remove the neck and packet of giblets as well as any excess fat from in and around the body cavity – save them for another use, or throw away.
Rinse chicken with water, and pat dry with paper towels.
Shake onion and garlic powder into body cavity.
Add paprika and seasoning salt to softened butter.
Coat the entire outer surface with the softened butter mixture, using your hands, if necessary, to spread it evenly. Sprinkle extra paprika over any exposed areas.
Place small rack or balls of tinfoil in bottom of slow cooker.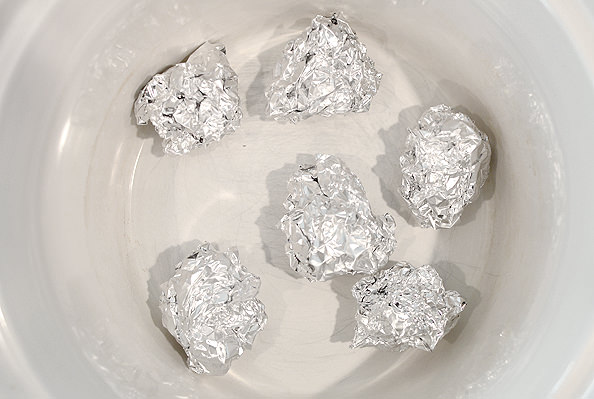 Place the coated chicken on top of the rack or tin foil balls.
Cover crock-pot and cook on high for about 3 – 4 1/2 hours or on low for about 4 1/2 -6 hours.
(Crock pots have changed so much over the years that some cook at very high temperatures even on low.  My first experience with a newer crock-pot, set on high for the 4 hours we were gone to church, resulted in burnt food –  hence the range listed here is quite large)
You can observe if the chicken looks done by checking the legs to see if they have pulled away from the body. Do this visually, with the cover closed. If it looks done, use a "quick read" meat thermometer, rapidly remove the lid and insert the thermometer into the breast portion of the bird.  It should read 165*F or higher. (If it has not reached that temperature yet, cover quickly and resume cooking.)
When done, remove chicken from slow cooker and let rest for at least 5 minutes per pound before cutting. Save the juices to use as stock, or thicken to serve with your lovely roasted chicken.
This chicken can make three meals. Eat roasted chicken the first night, use the leftover chicken for chicken salad, quesadillas, enchiladas, or your other favorite recipe, and return the carcass to the crock pot, covered with salted water to cook overnight and make great stock for chicken soup, or to use in other recipes that call for chicken stock.
Here are some quick and healthy recipes to make fixing dinner quicker!


<a href="http://www.bloglovin.com/blog/11647217/?claim=cgsp3tp8xs7″>Follow my blog with Bloglovin</a>
CROCKPOT "ROASTED CHICKEN"