The Christmas stuff has been put away, (finally) and every other year I dislike what comes next – the Winter doldrums.    Many winter mornings in Central Washington are shrouded with fog, and there is often snow cover which hides any remaining color.  The sun only appears  for short periods of time, if at all, and the winter blahs descend. This year, well aware of what was about to happen,  after Christmas, I began to search the stores for ideas to brighten both my and your winter home.
I KNOW
I WANT
SOME
COLOR
IN
MY
HOUSE!
 Because we are frugal folk, my search was only at the least expensive places.  As I went through Goodwill, Dollar Tree, Walmart, Michael's and even Grocery Outlet. I frequently pulled my camera out of my purse to take pictures of colorful displays.  No one stopped me, or even asked what I was doing, as I shot picture after picture. One elderly lady who was shopping at Michael's smiled and said "These days, it seems that everyone is doing that with their phones."   It tickled me, because my not so smart phone was nowhere in sight, tucked away in my purse, and I was holding a fairly large, older digital camera. After explaining to her in way too much detail that I was taking photographs to illustrate a post for the blog I write. She turned away with a rather stunned "deer in the headlights" look, shook her head as if to clear it, and walked off.
If you aren't too stunned, and are looking for some bright yet frugal things to bring into your home that might help keep the winter blahs away, here are some brights I found during my photographic search.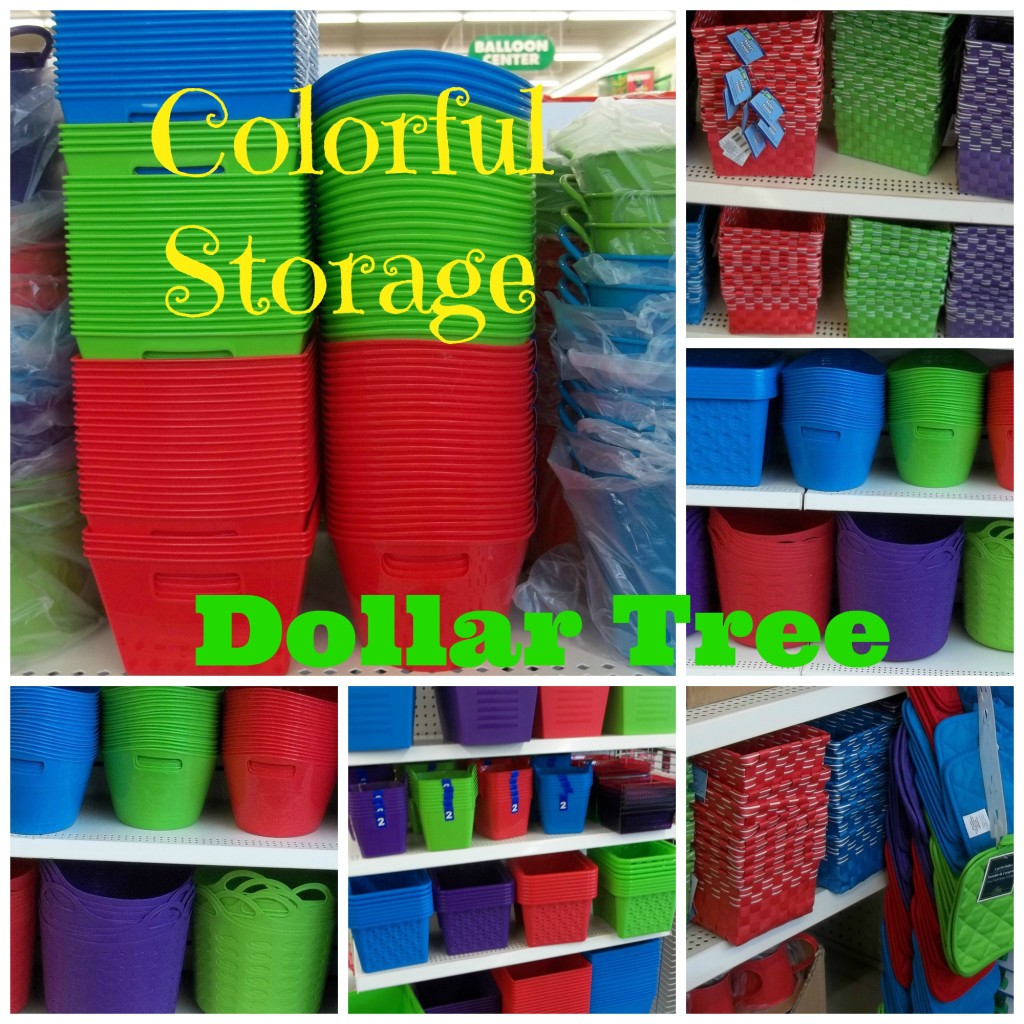 I always enjoy a quick trip into Dollar Tree, where almost everything costs a dollar. This year I was quite impressed with their vast array of brightly colored bins and baskets in matching colors that would brighten any space and provide extra storage. They even had pot holders and waste baskets, to match. I was surprised to find some of the baskets were priced at two for a dollar.

The display of flowers, on my first trip through Dollar Tree, was in a shambles and a bit difficult to look through, but in the middle of that mess there were some daffodils that made me think of spring. The waxed fruit were nice, for waxed fruit, but personally, any displays of fruit in my home it will be the real thing. We like to keep a bowl of fruit in the kitchen year round.  I did think that the apple basket floor mat for only a dollar was pretty cute.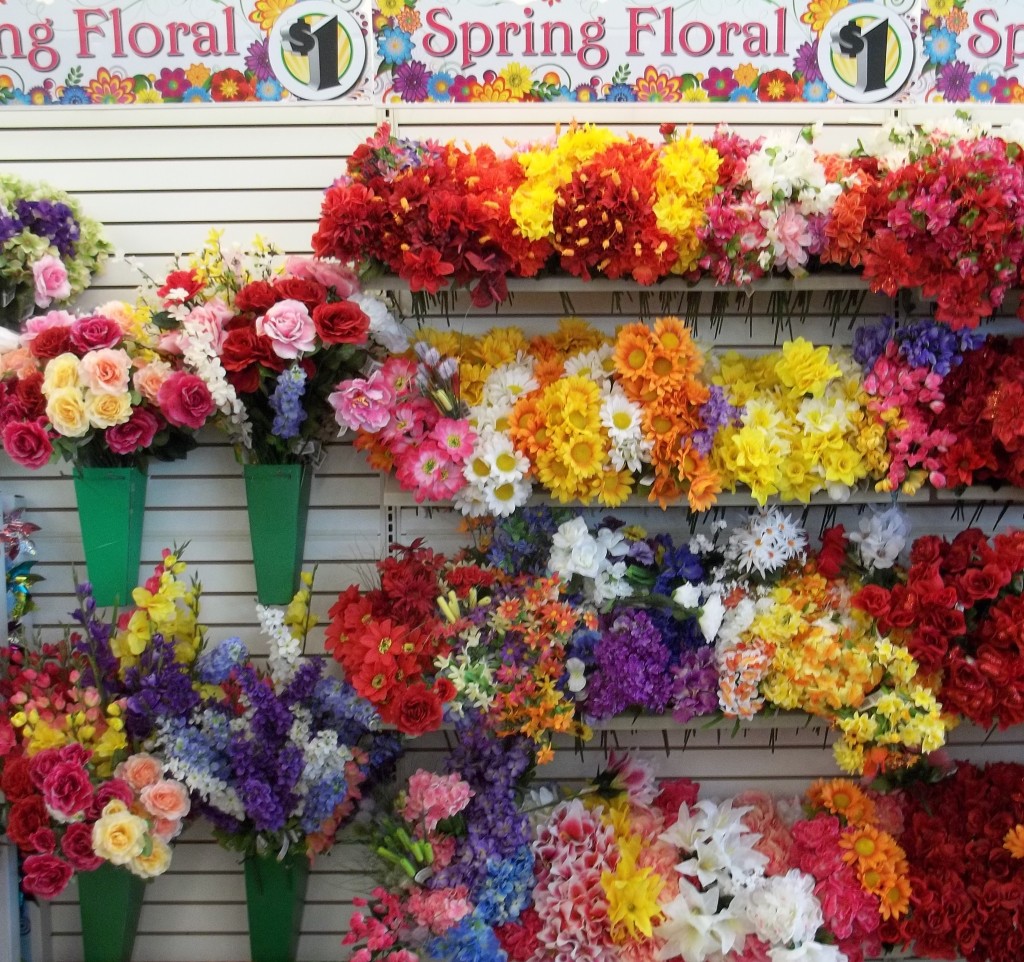 I was relieved to find a more appealing, recently added, second floral display on a quick  trip through that same Dollar Tree, several days later.  Especially pleasing to me was the quality of the gladiolas, and I made a mental note to get a few to add to the spring floral displays at church.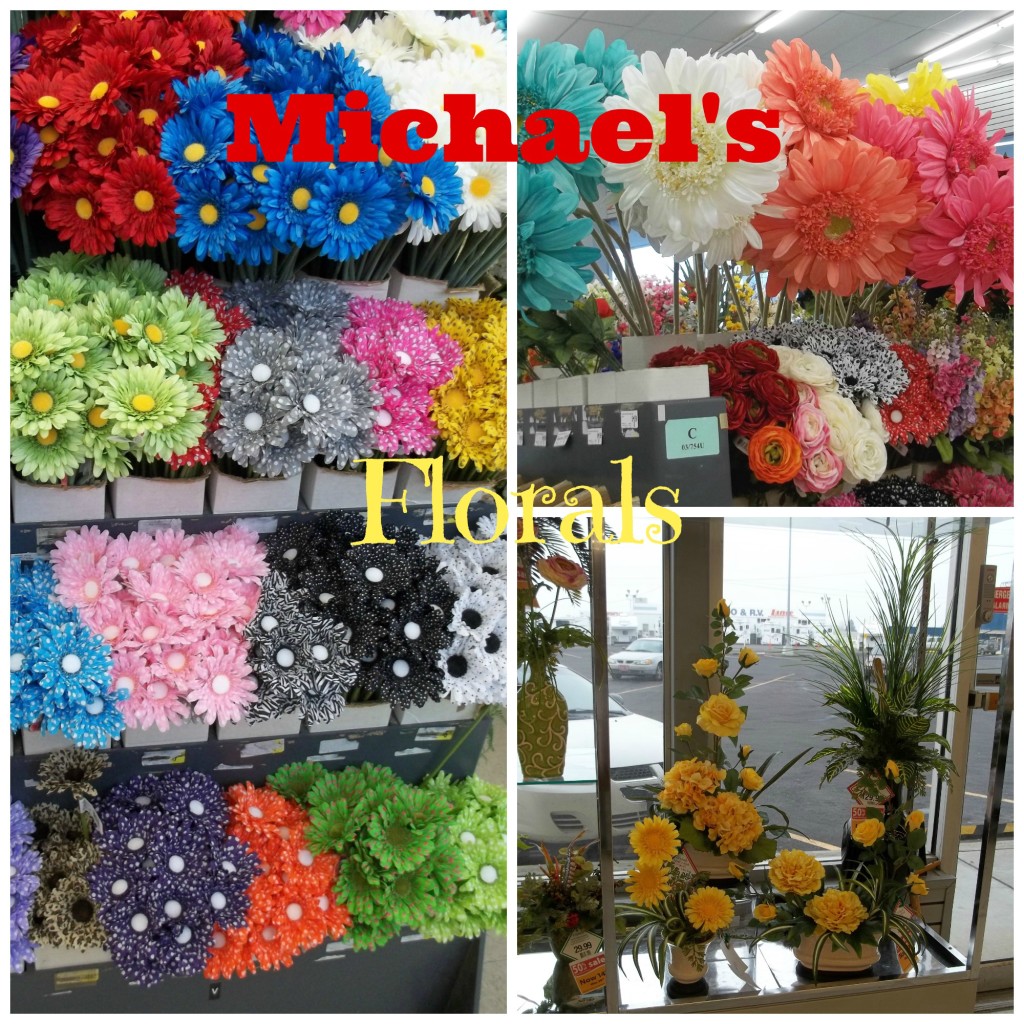 Michael's has lots and lots of colorful silk flowers and arrangements, though the price for those arrangements can be pretty high, they help to stimulate my creative ideas. Don't forget the Michael's often has online coupons for 40-50% off the regular price of one item. I've had occasion to come into the store as they were moving out the seasonal arrangements and bought some beautiful ones at 90% off for the sanctuary at church. That makes a $120 arrangement cost only $12.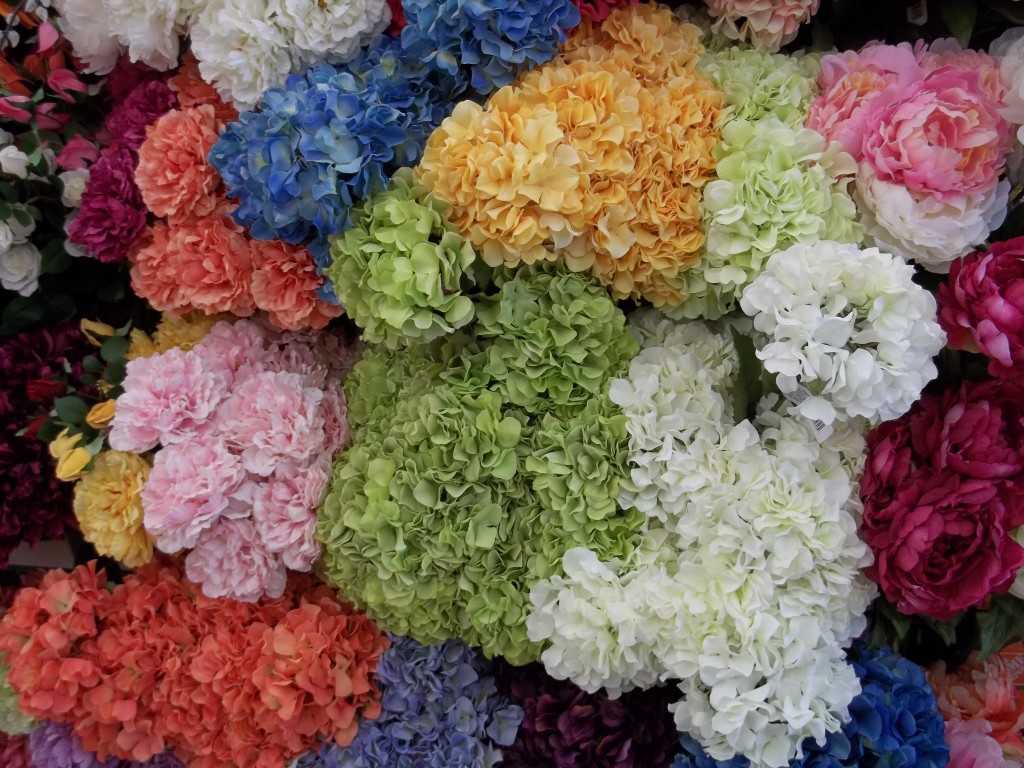 A single hydrangea, peony or other colorful silk flower from Michael's could provide that bright touch of color that your winter home needs.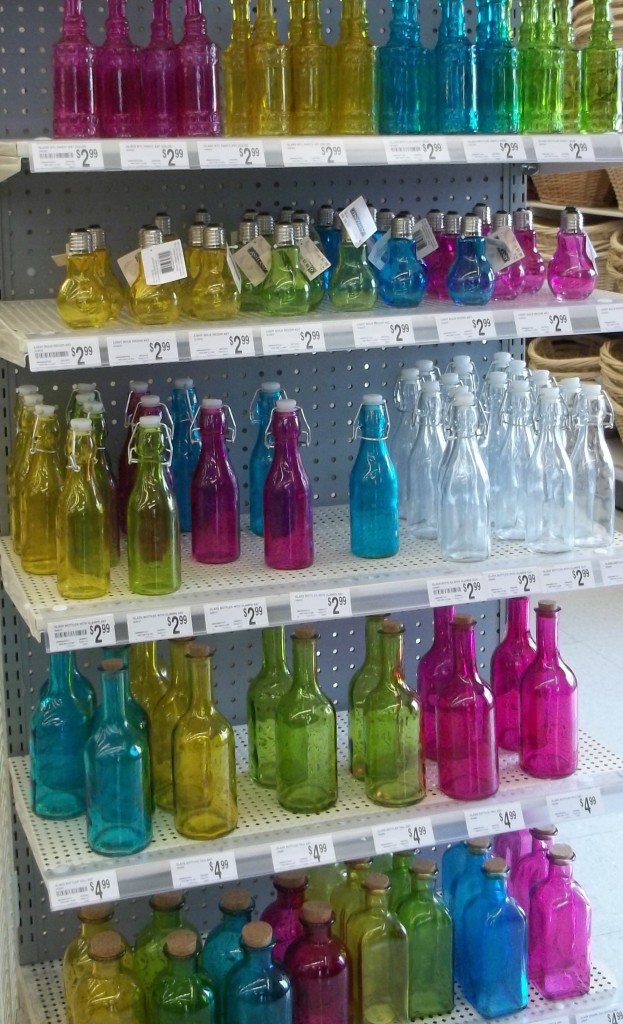 Take a look at these bright bottles, also at Michael's, that could be used as a vase, for a hydrangea or simply a colorful accent for any room.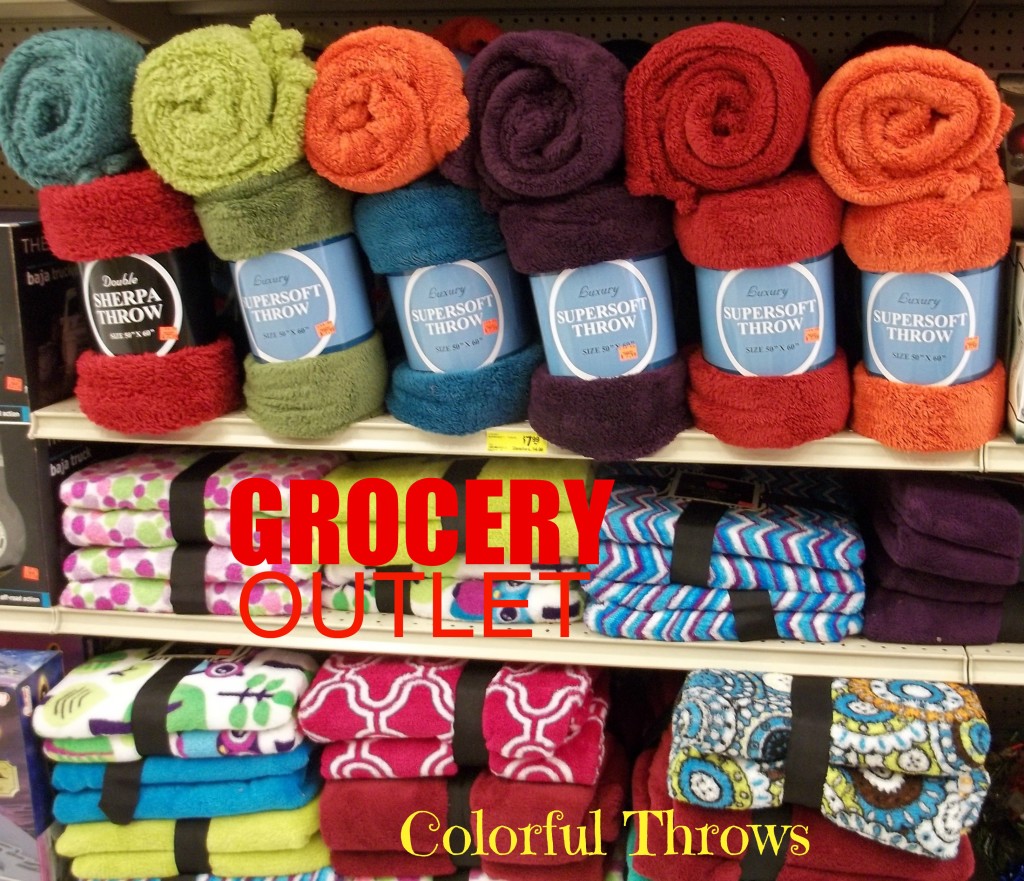 Here are some colorful and snuggly  throws which I found at (SURPRISE!) Grocery outlet! They surely would add a touch of color and the needed warmth for a cold winter evening. I was tempted to buy one, but I'd already found and purchased a throw in exactly the color I wanted, at Goodwill, earlier in the month.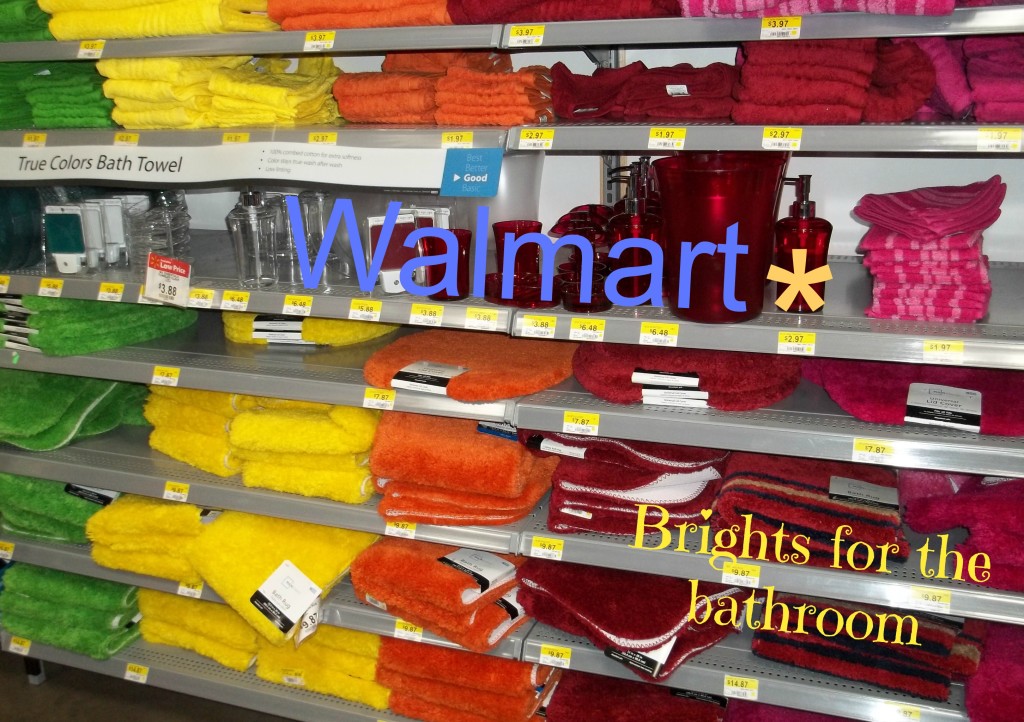 Don't forget to add some color to the bath. This somewhat messy display at Walmart had some pretty spiffy colors and the prices for towels were pretty low. I really, really wanted to straighten it up before photographing, but resisted.
Here's hoping these pictures of colorful displays have inspired you to put out something colorful and brighten your home this Winter. By shopping out home, here's what we've done to add color, on a shoestring,  to our Winter home.
BRIGHTEN YOUR WINTER HOME