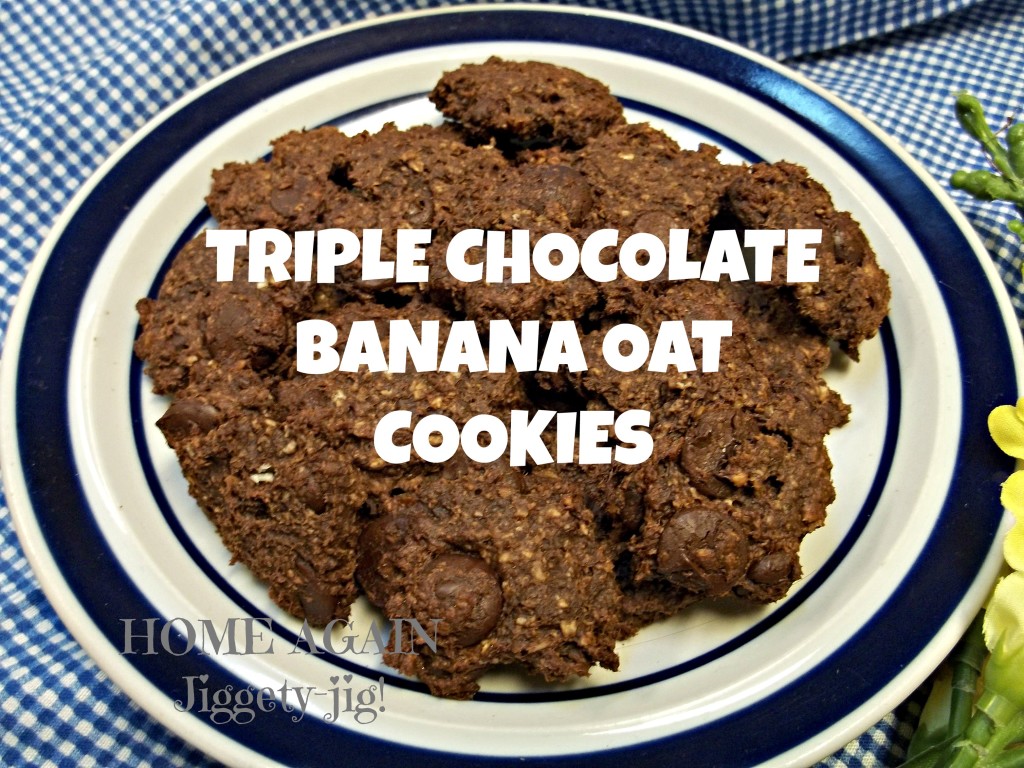 Every time we have extra ripe bananas in our house, I enjoy making  Oatmeal Banana Chocolate Chip Cookies. On a recent cold afternoon I needed a good excuse to heat the oven, and found that there were enough ripe bananas to bake up a batch. Since we LOVE chocolate at our house, I thought it might be fun to try tweaking the original recipe and see if it could be made even better by adding more chocolate. I added cocoa powder and, to counteract the extreme intensity of all the dark chocolate, some semi sweet chocolate chips as well. The cookies turned out real yummy, still gluten free, and diabetic friendly. Here is the newest creation.
Triple Chocolate Banana Oat Cookies!
INGREDIENTS
3 very ripe large bananas (the kind with brown spots)  this will be your sweetener
2 cups old fashioned oats (if going gluten free, make certain that these are specifically marked gluten free)
1/4 cup real butter – softened
1 teaspoon real vanilla extract
1/2 teaspoon salt
1/4 cup baking cocoa
1/2 cup 60% dark chocolate chips (to cut carbs & sugars, double these and delete the semisweet chips)
1/2 cup semisweet chocolate chips
DIRECTIONS  
1. Preheat oven to 350 degrees F.
2. Using  a mixer, blend the bananas until smooth, then mix in the oats, butter, real vanilla, baking cocoa and salt until the butter is fully combined.  LET SIT for at least 15 minutes to soften the oats. Stir in both kinds of chocolate chips.
3. Drop dough by teaspoonfuls (slightly flattening with a spatula) on an ungreased cookie sheet. Note:  I use a pizza stone. Place the cookies close together, they will not spread.
4. Bake for 25 min.
5. The cookies may feel a little spongy when first out of the oven.  Let them sit on a rack, and they will crisp up a bit.  The center will remain chewy.
6. We ultimately store them in the freezer so that they are a little more difficult to get to, or they'll disappear fast.
NOTE: IF YOU HAVE THE TIME, THESE COOKIES ARE EVEN BETTER IF YOU LET THE DOUGH SIT, COVERED IN PLASTIC WRAP, OVERNIGHT.  REFRIGERATION IS NOT NECESSARY.
I often will make a double recipe and cook up a single tray for immediate consumption, saving the rest of the cookie dough to bake the next day.
The verdict is in: Triple Chocolate Banana Oat Cookies are super yummy, and even better than the original!
TRIPLE CHOCOLATE BANANA OAT COOKIES