Warm summer nights, trips to the beach, cross country vacations and camp outs in the mountains are what August is all about. Most of us don't even feel like shopping, but August is when you'll find your best discounted prices on everything seasonal, and super great deals on back to school. Here's what to buy in August, along with some great shopping tips.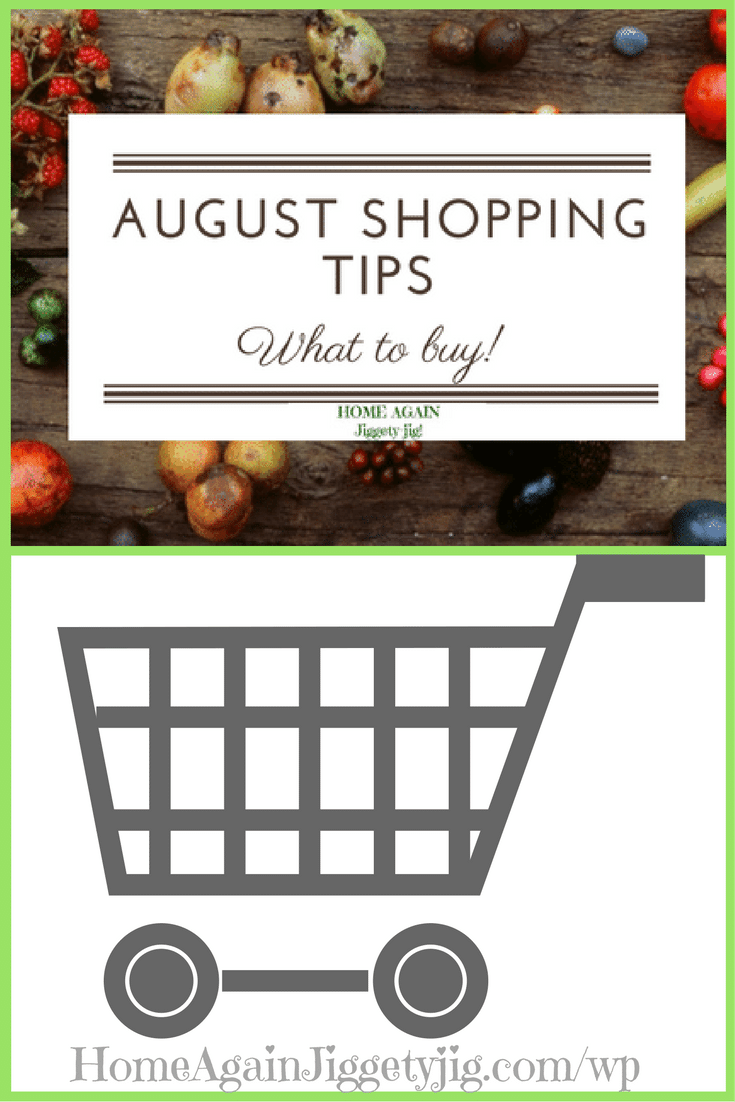 . This post contains affiliate links.  See our full disclosure.

CLOTHING:
If you hope to pick up summer clothing deals now is still a good time.  I found many deals throughout  the summer for flip flops, tees, sandals, tops, capris, swimwear, active wear, shoes, shorts, tanks, light summer skirts and dresses, already on clearance – some at up to 60% off – you're likely to find even better deals as the month wears on.
If you want to get the jump on back to school clothes, you'll start to find good sales early in August.  If your stores shelves are depleted, check online for good trendy deals on school clothes, AND if you are looking for jeans, you might just want to wait until October when retailers need to make room for Christmas merchandise, and you'll find the best prices of the whole year, inventory is usually pretty good in early October.
Also consider EBATES. You can get money back from most every purchase online, including clothing, school supplies, bedding and books, AND also save a percentage off on most online shopping. If this is your first time to shop through Ebates, you can sign up and save. Download the Ebates bar that lets you know if a retailer offers money back.  After your first $25 purchase, you can get an additional $10 back. Sign up through the link provided below. I'll also get compensated for referring you, and then you can get compensated for referring others. It is pretty awesome!. (Use this Ebates Affiliate link to sign up for these benefits.) 

BACK TO SCHOOL SUPPLIES:
Early August is when you'll find super duper incredible bargains on school supplies.  The merchants know that you don't want to shop for school supplies in the heat of August, so they'll post ads for amazing "loss leaders" that might just get you into their stores to spend money on other regular priced items.
We always have a "Back to School Sunday" at our church, and give away school supplies, near the end of August. (School starts at the end of August or early September where we live.) The best prices AND inventory have started to slump by then, so you will want to get the majority of your school supplies by the middle of August for the best deals and availability.  Many stores have lists of required supplies for your child's school grade or even listed by school and teacher.
HOUSE WARES:
Summer dinnerware, serve ware and drink ware, along with patio furniture are already clearance priced. You'll find dorm room housewares and small appliances on sale as well. There are some super duper bargains, so check out your favorite stores.

OUTDOOR:
Pick up patio furniture, pools, garden decor, solar lighting, plants, (though the choices will be fewer, prices will be very low) soil, mulch and planters. The start of discounts on grills and camping equipment comes right at this time of year.

GAMES AND TOYS:
August is a real good time to buy video games.  Though if you want to get your kids to play outside more, check out clearance priced outdoor toys, water toys and games. You could buy the sale priced video games now and save them for Christmas gifts!

DORM ROOM MERCHANDISE:
Dorm room merchandise, including long twin blankets, sheets and bedding sets are just now filling the shelves.  The deals get better and better as you get further into the month, but don't forget, as prices go down, inventory also decreases. Storage containers, and accessory prices also improve in August. If you have a high school student or recent grad who will be headed off for college soon check out How to Prepare for Dorm Living.

COLLEGE SUPPLIES:
Near the start of August you will find good deals on laptops and tablets, better deals will happen later in the year, but you'll still find some bargains now.
If your student is going off to a school that is some distance from home, consider buying online and having the items shipped to their school, or directly to a nearby store. Walmart offers this convenience.  Check with other retailers to see if they will do this as well.
AIRLINE TICKETS – TRAVEL:
August and September are the best periods of the whole year to buy cheap airline tickets! Some airlines – Like Southwest – will credit you if you find lower prices, and change your ticket, before you fly. They don't even have to be for the same flight or date, but have to be used within a year. There are some amazing prices out there. Check out Frontier too!
If you'd like to book a cruise, be aware that September, October and the non holiday dates in November are typically the lowest prices for many cruises.  AND the price of gas is still relatively low, so you might want to take a road trip yet this year!
PRODUCE:
Oh, I love the produce of summer!   Summer melons, berries, grapes and soft fruit are at their peak. They are starting to pick apples and pears in the orchards surrounding my home.  Zucchini is ripening almost overnight and corn, cucumbers and green beans are about perfect. Find a farmer's market and buy local if you are able, but with the continuing good prices for fuel, shipping costs remain relatively low for produce that needs to be shipped in, like bananas, mangoes and pineapple. For some strange reason, avocados seem to be higher this year.
MEAT, DAIRY, EGGS:
 Egg prices have been somewhat lower recently, and don't look like they will rise much. I bought eggs this week for 99 cents a dozen. Dairy prices are forecast to remain about the same for August. as well as poultry. Prices for beef remain about the same – with greater supplies, and the price for pork  remains good, but is likely to go up next year.  The relatively good fuel prices have helped to keep these prices lower. . If you shop carefully, you'll be able to save a lot at the grocery store.
Even though the days are often hot you might do well to head out soon and pick up some awesome bargains! And before you head out, check out these  10 Summer shopping tips! How to save Money on Just About Everything.

Stay cool, and look for more great shopping tips in September.
Marjie Briggs is a Consumer Scientist / Home Economist who regularly shares the best things to buy each month or season. Post Updated August 2019)
AUGUST SHOPPING TIPS AND BARGAINS