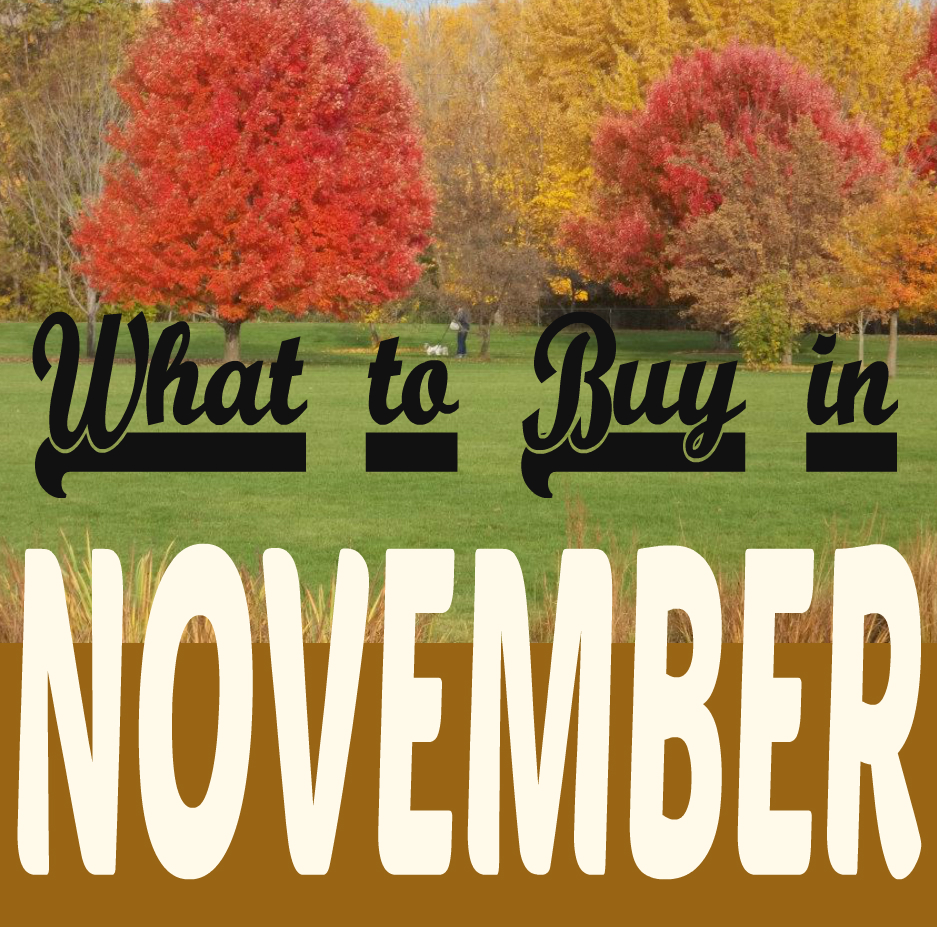 Thanksgiving is less than a month away and this year you have more than a month after that 'til Christmas! This fills many with incredible excitement and  some with little bit of trepidation or apprehension. Apprehension that there might not be enough time to get everything ready without spending a ton for Christmas. "Everything" includes shopping, cleaning, decorating, baking, mailing, and meal planning. For our family there are also the Church Christmas programs, decorations, dinners and ladies activities. The entire month of November provides the opportunity to get all your shopping completed early.  You can and should be able to save money, and reduce stress for the holidays.   I love being able to have shopping completely out of the way so we can celebrate the true meaning of Christmas.
Yes, as much as people tend to wish there was more time, the holidays are quickly approaching.  But they usually do involve quite a bit of shopping. With that in mind, I'm going to share with you how to:
1. Shop the early sales in November.
2. Get great deals using sales and coupons in November, both online and in store.
3. Ease your apprehension
4. Perhaps learn a few tricks, that could help remove some of the stress from Christmas shopping.
(NOTE: this is a long post, but definitely worth reading to the end!)
This post may contain affiliate links.  See our full disclosure.
GREAT DEALS START EARLY:
Some of the best seasonal deals are at the very start of November. Stores have big inventory in preparation for the holidays, and will still be able to bring in more if the October sales have been good. You'll be able to pair up coupons, clearance sales, percentage off store prices and /or big discounts at stores like Penney's, Macy's, Kohl's and other big stores, but other chains will also have deals like this.
Hurry, hurry, hurry for post Halloween sales of candy which can get you as much as 50% off or more on cartloads of treats.  Some of it can be saved and used as the base for Holiday baking and crafts. I was able to get some Hershey's and Dove chocolates for about $1.50 off each package yesterday, but only shopped one store, so may not have found the best deal.
If you are ordering from overseas sources, you'll want to order as early as possible.  Shipping can take weeks.  Don't let starting too late stop you from getting the best deals.
When most people think of shopping in November, they think of the mad shopping days right after Thanksgiving. It doesn't have to be that way. The entire month of November provides the opportunity to get all your shopping completed early. Amazon is having sales the entire month – with an uptick in sales the week of Thanksgiving – through Cyber Monday. If you use my Amazon links, and buy anything from them, I get a little money to help keep my blog going! 🙂
Don't discount (bad joke!) Veteran's Day sales, over the  November 11th weekend.  You'll see some really good sales from the "Brick and Mortar" stores like Sears, Kohl's, Penny's, and Macy's.  Many special deals  for Veterans extend throughout the entire month of November. AND if you are a Veteran or active Military, you might just get extra discounts. DO NOT BE AFRAID TO ASK!
As a bonus, if you don't get it done early, there will always be deals that are only available on Black Friday or Cyber Monday.
TRICKS TO GET THE BEST DEALS:

MOST STORE SALES ARE AVAILABLE ONLINE!
This is the coolest thing!  If you hate going out and shopping like I do, you will be able to find almost everything available online for the same price, and over the week of Thanksgiving through Cyber Monday, you'll likely find free shipping and might even find additional discount coupons.  NOW THAT IS A WIN, WIN, WIN!!
USE COUPONS:
Listen my friends. Before you start shopping you REALLY want to consider coupons.  Not necessarily grocery coupons, but retailer coupons.  These coupons are either available online, on downloadable apps, in newspaper ads, or from sources like Groupon. You can "stack" these when shopping. Stacking coupons is using a retail coupon AND a store coupon on the same item.
PAY CAREFUL ATTENTION TO THIS:
Don't go shopping without checking for coupons using the Ebates link below. This is another really great way to "stack" savings. Ebates will not only give you great coupon codes, to save with your online order,  but will also give you a percentage back from your online order from many, many retailers, and cash for referring others. With Ebates, you can get a $10 gift card back on your first order of $25 or more, and you can get an additional $5 from the first qualifying order of those you refer to Ebates. You'll find discounts and cashback deals as high as 10% all month.  Ebates has some of the VERY BEST online coupon deals for a big percentage off, plus – in many cases – FREE shipping, from your favorite retailers online. Look for the best deals on Cyber Monday, November 25. Sign up here to get your best deals. (Affiliate Link) You can earn lots of money by having friends sign up as well.
USE NEWSPAPER ADS:
You might want to subscribe to the newspaper for a month, or at least pick up the Sunday paper each week AND the Thanksgiving day newspaper, because the those newspapers will be loaded with ads as well as bonus coupons to save even more.
Many, many retailers have coupons available to either get a certain percentage off your purchase, or to save dollars off your total purchase when you reach a specified dollar amount, or both. You can stack these coupons. Many, many, MANY of these coupons are available during the first weeks of November, and often equal 50%off, or more, on top of already discounted items. USE THEM!

YOUR BEST NOVEMBER DEALS:
TOYS:
The biggest department and toy stores are putting out their "toy catalogs" already.  When our kids were little they would spend hours dreaming over them. Retail stores will have special deals including money saving coupons or buy one get one sales before Thanksgiving. Some of these will be in those toy booklets put out by retailers. Walmart, Fred Meyer, Shopko and others will have them.  Download all their apps for online coupons, or go to their websites on your computer and sign up for their free coupons. Look for percentages off and "buy one get one 50% off."
There will also be great buys on toys the whole week of Thanksgiving, Black Friday weekend as well as Cyber Monday online sales, where you'll want to check out sites like Ebates (affiliate link) for great coupon codes. Finally be sure and check out Amazon, E-bay and the online stores like Goodwill for great deals on gently used and new toys. November is also a great time to buy a Christmas bicycle, either new or used.  AND Toys R Us should be back NEXT YEAR!
ELECTRONICS:
New video games have come out in October, so you won't see reduced prices on those until Black Friday, and you will be able to find really low prices on tablets.  Look for the lowest prices of the year, on laptops.  Apple products will be deeply discounted for Black Friday sales as well as HDTVs, and general electronic products like tablets and cameras. Check out these tricks to help make your Black Friday shopping successful.
KITCHEN WARES:
Kitchen wares, pots and pans and small appliances are well priced in November. Aluminum foil, disposable bake ware, plates, napkins and utensils will also be on sale. You'll find small kitchen appliances throughout the month with special deals the week before Thanksgiving online, on Black Friday and on Cyber Monday. I just checked on Amazon this morning and they had a super big red Kitchenaid stand mixer for $209 – marked down from $279.34.  Check every day for their deal of the day. You just might find a great one!
FALL AND CHRISTMAS DECORATIONS:
Michael's in my neighborhood already has fall floral marked at 60% off. Hobby Lobby and other retailers will have their fall decor as well as plates and napkins at 50% off and better. Look for clearance sales on Halloween napkins and paper plates, as well as Thanksgiving themed ones right after those special days. Don't forget to take your store coupons or put their app on your phone to get instant coupons, some stores will let you take an additional percentage off on clearance.
Many stores already have Christmas decorations at half price. Grab your newspaper ads look for them.  The big plus of buying early is that there is still a great selection. Don't forget to check for store coupons. I'm hanging on to a ShopKo coupon right now that will give me $10 off on $50, and hoping that the Christmas lights I'm waiting for will be half priced soon, so that I can stack my savings.
CLOTHING:
Winter coats, gloves, scarves and boots are well priced all month, but will hit some of their best prices right after Thanksgiving.  Look for the best online clothing deals starting on the Monday BEFORE Thanksgiving.  You'll find some huge coupon deals as well as free shipping.  A variety of these deals are generally available for a full week in one form or another.  I've found some great online deals on Thanksgiving day. Start your online scouting early. Cyber Monday will bring it all to culmination, with some great free shipping deals. For the very best prices on boots, if you can, wait until January.
"NEW" CARS:
If you are looking to purchase a new car, and are willing to go with a 2017 model or older, then fall is the time to buy.  The prices shrink as inventory shrinks, so you'll have fewer choices as the end of the year approaches.  In November you'll also find some great used car prices from trade-ins at your local dealership. For the very best deals wait until December.  Next month, I'll tell you the very best day to buy a car.
 PRODUCE:
When November arrives, along with it come many lovely choices for produce. Be sure and use the fruits and vegetables of the season. They will taste best, have the most nutrition and give you the most "bang for your buck."  Look for root vegetables such as potatoes, carrots, turnips and rutabaga. In November, you'll find the very best prices of the year for sweet potatoes, just in time to make your famous Sweet Potato Casserole for Thanksgiving. They will store well in a cool, dark place for well over a month. Cruciferous vegetables, such as Cabbage, Cauliflower and Brussel sprouts are highly nutritious and at the height of their seasons.
Seasonal fruits include Apples, Cranberries, Pears, Pomegranates, Pumpkins and Avocados.
You can click on this Epicurious map to check out the best local produce in your area, for November.

HOLIDAY FOODS:
TURKEYS:
The VERY BEST prices of the year for turkeys are always in November. If you have freezer space it is always great to have an extra bird or two in the freezer, and your butcher will cut it in half and wrap it for free if a whole turkey is too much to cook at one time. The bigger the turkey the lower the price per pound, and the more actual meat vs bone per pound. Along with turkey you'll find great prices for almost all the side items on your holiday grocery list. This includes, but is not limited to ham, frozen pies, gravy mixes, cranberry sauce, dinner rolls and canned pumpkin, and of course baking supplies (see above.) Sales start the middle of November . If you need some help knowing how to buy or prepare a turkey here is a complete step by step tutorial to easily purchase, thaw and roast the perfect bird.
Where we live you can get really great prices for turkeys by spending a certain amount on groceries. Make up your grocery list by looking for good prices on additional items. We go out a week before Thanksgiving and shop one store for all their bargains and a low priced turkey. For us it is Rosauers, but you'll find a Krogers or Fred Meyer or Winco in your area that will give you super bargains on the bird!
Here's how you can also get some really good deals for these.  Look for "loss leaders" in grocery stores for many products.  Loss leaders are advertised prices that are very low and do not make money for the retailer, but are placed in the ad, in order to get customers into their stores with the calculated risk that once they get you in there, you will spend money on other products to make up for the loss they will take on the "loss leader."Make a list before you shop and stick to it!
CANDY AND BAKING:
Don't forget to check out the Halloween clearance for candy. If you are planning to bake your own goodies for the Holidays, be sure and check the Pre-Thanksgiving sales which start very early in November and go through Thanksgiving. The baking sales start the first week in November, and you'll find butter, flour, sugar, nuts, spices, chocolate and many other baking ingredients at some of the best prices of the year. We've found some of the best prices the week before Thanksgiving.
DAIRY AND MEAT:
Many prices are still high but you can still get good deals by watching for sales, and buying less expensive cuts of meats. Beef is still spendy, but there are bargains available. Chicken prices are also better than a year ago as are pork prices.
Milk prices don't appear to be changing right now and eggs, at least in our area are lower than they have been in a year. And finally, the price for butter seems to be coming down a bit.
TRAVEL:
Fuel prices are not moving much, this is not only a plus for automobile travel, but for airline travel. If you are planning to travel after the new year, consider waiting to buy your tickets until December when some of the best fare sales are predicted. If you are planning to travel for Christmas, you will want to plan on purchasing your tickets soon, as prices traditionally rise as Christmas approaches. See my October 2015 posting and look for AIRFARE BARGAINS to save on added air travel charges.
SPRUCE UP YOUR HOME:
November is the best time to buy dining room furniture and a great time for new carpet or flooring. Start early if you are wanting to have the installation done by the holidays. Also, if you search, you can find some great deals on appliances, but again – DON'T WAIT. I'm thinking of painting my dining room, guess I'd better get to it!!
SO – get to shopping!! There's excitement that Christmas is COMING.
I love Christmas and the opportunity to celebrate my Saviour's birth.
NOTE: This post was updated November 2018, from a previous posting
Marjie Briggs is a Consumer Scientist who researches the best prices, BARGAINS and times to shop all year. She's happy if you are happy!!

WHAT TO BUY IN NOVEMBER – How to get the Best Deals