OCTOBER IS A UNIQUE SHOPPING MONTH!
October is unique because it is situated at the start of the fourth quarter of the year and retailers are not only trying to get rid of excess inventories, but are already looking toward the end of the year, anxious to end it in the black. One of the really good things about October is that retailers generally have good inventories and want to move them out. With that being said, you'll find some of the best frugal buys surrounding Columbus Day and Halloween, and some really good sales not associated with any specific holiday.  Retailers will do whatever it takes to get you shopping early for the Holidays. As always, don't go shopping just for the sake of getting a good deal, but if you have specific needs, here are some of the deals to go for.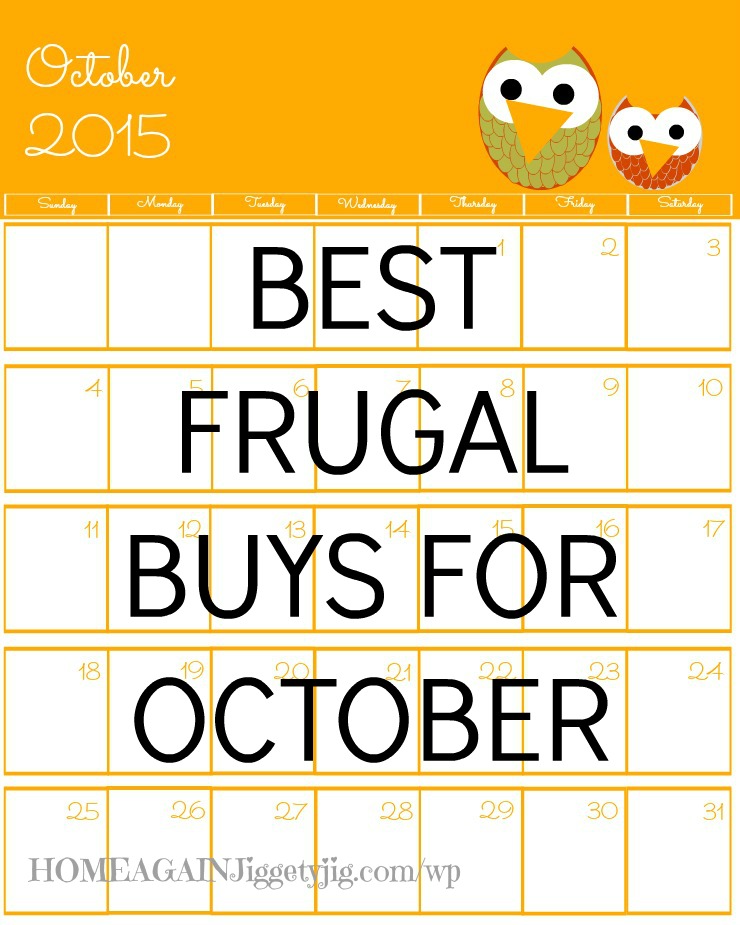 EXPECT TO FIND SOME OF THE BEST -NON BLACK FRIDAY- DEALS OF THE YEAR, ON ALL TYPES OF MERCHANDISE, DURING THE WEEKEND BEFORE HALLOWEEN.
Here are some of my suggestions for frugal buys almost any time during October, while inventories are still high, early in the fourth quarter:
JEANS:
Traditionally retailers tend to overbuy for back to school sales.  Now you'll find them trying to get rid of that extra inventory and if you're looking for a new pair of jeans, you are likely to find some good deals.
BICYCLES:
The new models on bicycles come out in the fall, so retailers will be closing out their previous models, and as you know bicycles don't change that much, year to year. So now might be the time to pick out that Christmas Bicycle.
"NEW" CARS:
If you are looking to purchase a new car, and are willing to go with a 2015 model, then fall is the time to buy.  Again, the prices shrink as inventory shrinks, so you'll have fewer choices as the end of the year approaches.  For the very best deals wait until December.
APPLIANCES:
October is also a good time to get good deals on last years' models of large appliances, since the new models come out in the fall. All appliances except refrigerators will show up in the Columbus Day sales, and if you wait, there will be some good large appliance deals in the Veteran's day sales in November.
LARGE HDTVs:
If you are planning to wait until black Friday to get a 55″ HDTV, you can likely find the same deals this month, without all the hassles of Black Friday shopping. Expect to find deals as low as $400.
SEASONAL DEALS:
Patio furniture, lawn and garden equipment, camping, fishing and hiking gear are still available at sizable discounts, and if you are looking for a grill, the deals are still available, especially in the warmer parts of the states. You'll still find clearance racks of summer clothing at huge discounts.
HALLOWEEN COSTUMES:
Though you will find some good deals on costumes throughout the month, if you can wait, the very best deals are right after Halloween, where you'll find them on clearance for as much as 75% off.
CANDY:
Along with other Halloween items, there will be many good deals for candy and you can use store coupons, which are generally available in Sunday newspapers or online, to get even better deals. Those coupons will all likely expire on October 31, but if you can hang in there, on the first of November you'll find cartloads of candy on clearance for as much as 50% off. Remember to buy extra for your Christmas needs, including baking.
PRODUCE DEALS:
The fall produce bounty has arrived!  Fall is my favorite time of year. I love the change in the weather, and the amazing fall produce. In our valley the apples and pears are almost off the trees, pumpkins are bright orange and ready to harvest from the pumpkin patch. But there is so much more to the bounty of the fall harvest. Eggplant, most melons, winter squashes, grapes, avocados, corn, berries, potatoes, sweet potatoes, beets, carrots, cabbages, pomegranates and cranberries are frequently good buys for October.  You might want to check out the Epicurious interactive map to find the best seasonal produce buys for your area.
THE PRICE OF GASOLINE IS STILL LOW:
This is tough for the petroleum companies, but nice for your tank.
AIRFARE BARGAINS:
If you are planning to fly during the holidays, keep your eyes open for sales that are sure to come up SOON.  Be aware, when comparing the prices of flights, that Southwest Airlines flights are not shown on the regular travel sites, so be sure and take a visit there before deciding on final flight plans.  Don't forget, when comparing prices that you'll still have to add the cost of checked baggage on most airlines, and some are now even charging for carry on luggage.  Southwest Airlines allows you two checked bags and a carry on at no additional cost, as well as the ability to change your tickets for up to a year, while only paying the difference between the actual ticket price. Frontier Airlines has a tier of prices that also allow you a checked bag, free carry on, seat choice, as well as the ability to change your ticket without additional fees.
Both Frontier Airlines and Alaska Airlines are flying some new routes, so include them in your searches.
BEST FRUGAL BUYS FOR OCTOBER