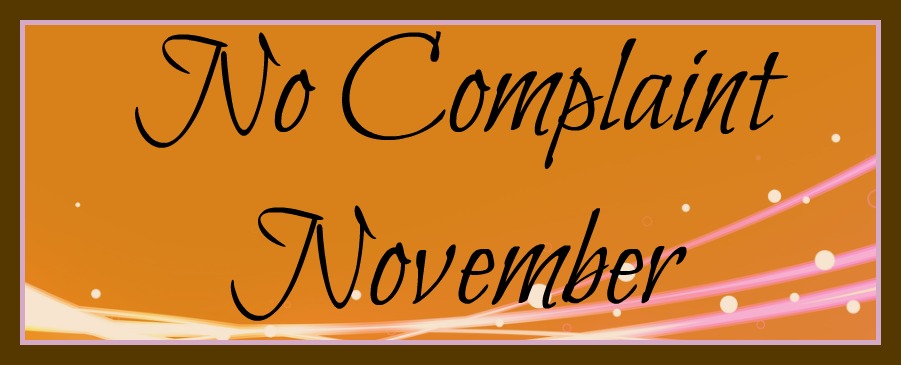 "Ministering GraceUnto the Hearers"
For many years on Facebook, there has been a trend to post"30 days of Thankfulness." In November, many of my friends post daily lists of things they are thankful for. For five years I faithfully and gratefully posted about the things and people I appreciated.  I truly felt thankful for each one of my November posts.
Late in October, of 2015, I chanced upon a posting from "Heaven Not Harvard" detailing an adventure she embarked upon, back in the fall of 2014. She titled it: "30 days without complaint." When she posted her article, a number of people joined in. That year she started a movement to attempt to go the entire month of November without complaining, which intrigued me.
After reading the above article by  Jennifer DeFrates, the author of "Heaven not Harvard," my heart was touched and I realized that I TRULY DID NOT have the kind of Thankful heart worth posting daily updates for all to see. I had a spirit of complaint.
 The dishes – of which I have several sets – never seemed to get done.
The nicest days of fall – which I love- had passed without getting the outside of the house painted.
We had two precious little grandsons born this year – yet my husband and two youngest daughters haven't been able to meet them, and I – the super blessed one – only saw them for a few days late this Spring.
AND SO IT WENT!
Whoa! I guess – like it or not – I'm in.

I knew I had to stop thinking – speaking – so negatively. This kind of thought does not show a Thankful Heart!
After several days – it was now early November – I got brave and shared Jennifer's article on my personal page and on the Facebook page for my blog. I was rather surprised when friends on my personal page read it and immediately started commenting.
THESE ARE A FEW OF THE COMMENTS THEY LEFT:
"What would we talk about then?"
"(My husband) and I did this one time for 21 days. It's amazing how much we complain and don't even realize it. We kept each other in check. He's right "what would we talk about?" LOL Ok, then let's all do it."
"I'll take the challenge with you. Lord, please help us!"
"Haha. Yes He will!"
"I'm in."
"I'll take the challenge"
"I'm in. Lord help me."
"I'm gonna try."
"I'm with (Name of Friend)! I'm in. Lord help me! Eph. 4:29."
And from a mail carrier friend: "This will never fly at the post office."
My reaction then was – Whoa! I guess – like it or not – I'm in.
So I spent a little time with the LORD, asking HIM to truly give me a grateful, non complaining, heart. Then I waited, and did my best to become aware of when I had a complaining spirit, and squelch it.

"The key to not complaining was only going to be realized by keeping my mouth shut"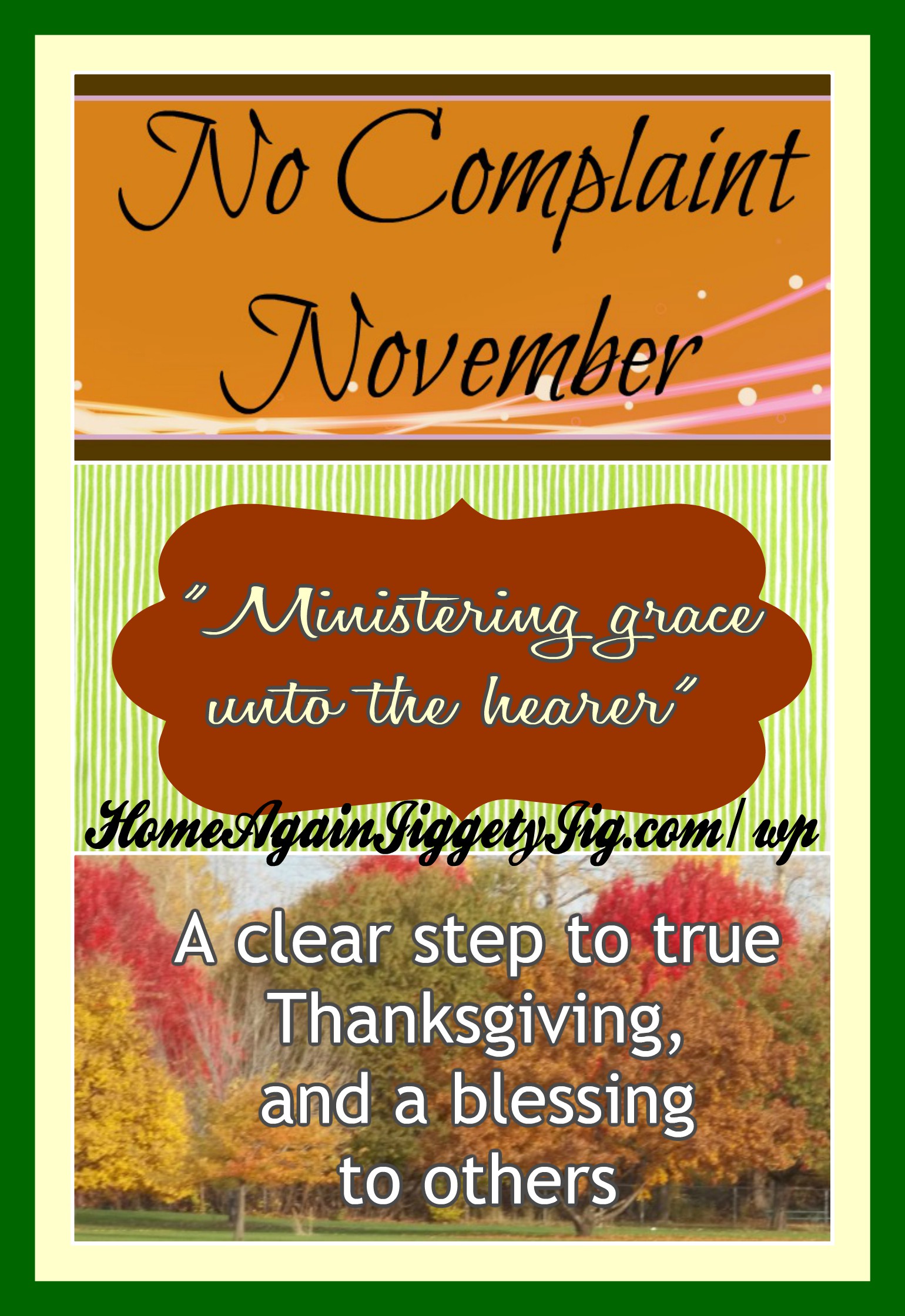 There were those dishes in the sink. My first thought was "I need to tell someone I'm not the only one here who knows how to do dishes!!" – But I kept my mouth shut and did the dishes.
"Why in the world does the trash can get so full that trash falls out of it, and I seem to be the only one that notices it or cares?" If I said this outloud, my complaining heart would be right there for all to see. So I kept my mouth shut and took care of the trash.
Pretty soon I became aware that maybe the key to not complaining was going to be realized by keeping my mouth shut. I'd be getting lots of things done quietly.
In the next few days, I didn't write up any blog or Facebook posts about the concept or contact anyone who wanted to do this with me. I really didn't want people to know I was doing it.
I did mention it to a couple of close friends at church and asked them to pray with me. AND I just kept praying and doing my best, and every now and then I would say something out loud like. "I don't want to complain, so would someone please take care of this?" (What a sweet spirit!)

"I wasn't sure if I knew how to help anyone else if I had such a challenge myself."
My first conversation came over the weekend at church, from a close friend who been among the first ones posting. She told me "I'm not doing very well with 'the month of not complaining.'" We spoke a little and then I asked her. "But are you complaining less?" "Oh, yes!! she quickly replied." "Then it looks like you're doing great!"
I realized I'm doing better too!
We aren't perfect people, but this – NO COMPLAINT NOVEMBER – is a clear step to true "Thanksliving," and certainly a blessing to my family – even though they might not know it.
I'm struggling with it every day, but approaching God for help, with a heart of Gratitude.
"Let no corrupt communication proceed out of your mouth, but that which is good to the use of edifying, that it may minister grace unto the hearers." Ephesians 4:29
HOW ABOUT YOU? Are you taking this challenge too? With God's help – ARE YOU "MINISTERING GRACE UNTO THE HEARERS?"
NO COMPLAINT NOVEMBER – Ministering Grace Unto the Hearers