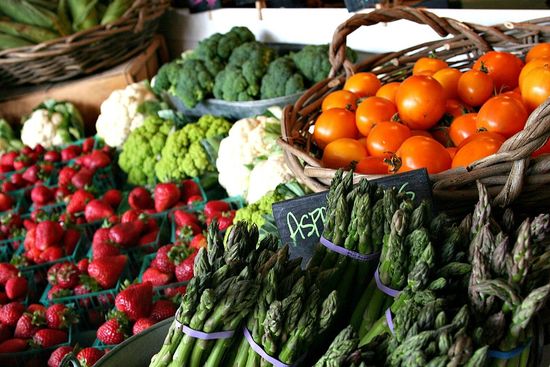 What do ham, eggs, corned beef, frozen food, candy and cabbages have in common?
I've cued up the theme song from final Jeopardy while you think about it. . . . . and you don't have to answer in the form of a question.
Give up?
They all are foods that are on sale during the month of March. Okay, candy doesn't really fit in with "food" but Easter candy is included in the big sales this month.
There are a whole lot of other great available buys this month, so let's get started with what to buy in March.
FROZEN FOOD SALES:
Each year during the month of March, manufacturers go all out to promote frozen food sales.
HERE IS HOW YOU BENEFIT: The manufacturers give retailers special low priced deals in exchange for grocers agreeing to post special advertisements with their sales ads. In exchange, the grocer's prices to you will be lowered throughout the month.
You can amp up the savings by watching the ads for sales and then stacking them with coupons which will be available in Sunday newspapers, online, and on your smart phone. You can double or triple up on savings by "stacking" savings. Use your newspaper or smart phone coupons along with in store coupons and sales prices to save a lot of money.
Since my family's goal is to eat "real food," I recommend stocking up on real food items, such as frozen fruits and vegetables, fruit juice concentrates, chicken parts, hamburger patties, and other non processed foods.
Who can pass up a super sale on ice cream? With all the available savings this month, you won't have to!
WARNING: Before you buy a boatload of frozen food, be sure that you have the freezer space to store it.
As a bonus, Easy Home Meals has a $10,000 March Frozen Food Sweepstakes. This isn't an affiliate link. I'm just letting you know about it, because I like you!
SPECIAL DAYS = SPECIAL SALES:
Last month I pointed out that February is a star with the biggest number of special sales. March has plenty of sales events too.  Saint Patrick's Day, March Madness, Easter and Passover all occur in March this year and have great sales.
Looking for some beautiful Shamrock Green decor? Saint Patrick's Day, celebrated March 17 – has all the Green your heart desires, it's also a great time to find really good prices for corned beef, cabbage, potatoes and carrots. All of these store pretty well.
Even though the Super Bowl is long past, there are great opportunities to again save money on snacks with the multi week "March Madness" college basketball tournament on TV. This starts the middle of March. You'll find all manner of snack foods and "soda"  "pop"  "cokes" – or whatever you call soft drinks in your neck of the woods. The biggest buys during this televised basketball tournament might just be large screen TVs. Expect to find brand name 55 inch televisions for around $400.
Easter and Passover – Easter sales include eggs, candy eggs and all manner of Easter candy, hams, turkeys and baking ingredients. Special Passover sales also include eggs, matzah, kosher products like grape juice and kosher lamb shanks. The first asparagus and strawberries of the season are starting to show up in stores, as well as fresh spinach and radishes.
Dressy apparel will be readily available with racks full throughout the month. This is the major time of the year to find little boy's suits or pretty little girl's dresses available in the stores. If you can wait until after Easter, you might just find a bargain price on the right dress or suit to wear to that summer wedding. The great clearance sales on spring clothing won't come until May or June, but one thing to remember is that there will be a lot less to choose from.
When shopping online, check out coupon codes for as much as 50% off your purchase and even free shipping. My favorite spot is Ebates.com because it also gives you money back from every purchase.  Use this link to sign up and save after your first $25 purchase, you can get an additional $10 back if you sign up here.  I'll also get compensated for referring you. Affiliate link
"IN A RELATIONSHIP!"
I've never had a relationship give so much for so little. To be perfectly honest, I jokingly said that my Facebook relationship status should be: "IN A RELATIONSHIP – with Amazon Prime."  Having a $99 prime membership has opened great doors to fast delivery of oodles of items in two days, with no extra delivery charges.  I've also been able to "give" four family members unlimited access to "free Prime shipping" at no additional charge. Prime has other spiffy benefits which we won't cover today. But suffice it to say: "I'm 'Best Buds' with Prime."
For non Prime Members, Amazon, on February 16th, raised the non member requirement for free two-day shipping to a minimum order of at least $49. Here's the good news: If you buy books, the minimum amount to qualify for free shipping is $25 – but only if those books are eligible for Prime"free shipping." I never regretted joining Amazon Prime, because I'm not that fond of the retail shopping experience, I can comparison shop online, and my purchases come right to my door.
My relationship with Amazon Prime has also brought me into a relationship with my UPS man.  Sometimes he drops by more than twice a week!
TRAVEL:
Want to fly for only $29 each way? As I write this, Frontier Airlines is offering a $29 special one way deal to and from certain cities – restrictions apply.  Southwest Airlines currently has $69 one way flights to certain cities. Airline tickets are at their lowest prices in ten years. If you have plans for summer travel, March is a great month to pick up tickets. With Southwest, your bags fly free, AND if you later find they have a lower price, you can change your tickets at no extra charge. You might want to go to both airlines' websites to sign up for emails, and get all their special offers sent to your inbox.
If you've been waiting for big discounts on cruises, now just might be your time to book one.
The price for gasoline is unbelievably low right now. Not only will you be able to drive more, but you might want to plan a road trip soon. When planning your future road trip, take into account that hotel prices will rise beginning with Memorial Day weekend.
AND if you are going to do all this traveling, you'll need new luggage, March is the best time of year to buy it. (See Ebates information.)
ELECTRONICS:
If you want to replace your cell phone, the new Galaxy 7 and  LG 5 come out this month. You don't want to disregard the previous generation of cellphones and laptops. Hey, they were brand new just a couple of months ago and these older models will have their prices reduced. You are likely to find some price revisions on Apple laptops sometime between March and May.
CLEARANCE:
All Winter clothing which includes coats, scarves, mittens, sweaters, gloves and boots are on clearance in March. The same holds true for ice melt, snow shovels, snow blowers, Winter athletic equipment and clothing. Don't forget to look for coupon savings codes to use with these clearance deals.
TO TOP IT ALL OFF HERE ARE TWO FREEBIES FOR CHILDREN'S MIRACLE NETWORK: 
On Tuesday, March 8th, National Pancake Day,  I-Hop will be offering free short stacks. When you make a $5 donation to Children's Miracle Network, you'll get a $5 coupon off your next visit.
On Tuesday, March 15th, participating Dairy Queen locations across the country will be hosting FREE Cone Day and offering a FREE small vanilla soft-serve cone to every customer (limit 1 per person). In return, Dairy Queen will be collecting donations for Children's Miracle Network.
Here's hoping my shopping tips make your shopping experience a whole lot nicer in the month of March.
Maybe you can start building a relationship with your UPS man.
Marjie Briggs is a consumer scientist who blogs at: Home Again Jiggety-jig! 
YOUR MARCH SHOPPING TIPS!