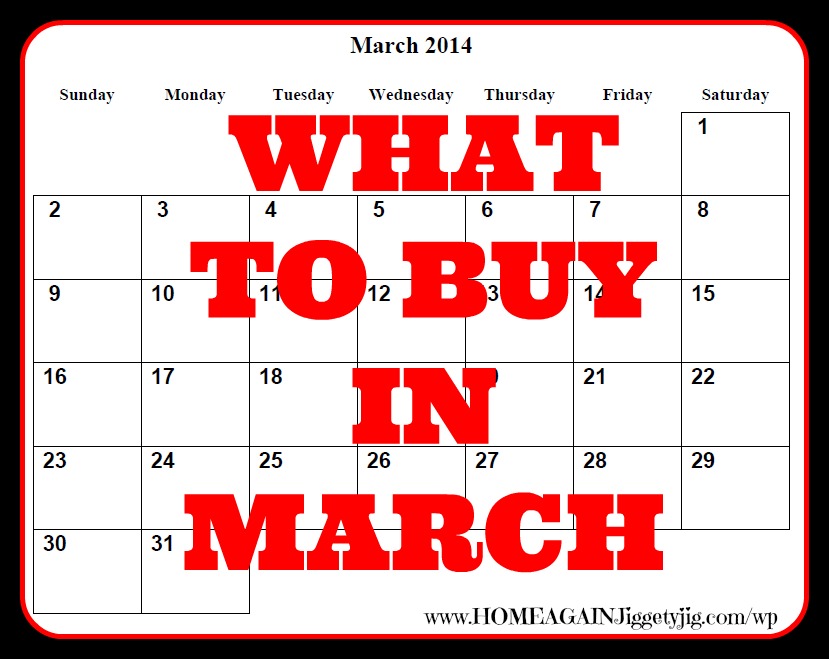 HERE ARE SOME OF THE THINGS THAT ARE GREAT BUYS DURING THE MONTH OF MARCH
MARCH IS FROZEN FOOD MONTH:
Manufacturers put out extra coupons and give special deals to retailers for frozen foods during the month of March, so they can put them on sale. It is a great time to stock up.
Since the goal is to eat real food, great items to stock up on and have in your freezer would include frozen fruits and veggies, fruit juice concentrates, chicken parts, and hamburger patties. And who can refuse the occasional super deals on ice cream?
Be looking for sales and matching coupons available in Sunday newspapers and online. Before you buy a boatload of frozen food, be sure that you have the freezer space to store it all.
MARCH IS ALSO A GREAT TIME FOR WINTER APPAREL CLEARANCES:
Look for coats – (last weekend I saw children's coats at Walmart discounted 75%), sleepwear, boots and slippers. Other winter apparel are also great buys. Check retail ads to see if there are special days with extra percentages off of clearance items, on top of the clearanced price.  Retailers are looking to fill their spaces with money making spring clothing and shoes.
TRAVEL IS ALSO DISCOUNTED IN MARCH:
The best time to buy airline tickets is on Tuesdays, during sales. Sign up with your favorite airline, or travel discounter, like Priceline, Hotwire, Cheap Tickets etc, and they will send you email or facebook notices when they are having their March sales. Info has it that approximately 1:30pm (PST) is the best time to buy. Who knew?
If you need new luggage this is also a good time to buy it.
MARCH MADNESS IS COMING, AND BIG SCREEN TVs ARE ALSO GOOD BUYS:
I don't have much more to say about that, other than that my honey would sure like to have one, since our TV is analog and appears to be on it last leg.
CLEANING SUPPLIES AND HOME FRAGRANCES HAVE SOME GREAT DEALS:
March is a great month to stock up on cleaning supplies, and laundry soap. There are great coupon deals available, and retailers often put them on sale as well.
FINALLY, MARCH MAY BE THE TIME TO BUY AMAZON PRIME:
Rumor has it that the prices are going up from the current $79 per year, by as much as $20-$40 per year soon, so if you have been thinking about it, now may be the time to sign up.
Added: March 6, 2014
HERE ARE SOME ITEMS THAT MIGHT BE GOOD BUYS IN THE WARMER PARTS
OF THE COUNTRY DURING MARCH
Clearance on winter goods like snow shovels, heaters, blankets and ice melt may be available in the warmer parts of the USA, but some areas of the country are still needing them right now, and there may be short supplies in those areas, with few sales even later in the season.
Garden supplies may have good prices in some parts of the country where it is getting safe to plant, others, like Central Washington, where I live, will have better prices during April and May. If you want primroses or pansies, now is a great time to buy them in the cooler areas, and buy your seeds right away to plant your starter seeds.
Paint and painting supplies will be on sale in parts of the country where it is warm enough to paint outside, or have the windows open, to paint inside, but expect paint sales in the cooler states to come in April or May.