December is a great month for bargains. The biggest challenge generally is that there isn't as much inventory – translated "choices" – at this time of the year, as might be available earlier in the Fall.
I've been looking over the stacks and stacks of ads in our daily newspapers, and just about everything is on sale!
I'll highlight some of the best deals you are likely to find and then point out what might be best to avoid buying this month.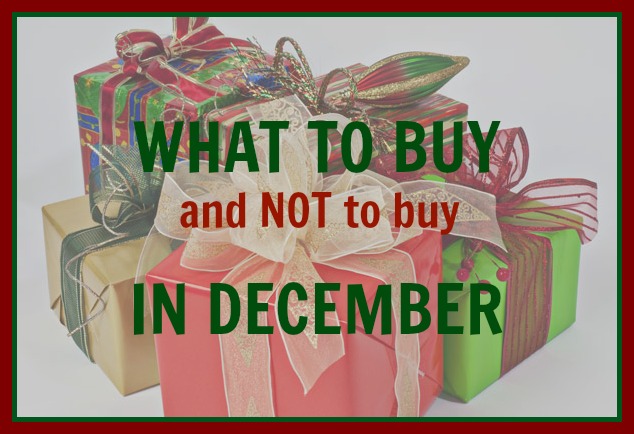 HERE ARE SOME OF THE BEST BUYS -NOW:
AUTOMOBILES:
Dealers really want to get buying customers in December since it is a pretty slow time of year for car sales – both new and used – AND because they want to clear out inventory.  The further into the month you go, the lower the prices – so December 31 would be the ultimate day to buy a car or truck.
HOLIDAY DECOR ETC.
Decorations, Ornaments, Lights, Wrapping paper:  Just like cars, you'll find the very best prices after Christmas, though I've already seen the entire stock as low as 60% off. The other day I even found a few items for as much as 70% off. Don't forget to head out after Christmas to get the best clearance prices on Holiday items.
WINTER WEAR:
Coats, hats, gloves, sweaters and scarves will all be discounted – and if you can't wait for great clearance prices on gloves, head over to Dollar Tree. They have an array of colorful, fuzzy warm ones for just a dollar. You'll find the ultimate clearance prices after Christmas, and wait until after the New Year for the best prices on boots.
GIFT CARDS:
You'll find some really good deals on gift cards.  Some stores (especially restaurants) will give you as much as an extra $20 card for every $100 you spend in gift cards. Some stores that have fuel stations will give you fuel discounts when you buy gift cards. Retail stores are more likely to give you a $10 gift card for every $50 you spend.  Keep your eyes open for deals on these which are almost as good as cash.
TOYS:
If you wait until around the 15th of the month, you'll see the best deals on Toys.  I'm waiting to buy toys for my grandsons.  Last year Amazon started their best Toy deals two weeks before Christmas. Those sales last about a week and then the prices go back up as inventory goes down.
TOOLS:
Tool sets especially are well priced for Christmas.  They are put on sale to help those who perhaps don't know a lot about tools be able to buy a wrench set or car repair kit in a giftable form.
KITCHEN WARES:
You'll find all kinds of gadgets, small appliances and kitchen sets on sale this month – perhaps to help make it a little easier for those who don't know too much about purchasing kitchen items.  If you think of it, you might want to stock up for wedding gifts later in the year.
ONLINE DISCOUNTS:

Watch for special coupon codes FOR JUST ABOUT ANYTHING around the 15th.  Online retailers will do whatever they can to get your last minute business, and you might find deals that not only give you as much as 50% off a purchase over $50 and FREE shipping.  Don't forget to check out EBATES (affiliate link) for coupon codes and money back on your purchases.
PRODUCE:
You'll find a surprising array of produce on sale this month.  Much of the citrus grown in the US is well priced this month.  You'll find good prices on Clementines or Mandarin oranges, pears, pomegranates, apples, avocados, potatoes – sweet, white, yellow and russets. And much more.  Check out this link from Epicurious to see what produce is most available in your area this month, along with recipes for using the freshest local produce.
PARTY SUPPLIES:
December is a time of many parties – especially at New Years, so be on the lookout for all kinds of clearance prices after Christmas and right after New Years on cups, plates and party decorations.  You'll also find good sales all month long on Pop, or Soda, or Soft Drinks, or Cokes, OR WHATEVER you call it in your neck of the woods.


GIFT SETS:
Wait until after Christmas to buy gift sets, but you'll find awesome clearance deals on them RIGHT AFTER CHRISTMAS – these will make great gifts all year long.

WHAT NOT TO BUY – IN DECEMBER:
BOOTS

–

Wait until after the New Year for the best deals.
ELECTRONICS

–

Top of the line electronics – TVs and high end computers – won't be discounted 'til the 2016 models come out next year (except for Apple products)
JEWELRY

–

Since jewelry is pretty popular, there is no needs for jewelers to offer discounts at this time of the year  (Prices will still be high in February for Valentines day, and again in May for mother's day, so wait until Summer or fall for the best deals.)

WHAT TO BUY IN DECEMBER and What NOT to Buy