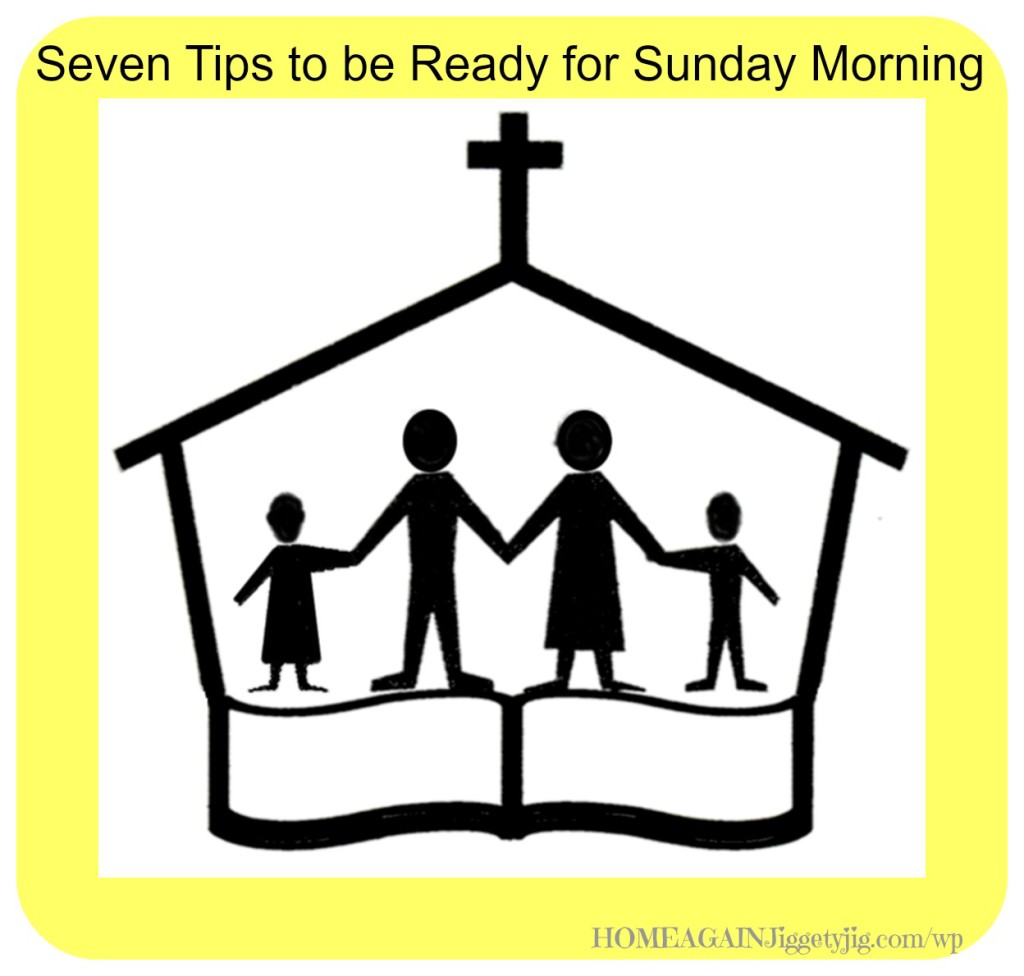 "I was glad when they said unto me, let us go into the house of the LORD." Psalm 122:1 
Our hearts should be glad on Sunday morning, yet, getting ready for church often seems to be one of the most disorganized unpleasant experiences of the week. The morning chaos and ensuing, rushed trip to church may be the most challenging outing of the week, fraught with upset with each other and dismay that such chaos is happening once again. So many times we are hardly ready to enter the house of the LORD, and the feeling is anything but glad.
It's a beautiful Sunday morning, the sun is shining, the grass is green. In your head a happy voice is singing "In my heart there rings a melody."
"Fifteen minutes!" booms the Daddy voice from afar.
What? Really?
"Why are you waiting outside the bathroom?"
"James is still in the shower."
Arrrrgh!
Peeking in the room your daughters share, the youngest is crawling out from UNDER the bunk bed.
"Mommy, I can't find my shoes?"
Her hair has a snarl in the back that looks like it has nested young rodents, and there laying peacefully, in the bed just above her, is her teen aged sister, blissfully asleep.
"Lord," now you're actually speaking out loud to Him, "Help me!"
Cringing, as you get ready to take a deep breath and drag the teen aged one unceremoniously out of bed, the Daddy voice booms again, "HONEY! We're out of milk." and with scarcely a breath, "Is everyone ready to go?"
Your home isn't the only one who has these Sunday morning struggles. Many make it to Church in a rush, shirts buttoned up wrong, hair unbrushed, kids sticky with pancake syrup and sometimes even unfed. Worst of all, so stressed that no one is ready to meet with the LORD.
Yes, our home faces these challenges as well.
Our family found that in order to be ready, in body, soul, and spirit, for Sunday morning, there is a process which is best started early.
Following this process, you can turn things around and make Sunday morning a pleasant and organized experience, arriving at church on time and with a good spirit, actually glad to go into the house of the LORD.

SEVEN TIPS: TO BE READY FOR SUNDAY MORNING.
PREPARATION  (at the latest) STARTS ON SATURDAY: Do your best to spend Saturday afternoons and evenings at home. This aids in preparation for Sunday, and makes it easier to have everyone well rested.

1.  MAKE SURE THERE IS FOOD FOR SUNDAY BREAKFAST:
This may only involve ensuring that there is enough cereal and milk for everyone to have a bowl of cereal WITH milk. It may mean putting oatmeal or a breakfast casserole in the crock pot on Saturday night, so that you can feed your family a hot breakfast.  It may involve preparing something like breakfast burritos or your own "Egg McMuffins," ahead of time and stashing them in the refrigerator so that they can quickly be heated up and wrapped in a napkin, to eat on the way to church.
For some families, it may mean setting aside the cash to go through the drive-through on Sunday morning, in order  to make certain that everyone is fed, and to church on time. Personally, we don't pass a single fast food restaurant on the drive from our home in the country to church, and if we did, it would not be affordable for us to buy breakfast there.
2.  LAY OUT CLOTHING FOR EVERYONE ON SATURDAY:
This includes Mom, Dad, and everyone else in the house. You want to do this early enough in the day so that there is sufficient time to search for missing shoes, do any laundry that might be needed for the next day, and insure that Sunday morning is not a hectic time.

For the girls: Lay out a dress or skirt and blouse, slip, underwear, socks or tights, shoes, sweater, and coat.
For the boys:  Choose pants, shirt, undershirt, underwear, socks, shoes, tie,  suit coat or sweater or vest, and coat.
These should be put in a neat stack beside the child's bed, on the dresser, or any safe place where it will stay together and not get misplaced. If necessary get a basket or bin for this purpose. Do this for the younger children and supervise the older ones until they can be counted on to do the job by themselves.  If it is hard to remember what to set out, make a list of the items that they will need to have ready, and tape it on the back of the bedroom door.  A good goal would be to have all clothing set out before supper on Saturday night.
Before bed: Bibles, coats and boots should be neatly set in the living room or other central location, in preparation for Sunday morning.
3. HAVE EVERYONE TAKE A BATH OR SHOWER ON SATURDAY:
I was an MK or missionary's kid, who grew up in West Africa. We were only able to take a bath once a week. We always did it on Saturday evenings, a little bit like in the Old West, starting with the youngest and ending with the oldest one being the last one in the tub. More hot water was added before the next one got into the tub. Today, most of us are not limited by having to heat our bath water, BUT getting that Saturday bath or shower is still is a great idea. After the bath is the time to comb through or braid your little girls' newly washed hair.  If braided, it will stay neat through the night with no tangles to wrestle with in the morning.
If anyone can't stand going without a shower in the morning, then they will need to be the early bird, getting in and out of the shower before anyone else gets up and has to use the bathroom on Sunday morning.
4. MAKE PLANS FOR SUNDAY DINNER:
If you are planning to eat out, you can skip this step, though you might want to keep restaurant coupons in a special place in your car for such occasions. Our family eats out about one Sunday every six months, so planning a home cooked meal is a pretty important step for us.
Know what you are going to eat. Some families will have simple fare like soup and sandwiches. If you will be preparing a larger meal, make certain everything is defrosted and ready to cook. Each and every step you can prepare ahead of time will make Sunday a better and easier day. Crock Pot meals are a huge blessing and a great way to make certain that dinner will be ready soon after your family returns home from church. Some Midwestern families I know, always put a roast with potatoes and carrots in the oven or crock pot to have dinner ready when they walk in the door.
A crock pot is a great friend.  Don't forget to turn it on and plug it in.  More than once, I've had a meal set up in the crock pot, but either forgot to plug it in or neglected to turn it on. It is so disappointing to walk into the house after church, expecting the wonderful aromas of dinner, only to find that you have forgotten that simple step.
5. GET TO BED ON TIME:
Your children need between nine and twelve hours sleep, depending on their age. Adults need seven or eight hours.  If you don't get to sleep early enough, there may be trouble getting up on time and the whole plan will be messed up.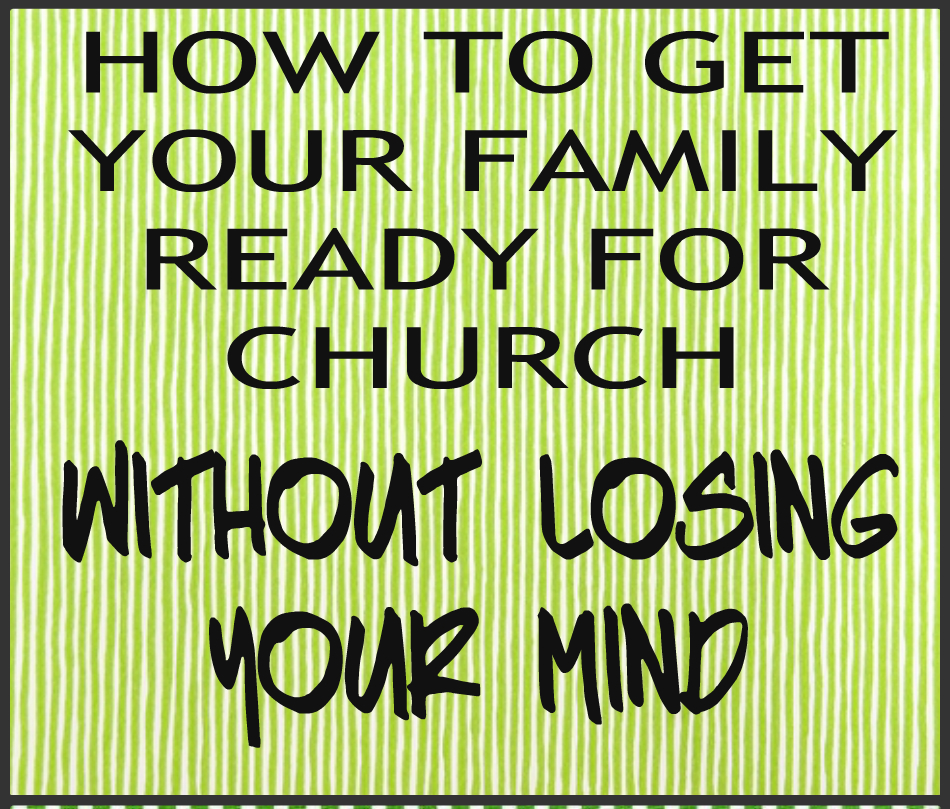 6.  PUT YOUR PLAN INTO ACTION ON SUNDAY MORNING:
Mom and Dad, get up before your children and get yourself ready. Give your family plenty of time. You know how long it takes to get ready for school? Well, plan for extra time on Sunday to get dressed, have devotions and eat breakfast before you have to leave. The devil doesn't want you there on time, so you are likely to have challenges creep up on Sunday morning.
If you are a Sunday School or Children's Church teacher, you should have your lesson, snacks, crafts etc prepared and packed into a tote the day before. If you are a pastor, as much as possible,  your message should be fully ready and printed before hand.
DO NOT turn on the television, put in a video, get on the computer or mess with cell phones.
DO put on some cheery gospel music, loud enough to be heard throughout the house, but not loud enough to make your family raise their voices.
Have each person in the family eat breakfast as soon as they are fully dressed. Sunday is probably NOT a good morning to attempt to eat at the same time.  Little children may need to be fed before they are dressed, so as not to spill on their Sunday clothes.
You are only as fast as your slowest person, so keep a close watch on the one that tends to be a slow poke.
7. SET A TIME TO LEAVE, AND STICK TO IT:
When fully dressed and done eating, have each family member wait with coat and Bible in hand in the living room, or a central location of your choosing. When our children were little, we would get each child ready and set them on the sofa, which they were not allowed to leave until we walked out the door. It helped keep them clean and we knew exactly where they were when we were ready to head to church.
In the car, don't turn the radio on, unless you have an amazing Christian station.  if you do have a CD player or Pandora, very carefully choose great Christian music to listen to. Since we don't have either in our van, my husband has requested that someone sing a cheerful hymn or gospel song, and often someone does. When our kids were little we often listened to Christian children's music and sang along. Most of all, work to keep everything lighthearted.
After a while these things will become second nature to your family.  Don't give up. To this day many of our adult children get their shower on Saturday, lay their clothing and accessories out the night before, and wait, completely ready, in the living room, with Bible and coat in hand prepared to walk out the door, on time, on Sunday morning.
You will really enjoy getting to church early and you can truly say: " I was glad when they said unto me, let us go into the house of the LORD."

SEVEN TIPS TO BE READY FOR SUNDAY MORNING