Happy Thanksgiving, America.  Good news! This Thanksgiving you'll have more than a month to get ready for Christmas.
If you are one of those who insists that Thanksgiving must be celebrated before you even think about Christmas, this week will be the time to start thinking.
But first, if you are reading this before Thanksgiving and plan to roast a turkey, make sure it is thawed.  I've written a post to help you get it thawed in time, even if you have waited until the night before.  You can also find my complete directions for how to roast a perfect turkey which includes tips for choosing the right size for your crowd, how long it needs to thaw and all the steps to follow to have it turn out perfect. You'll want to plan your table centerpiece and place settings as well as choose the serving and baking dishes you plan to use for your dinner, before Thanksgiving day. My daughter usually sets the table the night before in order to reduce the stress of last minute preparations.
 This post also contains affiliate links.  See our full disclosure
CATCHING UP:
You're not behind in the Christmas Countdown: If you haven't been following along, it's okay.  Feel free to read through the links below, to get started, or jump in right where you are.
On week ten  we were encouraged to start writing out Christmas gift lists.
Week nine  plans included a family meeting to make some decisions about the traditions and activities the family might want to carry out together, and to make a start at organizing your calendar. It also included a reminder to have tickets and reservations for Thanksgiving or Christmas travel.  The "last weekend of October sales" were a reminder to start some Christmas shopping in stores or online.
Week eight had reminders to start a new kitchen cleaning habit and do a reality check.
Week seven included encouragement  to have a fireproof oven, set up outside lighting and more.
Last week's post gave hints on how to clean out the refrigerator and included a little push to get those lists finished and some shopping started.
YOU NOW HAVE FIVE WEEKS 'TIL CHRISTMAS!
Traditionally, "Black Friday," the day after Thanksgiving, is the start of the holiday shopping season. In many ways it is sad that the official Christmas shopping season now starts on Thanksgiving day. It is regretful, because it takes the focus off of Thanksgiving and it is unfortunate because it places workers in the shops rather than having a day off to spend time with family and friends.  You may not realize it, but "Cyber Shopping" also requires people who fill orders to work on the holiday. A few have said that they don't mind working on Thanksgiving Day because it means that they get overtime or overtime and a half, but many would rather be at home.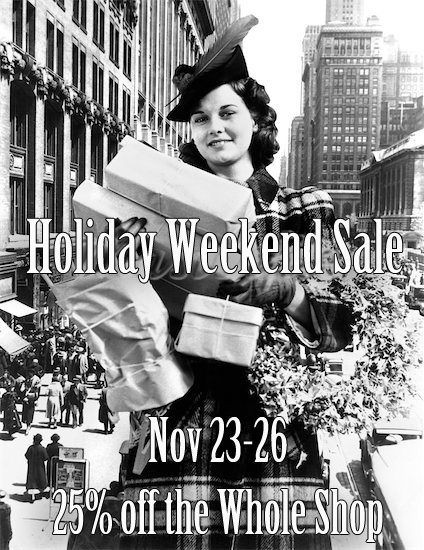 BLACK FRIDAY AND CYBER MONDAY SHOPPING TIPS:
I've promised you shopping tips and I'm keeping that promise. Here's a great tip: Almost everything that is on sale in the brick and mortar store is also available online. That's one way to get what you want AND stay home. If you love the thrill of the "Black Friday" sales, then pick up a newspaper on Thanksgiving day to get all the ads. You can find them online, but we have always loved to read through the ads, even though we really haven't  intend to get in on the madness. By the way, many of the sales last throughout the entire day on Friday or even the weekend, and you can still save money by heading out later in the day. Consumer Reports has some great shopping tips for Black Friday.
IF you are able, try to do some shopping this Saturday at your local "Mom and Pop" stores. It will go a long way in supporting your community, and you'll find things there that are not available at the giant retailers.
I also promised you "Cyber Monday" tips. Traditionally cyber Monday is the biggest online shopping day of the year. One good reason to shop online on the first Monday after Thanksgiving, is to find big discounts PLUS free shipping from most sites. ALSO you can obtain big percentages of money back on your purchases and locate ads through EBATES.
Don't go shopping without checking for coupons and see all the sales ads using the Ebates link below. This is another really great way to "stack" savings. Ebates will not only give you great coupon codes, to save with your online order,  but will also give you a percentage back from your online order from a great many retailers, and cash for referring others to Ebates. With Ebates, you can get a $10 gift card back on your first order of $25 or more, and you can get an additional $5 from the first qualifying order of those you refer to Ebates. You'll find discounts and cashback deals as high as 10% all month.  Ebates has some of the VERY BEST online coupon deals for a big percentage off, plus – in many cases – FREE shipping, from your favorite retailers online. Many deals are going on right now. Look for the very best deals on Cyber Monday, November 26. You can earn lots of money by having friends sign up.   (Use this Ebates Affiliate link to sign up for these benefits.) 

It's time to assess the state of your Christmas decorations, cellophane tape and wrap. Do you need to pick up more ornaments? Are your lights all working? The condition of your used artificial tree is important. One year we didn't realize how bad our tree was until we started to put it together, and my daughter cut her hand on part of the assembly. They don't last forever. In the last 30 years we have had three. If you have a pre-lit tree, make sure the lights all work before putting it up.  We bought a pre-lit tree on clearance after we got rid of the sharp edged tree.  Several years later we found out that when we stored it something happened to the lights and they only worked in sections with large darkened gaps that weren't lit. After wasting a LOT of time trying to get them to work we bought all new lights and didn't even plug in the pre-lit ones that worked.
Generally, Christmas decor has big discounts over the Thanksgiving weekend, so it is a great time to buy new lights, ornament balls and more, to add to your Christmas decorations.
Since our family lives in what is currently the cold part of the country we bring all our totes of decorations inside and put them in an unused room overnight to help take the chill off, before the decorating begins. Our habit is to begin decorating on the day after Thanksgiving, since we don't deal with Black Friday madness.
SUGGESTIONS:
Hopefully, you've now attained the clean kitchen habit from week eight  .
It is now time to conquer the laundry piles.
If you are blessed to have a washer and dryer, each morning run a load of laundry, transfer to the dryer when you have the time and fold and sort the load as you watch TV in the evening or have some free time. This will help keep "Mount Washmore" under control. If you have to go out to do the laundry, try to avoid the weekends. Generally you'll find all the machines you need, if you go before 7 in the morning or after 9 at night. This article has great suggestions for easier laundry trips.   If you don't already have your kids (double digit and older) doing their own laundry, now is the time to teach them. They can fold and sort in the evenings with you, and soon you will have them taking control of their own clothes. Getting laundry under control will remove a lot of stress from your life.
NEXT WEEK I'LL SHARE SIMPLE IDEAS TO HELP MAKE MEAL PLANNING EASIER and much more.

Marjie Briggs is a Consumer Scientist / Home Economist who regularly shares organizational ideas and the best things to buy each month or season.
Five Weeks To Go – TO A RELAXED ORGANIZED CHRISTMAS