Each year, after the Christmas decorations go back into their boxes and bins, the house seems to look so very bland and colorless, and it is easy to feel depressed. Our home is in Central Washington, where the lack of color is obvious. The Winters vistas around us are either brown treeless hills or white with snow. Accessorizing a dining room with color is one of the simplest and most effective ways of brightening things. After making some color additions, depression need not happen!
By taking  pictures of lots of brights at the Dollar Store, Michael's and other locations, I got lots of inspiration to start making our home welcoming and bright.   A search through cupboards and closets helped me find a few trinkets to help with the aqua and yellow color plan, which would be added to the golds, greens and browns currently consuming the major portion of our color palette.  For this update,  I decided to add brighter shades of the colors that are already in our home. Here are some changes that brought in color, starting with the dining room, and at absolutely no extra cost.
This post contains affiliate links.  See our full disclosure.
If you purchase anything using these links, I will earn a little money to help my family and keep my blog going, and it will cost you nothing extra!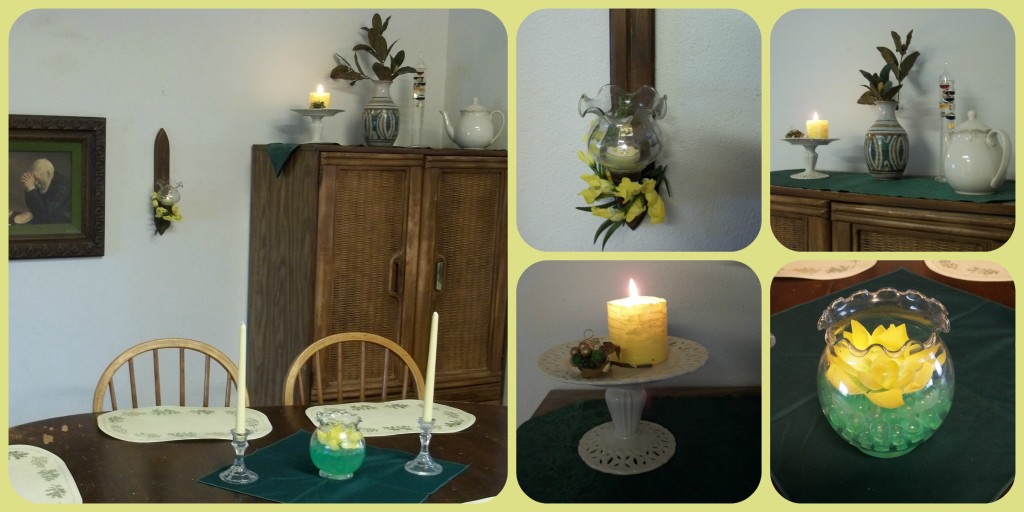 Everything in this room came from items we already had in our home.  Aqua and yellow brought the brights into our house.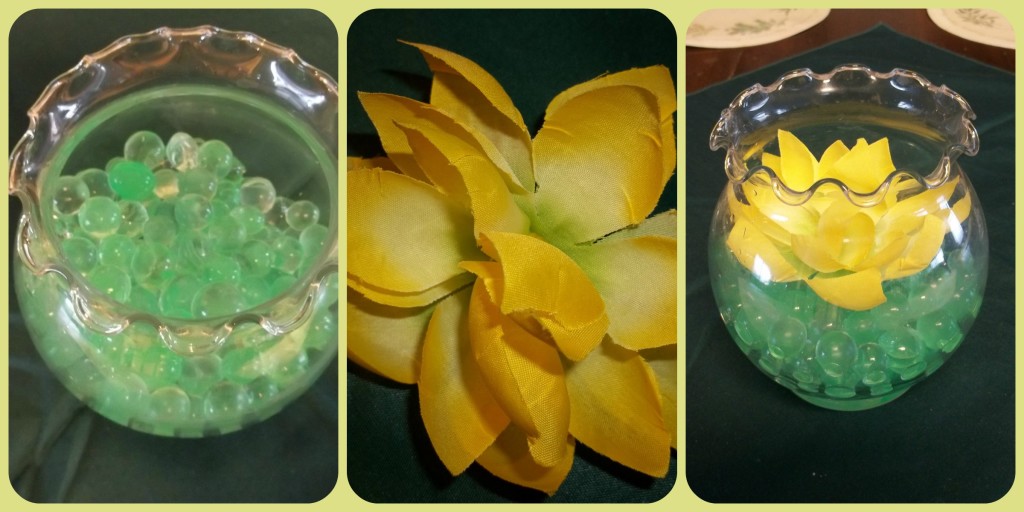 The starting point was a "fishbowl" which we filled with green colored gel water beads. These come as tiny beads that are hydrated with water, plumping up into colorful transparent beauty.
The bright yellow "lily pad" flower was a silk flower left over from decorations we used at our youngest daughter's graduation party, several years ago. For contrast, they were set on a dark green cloth napkin. All of these were previously purchased at Dollar Tree.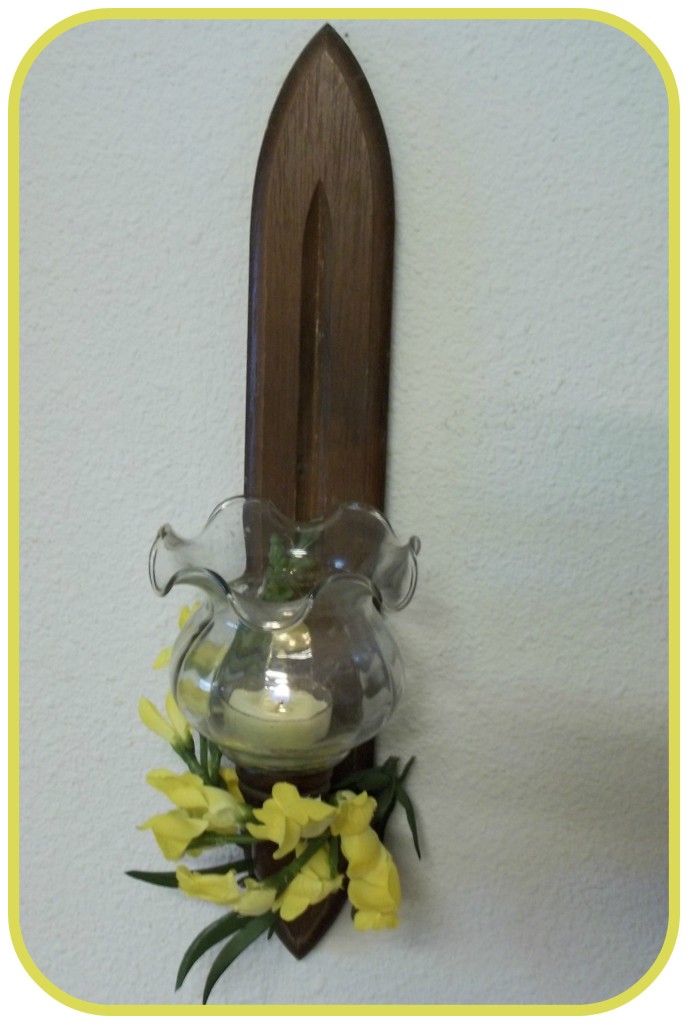 The bright yellow flower stem was found in the midst of a bunch of old silk flowers which I wrapped around the globe of our old wall sconce, and added a tea light.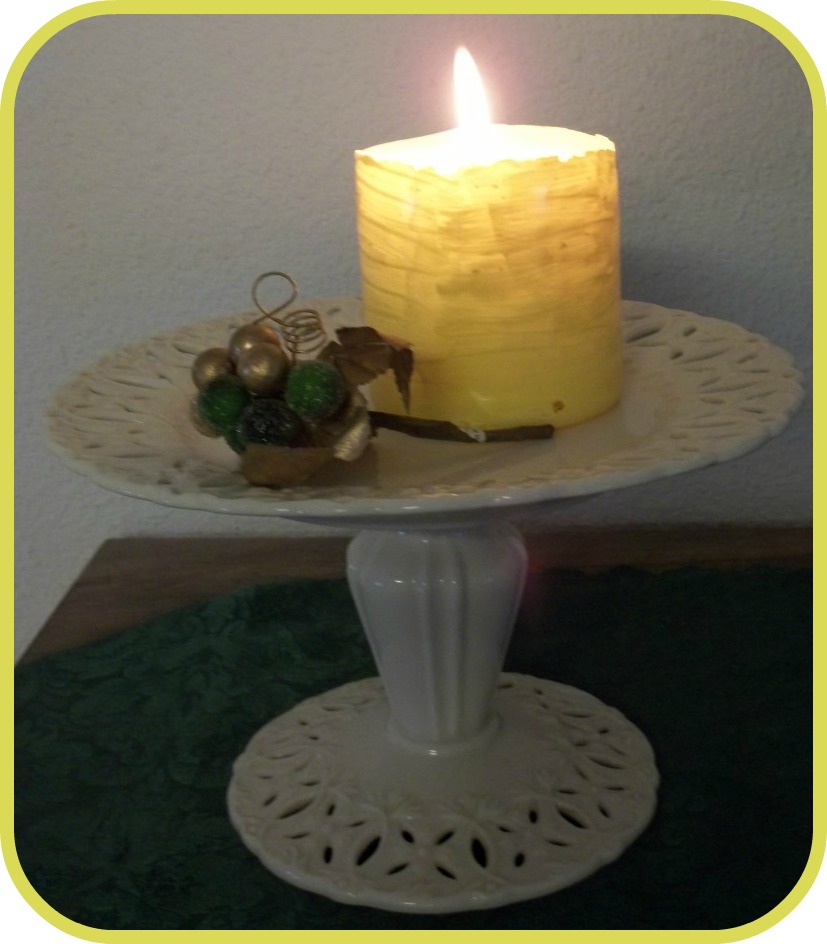 This yellow pillar candle used to be white, but a quick layer of yellow acrylic craft paint brightened it right up. A bone colored cake plate became the candle holder and we added a small stem of leftover Christmas berries for a bit of contrast.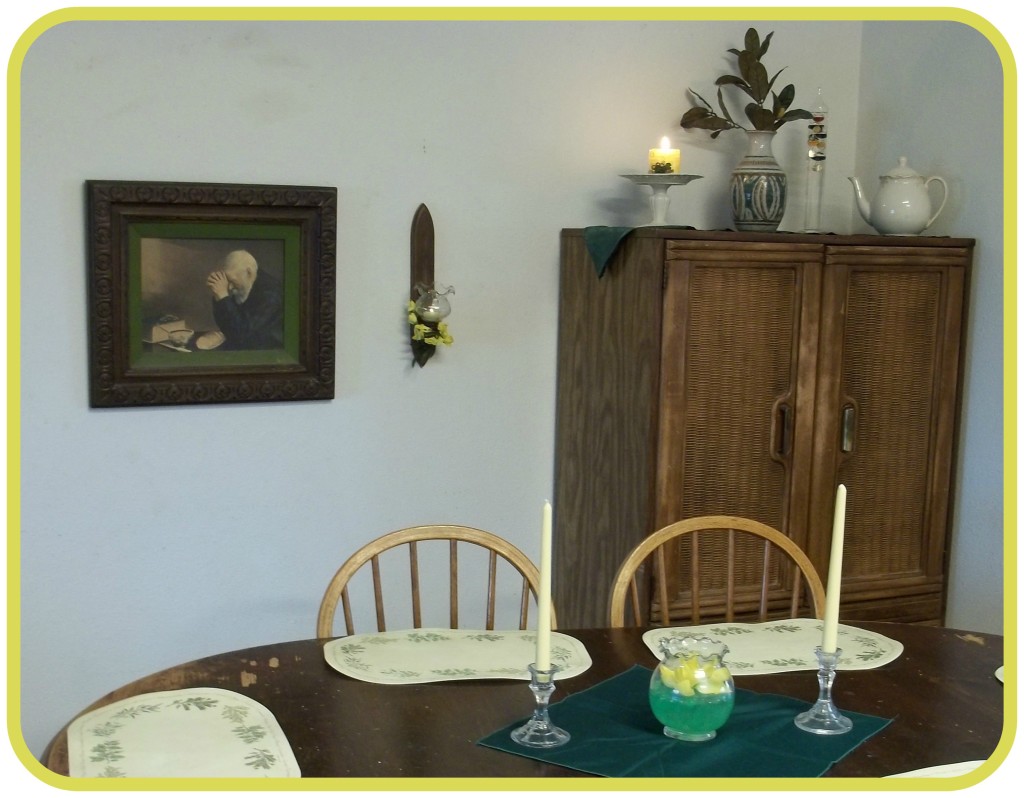 Here is how we finished the table: Laminated pale yellow placemats, which had been stashed away for several years, were placed around the table. They were a gift from a friend. The pair of pale yellow tapers, which were picked up last year for only a dollar, and the glass candle holders which have been in our household longer than some of our children, were placed on the corners of a dark green cloth napkin. Others candle holders, very similar to these, are available at the dollar store. Everything here was found tucked away in cabinets in our home, or were items which were already part of the decor.





Start by shopping your home for colorful accents. I started by looking in cabinets, boxes and drawers for any yellow, green or aqua colored items.  They might be found in any room of the house, and once you start looking with an eye for color, they will be easy to find.
For the dining room begin with a colorful table covering. Use a tablecloth, placemats, or table runner.  All of these are available at big box stores, thrift stores or the dollar store. You can even take a colorful twin sized sheet and used it as a table cover.  Try adding a potted plant, or a flower or two, either real or silk, to the table. Doing this not only brightens the room, but makes it appealing to look at, and a deterrent for stacking or storing stuff there. Your family is likely to want to keep it that way and hopefully will avoid leaving their things on the table.
Add a few other colorful accessories to the dining room, choosing items with a variety of shapes, shades, textures, a reflective surface or two, a bit of repetition, some dark items, some light colored items and STOP.
Don't ever over decorate your dining room, because once you add people and food, it can quickly get overwhelming. Under accessorizing a dining room is always better than over decorating.
ACCESSORIZING WITH COLOR – THE DINING ROOM